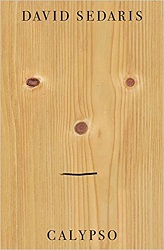 Calypso


Reviewed July 14, 2018.
Hachette Audio, 2018. 6.5 hours on 6 CDs.
Hearing David Sedaris read his books always makes me laugh. I will admit that his humor is often crude or rude – but, yes, it is very funny.
In this book he mostly talks about his family. This includes the death by suicide of one of his sisters, so you wouldn't think there's a lot of room for humor – but if you think that you probably haven't ever listened to David Sedaris.
He also talks about buying a beach house on the Carolina coast to share with his family. And his father, who is politically conservative, getting older. And David himself getting older and dealing with physical challenges – and getting addicted to his Fit Bit.
A lot of what's funny about this audiobook is also very strange – like feeding his own tumor to a snapping turtle. But what can I say? It's also incredibly funny the way David Sedaris tells it. I guess it helps to know you're doing something strange.
I always say that nothing is better for keeping me awake on a long drive than a good laugh. You can find that here. (Though let me give fair warning: I wouldn't want to explain these jokes to kids. In fact, it might be embarrassing if anyone else were in earshot. Funny, though!)