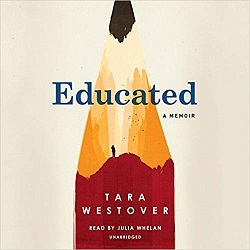 Educated
Review posted July 11, 2019.
Penguin Random House, 2018. 12 hours on 10 CDs.
Starred Review
Review written June 11, 2019, from a library audiobook
2019 Sonderbooks Standout
:
#1 General Nonfiction
This audiobook is not for the squeamish. Tara Westover tells the story of her childhood in the mountains of Idaho. Her family were radical Mormons, her bipolar father not trusting the world on the outside and convinced that the government would come after them, and they were going to be prepared. They stockpiled food and weapons and made their own medicines. They didn't trust the medical establishment or schools, all those being of the devil.
The reason the book is not for the squeamish is that the family did plenty of physical work, running a junkyard and doing building projects – and had some terrible accidents. Accidents for which they did not see doctors. I'm going to tell you ahead of time that everyone survives the accidents described in this book, and maybe that will make it easier to hear about them. I don't fault the family for calling the various healings miraculous. There are a lot of accidents described, and some of them are horrific.
But that's only part of the story. There's also some violent abuse going on at the hands of her older brother, but the family is invested in denying it ever happened. With the help of another brother, Tara makes a partial escape by studying to pass the ACT and going to Brigham Young University.
Once at the university, she tries to hide that she has never been to school before in her life. She has major gaps in her knowledge, such as not knowing about the Holocaust or the Civil Rights Movement. Her whole way of thinking has to adjust.
One thing leads to another, and Tara travels to Cambridge and to Harvard, continuing her education but also trying to deal with her past and present. When she refuses to deny the abuse, she has to choose between her family and her own perception of reality.
This is an amazing and mesmerizing story. It's a story of growing up and having your whole perspective on the world undergo a dramatic shift – and doesn't minimize the cost of that.
This book came out when I was on the Newbery committee, so several of my friends read it before I did. They universally declared that it wasn't one to miss. Now that I've finally joined the crowd of readers, I completely agree with them.