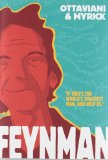 Feynman
Review posted 12-21-12.
First Second, New York, 2011. 266 pages.
Starred Review
How to make the life and work of a brilliant, if quirky, physicist accessible to the general reader? Jim Ottaviani and Leland Myrick have done an amazing job by putting the biography in graphic novel form.
Not only do they present the scope of Richard Feynman's accomplishments, including such a wide variety from work on the atomic bomb to work on the committee investigating the space shuttle's explosion, they also present the basic idea of some of his pioneering concepts in physics. And they talk about his personal life, including his first wife who died not too long after their marriage, and his defense of a man who was running a strip club, and his decision to give up drinking.
The one thing I didn't like? It was hard to tell apart all the physicists in their shirts and ties. I finally got to where I could spot Feynman by his crazy hair, but that was about as far as I got.
However, this book inspired me to want to read more about Feynman, and it was a fascinating and interesting story in its own right. It didn't inspire me the way Feynman's Rainbow did, but it was another side to a man who made a big difference on our planet.
This is Teen Nonfiction, and I decided to post it on the regular Nonfiction page rather than the Children's Nonfiction page, because even in the graphic memoir format, it's going to go way over the heads of most children, but most adults won't mind reading a comic book about a great scientist.