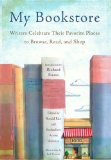 My Bookstore
Writers Celebrate Their Favorite Places to Browse, Read, and Shop
Review posted November 3, 2013.
Black Dog & Leventhal Publishers, New York, 2012. 378 pages.
Starred Review
My Bookstore is a delight. I read it slowly, one essay per day. It would be a wonderful project to try to visit all the bookstores mentioned in this book, though it might take a lifetime.
The premise is simple. 82 American authors wrote an essay about their personal favorite independent bookstore. The essays are entertaining and delightful. Some talk about the power of reading, some about community, some about great book recommendations, some about wonderful family times.
Here's what Richard Russo says in the introduction:
Many people love good bookstores, but writers? We completely lose our heads over them. We tell each other stories about them. We form lifelong, irrational attachments to our favorites….
…to me, bookstores, like my first one, remain places of genuine wonder. They fill me with both pride and humility when I come upon my own books in them. Bookstores, like libraries, are the physical manifestation of the wide world's longest, best, most thrilling conversation. The people who work in them will tell you who's saying what. If you ask, they'll tell you what Richard Russo's up to in his new one, but more important, they'll put in your hand something you just have to read, by someone you've never heard of, someone just now entering the conversation, who wants to talk to you about things that matter.
If you haven't been in a good bookstore in a while, the book you now hold in your hand will welcome you, lovingly, home.
By reading this book, you can experience for yourself some of those stories that writers tell.
It seems wrong to have a link to Amazon after this review. However, I'm going to keep it there, but ask that my readers merely use Amazon as a "showroom." Get the information about the book, current price, length, reader reviews. Then go find an independent bookstore and buy yourself a copy. Even though there's only one of the stores in this book anywhere near me (and not so very near), I think I need to purchase a copy of this book before my next vacation and then start checking off stores.
It does have a list at the end of the stores by geographic location. This book is a celebration of books and people who love them.