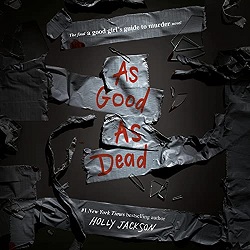 As Good as Dead
Review posted September 20, 2022
Listening Library, 2021. 15 hours, 4 minutes.
Review written July 20, 2022, from a library eaudiobook
Starred Review
2022 Sonderbooks Stand-out
:
#5 General Teen Fiction
Big thanks again to my coworker Lisa, who recommended this trilogy to me. She was anxious to read an Advance Reader Copy of the third book, and I had never read any of them. So I was lucky and didn't have to wait long in between books, because they were all published by the time I got to them.
In my review of the second book, I'd said that they stand alone okay, but now I say No, not at all. You absolutely need to read the other two books before you read this one. For one thing, you'd find out some major events of the earlier books, but mostly you'd understand the ins and outs of this one better.
Things escalate tremendously in each book. In the first book, Pip is a Senior in high school and takes on a 5-year-old murder case because she doesn't think the dead boyfriend was actually the murderer, despite a texted confession. In the second book, Pip stumbles into an immediate case where a friend goes missing, but the police don't think there's anything to worry about. That case bumps up against another long-ago case of a serial killer.
Well, in this book, Pip gets involved again in an old case involving a serial killer. But this time, a person keeps commenting on her podcast episodes, "Who will look for you when you go missing?" and then some things happen to her that are eerily similar to experiences reported by victims of a Connecticut serial killer from years ago. But there's someone in prison for the crimes, and there haven't been any more since he was arrested. So when Pip gets a message from the mother of the convicted man, Pip doesn't actually want to see the evidence that he is not the serial killer after all. Because that means he's still out there and may have taken an interest in her.
I won't say any more about the plot. There was a big turning point about a third of the way into the book, and I really disagreed with the decision Pip made. It had to do with not trusting the police.
As I kept listening and thought about it more, I had to admit that Pip had many, many reasons not to trust the police, and even though I wouldn't have made that choice, I could believe that Pip would have.
And that choice contributed to an incredibly tense story from start to finish. I was listening this past week when traffic was terrible after a thunderstorm had gone through and stopped electricity and downed trees, and the audiobook had my nerves stretched tight -- but at least I wasn't bored for a second when my normally 15-minute drive took me an hour!
This trilogy is incredibly good, but be aware it's extremely intense. And the crimes escalate from book to book and get closer and closer to Pip.