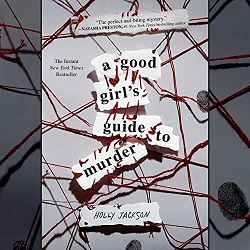 A Good Girl's Guide to Murder
Review posted May 28, 2022
Listening Library, 2020. 10 hours, 53 minutes.
Review written April 29, 2022, from a library book and eaudiobook.
Starred Review
2022 Sonderbooks Stand-out
:
#3 General Teen Fiction
Big thanks to my coworker Lisa for telling me about this series!
High school senior Pippa decides to use her Capstone Project to investigate a local murder. Everyone in town knows that when pretty and popular Andie Bell disappeared five years ago, it was her boyfriend Sal Singh who killed her. After all, he texted a confession and killed himself shortly after, his body found with her phone.
But Pip remembers Sal. He was a kind person. Could he really have done that? Doesn't it deserve a little more investigation?
The first person she interviews is Sal's younger brother, Ravi. He has believed Sal is innocent all this time, but no one in town will talk to him. His whole family is despised because of Andie Bell's murder. Now Pip is trying to clear his brother's name, and Ravi has some information that might help.
Pip finds out pretty quickly that Andie wasn't as sweet and innocent as the stories implied after her death. And as she digs, she starts getting threats that she needs to stop. How persistent will she be? And at what cost?
With a full cast presenting the story, this audiobook is perfect for fans of murder mysteries. How much sleuthing can a high school student do? I found myself believing that Pip's perspective as a kid at the same high school gave her insight that the police had overlooked.
Now that the mystery is solved, I'm wondering what's left to find out in the next two volumes of the trilogy, but I'm definitely going to find out.