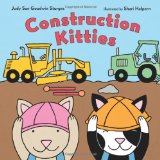 Construction Kitties
Review posted September 4, 2013.
Christy Ottaviano Books (Henry Holt), New York, 2013. 32 pages.
Starred Review
I'm sorry, but this book is way too cute! Though it's not saccharine. It's an honest, worthy book about construction machines – with adorable kitties driving them.
We've got standard Construction Book pages:
Into the loader.
Onto the excavator.
Dig that dirt!
Then at lunch time:
Out with their pails.
Tasty sardines.
Cool milk.
Tummies are full.
Construction Kitties purr and rest.
And what are those Construction Kitties building? What could be better? A playground! The endpapers show the workers now playing with many smaller kittens on the newly constructed playground.
Here's another one that's going straight into my next Baby Storytime. Construction machines. Kitties. What's not to like?