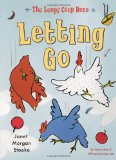 The Loopy Coop Hens
Letting Go

Review posted October 26, 2013.
Dial Books for Young Readers, 2013. 32 pages.
Janet Morgan Stoeke came to our library in May. I love her work. She has mastered the art of expressing the mind of a child – or in this case the minds of three childish hens.
The format is a full-sized picture book, but the book is perfect for beginning readers, complete with four short chapters. And the entire book is short enough to use in Storytime and will appeal to a wide age range.
The story is that the three silly hens Midge, Pip, and Dot are sitting in the shade under a tree, when apples begin to fall on them. They decide a fox must be throwing them and ask Rooster Sam for help. Children will delight in finding the flaw in the hens' logic.
When Rooster Sam gets frightened away by another falling apple, Dot bravely decides to go up a ladder and investigate. She manages to explain to the other hens that the apples aren't being thrown, they are letting go. The book comes to a nice conclusion when the hens all climb the ladder, see the pretty view, and decide to let go like an apple.
Now, parents might feel the need to explain to very young readers that hens with feathers, even if they can't fly, aren't at as big a risk falling from a tree as children. But children can probably figure that out, and the book shows the hens dazed, but eager to do it again.
I like the simple good-hearted fun in this book. We have a puzzle for the hens to solve, in which children will be way ahead of them. Then they turn it into an adventure, which children might not anticipate. This book works on many different levels.