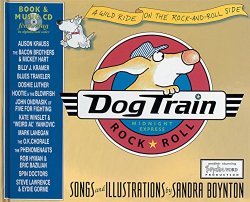 Dog Train
Review posted January 23, 2016.
Workman Publishing, New York, 2005. 64 pages. 16 songs.
Starred Review
I so love Sandra Boynton's songbooks and CDs. How did I not know about this one until now?
What I love about her songs is the wonderful child-centered lyrics – treated with complete seriousness. I can so easily imagine a child in a Broadway musical bursting into song with "Wave Bye Bye" or "Broccoli" or "I Need a Nap" telling Mom what to do. (Time to leave the party. "Don't give me that broccoli. Yes, I know I've never tried it, but it doesn't look right. I want no brocc'li tonight." And "I Need a Nap" speaks for itself, but to hear the plaintive singing! "I just can't take it any more. I need a nap!" If only our kids were so articulate – but you know this is how they'd put it if we lived in a world where everyone expressed their emotions in song.)
These books make me wish I still had young kids and an excuse to play these songs over and over. As it is, they brightened up a few commutes! They simply make me laugh.
My favorites of the 16 songs: "Sneakers," "Boring Song," "Penguin Lament," "Pots and Pans," and "I Need a Nap." I also love that she always includes a love song, perfect for singing to your child, in this case, "Evermore."
The songs on this album are rock and roll, but include a wide variety. One of my favorites, "Boring Song," is an old-fashioned schmaltzy song with backup singers, and a man with a wonderful velvet sound singing, "And though you find me boring, I'm still adoring my voice." So funny, but played completely straight.
I so relate to the Penguin's Lament! "I'm a little too cute. Oh yes, I know. I'm all dressed up, but I've got no place to go. I want to be cool, like the polar bear guys. I want to be tall and somewhat mysterious. But nothing profound comes in penguin size. Can anyone small be anyone serious? I'm serious!"
The song "Sneakers" is about a bear's favorite shoes. "When you're unaware that a bear is there, well, here's the reason why: it's the SNEAKERS. Now you know."
And they've gotten a great line up of talent to sing the songs. People like Weird Al Yankovic, the Bacon Brothers, and Hootie and the Blowfish.
But I can talk on and on about it and you won't get the idea nearly as effectively as from five minutes of listening. Check this out from the library, and if you have kids, I predict you're going to want your own copy. Too much fun.