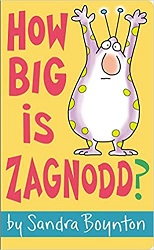 How Big Is Zagnodd?
Review posted May 2, 2021.
Little Simon, 2020. 16 pages.
Review written December 4, 2020, from a library book
Starred Review
This is the very first time I'm reviewing a board book. But it's a new Sandra Boynton board book!
Honestly? I don't often even notice the board books that come into the library because you can't put them on hold so I can't look them over as they come in. But today I was pulling a bag of board books for a customer (we've had them on an ask-for-a-bag basis during the pandemic so they don't collect drool), and saw this one, read it and was utterly charmed.
Spoiler alert: Zagnodd is SO big!
And then we're asked more questions about other aliens. "How long is Boknuk?", "How fuzzy are Fleeb, Fleeeb, & Fleeeeb?", and "How bright is Igwak?"
But the place where I laugh out loud is, "How dancey are the nimble Klorggix of Planet 9?" And after that, we see one earthling named Steve who is SO lost.
If you delight in reading nonsense words, obviously this is the board book for your family.
Sandra Boynton's genius is in making books that are short and sweet but delight little ones and adults alike. My own 32-year-old daughter had a set of Boynton board books and I swear her first word was "Fffff!" when reading the book called Doggies that had a WOOF! on each page. How Big Is Zagnodd? is a worthy addition to her offerings.