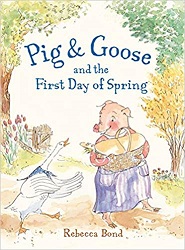 Pig & Goose and the First Day of Spring
Review posted September 5, 2018.
Charlesbridge, 2017. 48 pages.
Starred Review
Review written in 2017
This is a beginning reader in the classic "two friends" tradition. We learn how Pig meets Goose on the first day of Spring.
Here's the start of the book and the story "A Spring Morning":
It was spring at last.
Pig was in a good mood.
"The sun is shining!" said Pig.
"The sky is blue!" said Pig.
"Goody gumdrops!" said Pig.
"I am going to have a picnic by the pond."
Pig is anthropomorphic, wearing a dress and gathering things from her cozy home into a picnic basket. On the way to the pond, Goose lands beside her. She admires how well Goose flies, so Goose offers to teach her.
You can figure out how the flying lesson will end up! But I like the way they collapse into a pile of good-hearted laughter after they try it. And then they go together to eat the picnic by the pond.
The second story is "A Picnic Lunch." They share lunch and talk about how spring is the best season but then agree that all the other seasons are best, too. Pig naps in the sunshine and dreams of flying like Goose. When she wakes up, she learns that Goose can also swim. What an amazing new friend she has!
That story ends with Pig inviting Goose to the party she's having that evening, her First-Day-of-Spring Party.
The final story is about the party. Pig introduces Goose to her many friends. Pig made wonderful food to eat, tells delightful stories and jokes, and laughs and dances with her friends.
After the party, Goose tells Pig how wonderful she is – and I like that the author doesn't have to explain to the reader why that is, they've already seen how delightful she is. Even her exuberant cry (repeated often) of "Goody Gumdrops!" tells us how enthusiastic she is about her joys.
[I used to like to say "Goody Gumdrops!" when I was a kid. Made me wonder if Rebecca Bond is the same age as me. Well, she's 8 years younger, but that's not too far off. Do kids today say "Goody Gumdrops!"? Maybe now they will.]
This is a picture book about friendship and about simple joys. And I like the way it shows us that each friend has something of their own to offer.
I'm glad we can peek in on the start of this beautiful friendship.
[Note: I was looking up Rebecca Bond's website and discovered, sadly, that she died August 2, 2017, at 45 years old. So the friendship of Pig and Goose will only be developing in our imaginations.]