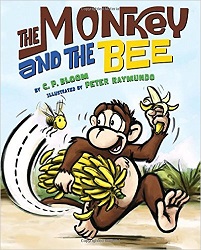 The Monkey and the Bee
Review posted August 26, 2016.
Abrams Books for Young Readers, New York, 2015. 40 pages.
Starred Review
Here's a book that's brilliant for beginning readers, but also for small children who don't read yet at all. This is a mostly wordless book – the story is told through pictures, and the words merely label things.
On the first page we see:
The Monkey
The Bee
The Banana
The pictures show the bee fly onto the banana and get flicked off – but the bee comes back just as the monkey is taking a bite and buzzes in the monkey's mouth.
The monkey spits out the bee, but gets mad and picks up a branch to swat the bee. Unfortunately, he ends up swatting The Lion. Hijinks ensue and eventually it's the bee who helps rescue the monkey from the lion. The monkey decides to share the banana.
The story as I just told it here is nothing particularly special. It's the large close-up illustrations with so many action shots that make this book a winner. There is so much to talk about with little ones – and even toddler listeners will understand what's going on and quickly learn what the print words are saying.
I used this book in a toddler storytime, and it was a huge hit. Lots of audience reaction! The expressions are large and even toddlers understand the emotion. And the happy ending leaves everyone feeling good.