It's been more than a week since ALA finished, and I had a wonderful time.  Time to report!
I'd had four days at my new job as a Management Analyst for the Office for Children, Provider Services.  It's a nice job, very peaceful, but it's not a librarian position.
Going to ALA Annual Conference this year was a no-brainer, since I wouldn't have to pay for travel (except parking) or a hotel.  And it ended up being a peak experience.  Three years ago, ALA Annual was in DC and I went and was inspired.  But that time, I didn't see a soul I knew.  This time, every day I saw librarians I'd worked with, bloggers I'd met, and authors whose books I'd reviewed.  I felt like part of the great big wonderful Kidlit community, and it felt good.  I did realize that I am a Librarian by calling, not just by job.
The first night, the main thing going on was the opening of the Exhibits.  I happily filled my bag with free books.  And then I looked up and saw an author I admire, whose newest book was sitting on my bedside stand, a few chapters in:  John Green.
I didn't come up with anything especially clever to say, but I managed to ask if I could get a picture with him and with his co-author (of that book on my bedside stand) David Levithan:
(David's on the left, John's on the right.)
I also went to see the Peachtree book and found my friend and Writing Sister Kristin Wolden Nitz's new book Suspect prominently displayed.  It will be out in the Fall, and they were giving away Advance Reader Copies.
I finished up the night at the SCBWI sponsored KidLit Drink Night.  Right away, I met Karen Cushman!  Author of The Midwife's Apprentice and Catherine, Called Birdy, among other great books.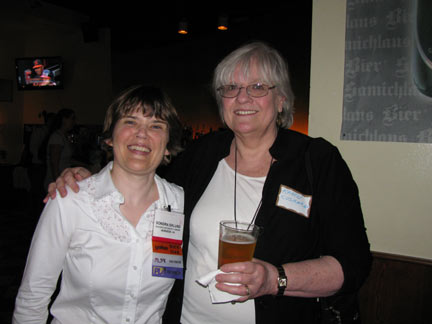 I met lots more authors, some published and some unpublished (like me), and many whom I knew from the DC KidLit Book Club.  I was hoping to meet Betsy Bird of the Fuse #8 Blog, but unfortunately she was in the Emergency Room with a sprained ankle.  I did meet my friend Kristin's agent and lots of other fascinating people. 
Then I lugged my books home on the Metro and resolved to drive for the rest of the conference.  It was a nice beginning!  Already I'd gotten lots of cool books, met wonderful people, and schmoozed with authors and bloggers and agents and librarians.  And that was in only a few hours.  There were three more long days to come!