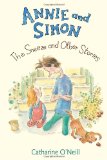 Annie and Simon
The Sneeze and Other Stories
Review posted October 9, 2013.
Candlewick Press, 2013. 58 pages.
The Sneeze and Other Stories is a charming addition to early chapter books about two friends, because in this case it's a little girl and her big brother. As a big sister of many, this is a nice acknowledgment of the relationship between siblings widely spaced in age.
The four stories are simple, everyday events, with nice interaction between Annie and her big brother.
One thing I couldn't figure out: The first and third stories happen in the summer. The last story happens at the start of Fall. But the second story, The Sneeze, looks like it happens in winter. Or at least there are white spots on the windows. Why jump around the seasons like that? Though it very well could happen in the summer. It's all indoors. Maybe the spots are something else?
But the stories are nice. First, Annie and Simon are looking for living things at the creek, and Annie is drawing them. Simon can't always tell what she's drawn, but is very nice about it.
In "The Sneeze," Simon sneezes, and Annie insists he is sick and needs to be cared for. Never mind that he has to get up and get the blanket or actually read the story (Madeleine) himself.
In "Hazel, Hazel, Hazel," Annie compares her dog Hazel with the neighbor cat and tries to teach her to purr.
And in "Horse Chestnuts," Annie and Simon find some horse chestnuts, which then get stolen by a squirrel.
Nice cozy little sister-big brother stories.