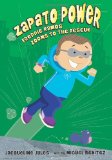 Freddie Ramos Zooms to the Rescue

Zapato Power, Book Three
Review posted November 12, 2011.
Albert Whitman & Company, 2010. 78 pages.
Here's a third beginning chapter book about Freddie Ramos, owner of a pair of purple super-powered sneakers.
Freddie wants to be a superhero now that he has superpowers. When a mysterious pair of goggles shows up in the mail for him, they seem like just the thing to hide his identity. And there are problems to solve at school, with a tree making a hole in the roof and a purple squirrel on the loose.
More good fun in a captivating format that will draw kids in to reading.