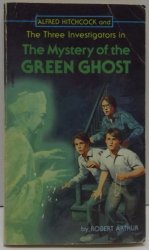 Alfred Hitchcock and the Three Investigators in

The Mystery of the Green Ghost
Review posted May 31, 2014.
Random House, New York, 1965. 181 pages.
My co-worker and I got to talking about The Three Investigators series, which we both enjoyed as kids, and he ordered the first three via Interlibrary Loan. After he let me read the first one, I went ahead and ordered number four, The Mystery of the Green Ghost. However, it came in before numbers two and three, so I had to read them out of order.
But that really doesn't matter. I think reading the first one first is good, but each adventure is basically self-contained.
And, no, it doesn't hold up perfectly over the years. But they're still full of adventure and highlight kids outsmarting adults. Now, this one is terribly politically incorrect, with lots of Chinese people who are treated quite stereotypically. We've got a kid who's one quarter Chinese whose nickname is Chang, and who talks about his "honorable aunt." There are still no girls in the book whatsoever.
But the adventure is good. And Jupiter's deductions are quite plausible, but still very clever.
It begins when Bob and Pete hear piercing scream coming from a supposedly haunted house that's about to be torn down. Then a group of men happen to be wandering by, and when they go inside, all of them see a green ghost, dressed in long flowing green robes. They're sure he's the ghost of Mathias Green, who died in the house long ago.
And the ghost is seen around town, even at the graveside of Mathias Green by the chief of police. And when they explore the house further, a skeleton of Mathias Green's missing wife is discovered, wearing a string of valuable "ghost pearls."
And then the trail leads up north to a vineyard in Verdant Valley. Pete and Bob are invited to the home of the woman who inherited the house, who has a nephew, Chang, the boys' age. They're ready for action when the pearls are stolen. Meanwhile, back in Rocky Beach, Jupiter is making deductions -- which are crucial when Bob and Pete and Chang disappear.
It's all fast-moving and action-packed. All three investigators contribute to solving the mystery. In this one, there's not as much focus on their cool headquarters with its secret entrances, and they never even ride in their gold-plated Rolls-Royce. But what they do is solve a mystery with brains and action and working together (and okay, some luck of being in the right place at the right time) -- a mystery that stumps adults.