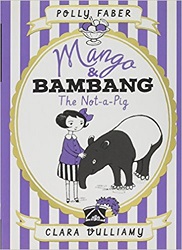 Mango and Bambang
The Not-a-Pig
Review posted April 4, 2018.
Candlewick Press, 2016. 135 pages.
Starred Review
Here's a beginning chapter book – four chapters with abundant pictures – that is most unusual and utterly charming.
We first meet Mango Allsorts, a girl who is good at all sorts of things.
She had a nearly black belt in karate, and she could jump off the highest diving board at the swimming pool without holding her nose, use the Sicilian Defense when playing chess, and wiggle her ears while sucking on a lollipop.
She was also learning to play the clarinet. Sometimes the sounds that came out of the bottom were not exactly the sounds Mango had meant when she blew into the top, but Mango knew that she just needed to keep practicing and soon she would be good at that, too.
Mango had a lot of time for practicing; her papa's long hours balancing meant she had to find her own things to do. Becoming good at those things kept her busy. And being busy was important, living in a very busy city, full of other busy people being good at things.
Because otherwise Mango might have been a little lonely.
It was on a Wednesday that everything changed. It's important to note that it was a Wednesday. A Wednesday can seem a bit of a humpish, nothing-y sort of day, but even humpish sorts of days can hold the unexpected.
In this case the unexpected was a hump.
As a matter of fact, the unexpected is a tapir who is blocking all traffic in the city, hunkered down on a crosswalk because he thought he saw a tiger.
Mango knows how to be calm and listen. She talks gently to the tapir and invites him to her home for banana pancakes.
It takes much coaxing and reassurance, and some false starts, but Mango gets Bambang to trust her and come home with her for a visit.
Walking home with her new friend, Mango found herself feeling not perfectly certain what having a tapir come to stay might involve.
And that was a very exciting feeling indeed.
The remaining chapters deal with the adventure of having a tapir as a long-term visitor and best friend. First, Bambang finds a pool that suits him, then he deals with a sinister Collector, and finally he gives Mango exactly what she needs to be able to play her clarinet in a concert.
I liked the writing style from the moment I opened the book, and a story about a girl and her friend the tapir is certainly something new. Best of all, the spine of the book has a prominent number 1 on the top, so I'm pretty sure there are more adventures to come.
Beginning chapter books often seem rather boring to adults, since they are generally concerned with everyday things that are important to young children. Well, when the topic is fitting a tapir into those everyday concerns, things rapidly get quite interesting. There are pictures on every spread, and this book provides ample rewards to a reader ready for new adventures.