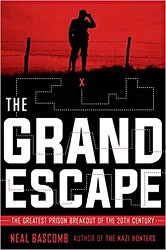 The Grand Escape
The Greatest Prison Breakout of the 20th Century
Review posted September 19, 2020.
Arthur A. Levine Books (Scholastic), 2018. 275 pages.
Starred Review
Review written October 27, 2018, from my own copy, sent by the publisher
2018 Sonderbooks Stand-out
:
#6 Longer Children's Nonfiction
This nonfiction book reads like a thriller. It covers a breakout from a prisoner of war camp in Germany during World War I.
The book gives us background first about how the war was going, and we meet several individuals important in planning the escape. Most of them had some earlier attempts at escape.
One particularly heart-wrenching attempt was a guy who almost made it to the border – and then he saw a town that matched the name of the Dutch town on his map. Well, it turned out there were two towns with the same name on either side of the border. He was in the German town, and got taken back to camp.
The grand escape of the title happened from Holzminden Camp and involved digging a long tunnel. It was a long, involved process, and we learn all about it in this book.
Usually I read nonfiction slowly, a chapter at a time, and break it up with fiction books in between. But this book was mesmerizing. I wanted to know how they would pull it off and which of these men would make it.