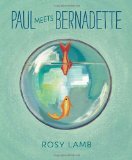 Paul Meets Bernadette
Review posted January 10, 2014.
Candlewick Press, 2013. 40 pages.
Starred Review
2013 Sonderbooks Stand-out
: #7 Picture Books
Paul Meets Bernadette is incredibly sweet, without being saccharine.
Paul is a goldfish in a round bowl.
Paul used to go around in circles.
He made big circles
and little circles.
He circled from left to right
and from right to left.
He circled from top to bottom
and from bottom to top.
And then one day, Bernadette dropped in.
"What are you doing? Bernadette asks Paul. "I'm going round and round," says Paul. "What else is there to do?"
Then Bernadette takes it on herself to show Paul the whole world outside their bowl.
Here is where this book joins the tradition of books like Minerva Louise and The Adventures of Cow. Children will be delighted at how much more they know than Bernadette. Paul is simply delighted with Bernadette.
The first thing she shows him is a banana, which she tells Paul is a boat. She goes on to show him a "forest" (flowers), a "cactus" (clock), and a "lady's dress" (newspaper).
A fun one is the teapot which Bernadette tells Paul is an elephant.
"Is she a dangerous elephant?" asks Paul.
"She is not too dangerous," Bernadette tells Paul.
"But you must not disturb her when she is feeding her babies."
The picture here shows the teapot pouring tea into teacups.
And while this is going on, the artist manages to show us Paul falling in love with Bernadette, who has shown him the whole world.
A wonderful mistaken-naming picture book with a sweet message. Both kids and adults will enjoy this one.