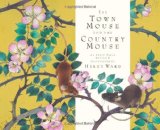 The Town Mouse and the Country Mouse
Review posted December 9, 2012.
Templar Books (Candlewick Press), 2012. Illustrations copyright 2011. 44 pages.
Starred Review
Here's the familiar Aesop Fable, told with lavishly beautiful illustrations. There are also few enough words on each beautiful spread to make this a hit for storytime. (Why is it that sometimes the more beautiful the illustrations, the more words on a page? Not a problem here.)
I like the way Helen Ward contrasts the City Mouse's words with pictures of the country. For example, the first page where the City Mouse is telling the Country Mouse about his home has these words:
"In the city, we don't have mud," he said.
"And we don't have dangerous wild animals."
The picture on that spread is of a baby fawn curled up asleep in the grass.
The next page says,
"In the city, we dine on rich, exotic foods in sumptuous surroundings."
The picture that goes with those words is of the two mice in a beautiful orchard eating wild berries.
Helen Ward has the mice come to the city along with a Christmas tree and the feast is a Christmas celebration, so you can use this for Christmas, but there's nothing about it in the text, so you can also use it any time of year.
The moral is not spelled out, but I think it will be easy even for the youngest listeners to understand and talk about.
This book is a feast for the eyes, along with a story that never grows old.