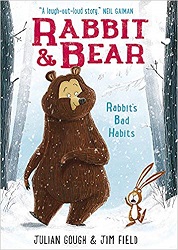 Rabbit & Bear
Rabbit's Bad Habits
Review posted May 13, 2019.
SilverDolphin, San Diego, 2018. First published in Great Britain in 2016. 101 pages.
Starred Review
2019 Sonderbooks Stand-out
: #11 in Children's Fiction
2019 Cybils Award Finalist
I want to call this a charming beginning chapter book, but it doesn't actually have chapters. It's got the format and length and skill level of a beginning chapter book, though, and is perfect for those readers. (I find myself wishing they'd stuck chapter breaks in just so the kids could say they'd read a chapter book.)
The story is about Bear waking up early in the middle of winter and deciding she's going to build a snowman. She meets Rabbit, who knows much more about making a snowman than Bear does, and has plenty of advice.
Along the way, they make friends, even though Rabbit has done some not-very-nice things. But he has given Bear a carrot for her snowman, so when a Wolf is after Rabbit, Bear uses what she's learned to save the day.
And we learn that you can be friends with someone who may have some quirks and may not be nice every moment. Not that you should be friends with someone who's mean, but read the book! It manages just the right balance.
What's more, we learn why rabbits eat their own poo! (Their food is only half-digested. But it's all explained clearly.)
The overall product is a making-friends story with charmingly flawed and friendly characters.
And it's the start of a series! I can't wait for more.