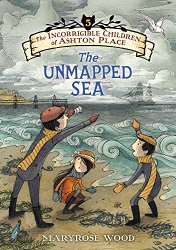 The Unmapped Sea
The Incorrigible Children of Ashton Place, Book Five
Review posted June 5, 2015.
Balzer + Bray (HarperCollins), 2015. 404 pages.
Aaugh! The story is still not finished! Yes, I love spending time with the Incorrigibles and their dauntless governess Penelope Lumley, but when will the story end?
The plot has progressed, so you really should read these books in order. We now know the exact words of the curse on the Ashton family – but we don't know how to break it. Penelope's fate has taken a dramatic turn, and the Incorrigibles are in danger.
Meanwhile, we've got the usual silliness. Lady Ashton is expecting a baby, and when a doctor suggests a holiday by the sea, they go to Brighton in the middle of winter. Lady Ashton is sure that her Frederick actually intends to take her to Italy, which starts a long and silly charade by the staff. Penelope gets in educational moments throughout, and they meet a family of badly-behaved Russians also vacationing in Brighton.
I decided that I should have patiently waited until my library purchased the audio version of this book. I listened to most of the books, and I'm much more patient with audio. The narrator reading the books in a perfectly serious way milks the silliness and makes it much more fun. As it was, though by now I hear the narrator's voice in my head, I got a little impatient with the pace when I was simply reading it myself. So any future books, I will try to restrain my eagerness (not sure I can – I really am interested in Penelope's fate!) and wait for the audio version.