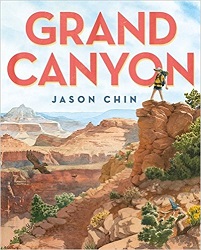 Grand Canyon
Review posted January 6, 2018.
A Neal Porter Book (Roaring Brook Press), 2017. 48 pages.
Starred Review
2017 Sonderbooks Stand-out
: #4 Children's Nonfiction
2018 Caldecott Honor Book
2018 Sibert Honor Book
Here's a stunningly illustrated and meticulously well-presented story of the ecology, geology and history of Grand Canyon.
First, the book explains that there are different ecological communities in different levels of the canyon. Then it also talks about the many different rock layers in the canyon.
Then we're taken with a father and daughter on a hike through the different layers and different ecological communities. All around the borders, we'll see drawings of different animals and plants that inhabit that layer.
But the most striking part about each layer is a cut-out window showing a fossil or rock found today – and when you turn the page, you see that thing in its habitat when the fossil was formed.
For example, the girl sees a fossil of a Trilobite in a rock today, then turning the page takes her back in time, under the sea, where Trilobites roamed the sea floor. Later the girl sees fossil footprints, and then in the past, she sees a lizard walking over windswept dunes and leaving those footprints.
It's an interesting and imaginative way of presenting the material and is striking and easy to understand. There's a fold-out spread with a panorama of Grand Canyon, and 8 pages of more details at the back of the book.
This is a fact-filled, gorgeously illustrated book that will reward multiple rereadings.