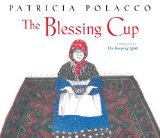 The Blessing Cup
Review posted November 4, 2013.
A Paula Wiseman Book (Simon & Schuster Books for Young Readers), New York, 2013. 42 pages.
Starred Review
Patricia Polacco knows how to tell true stories with punch. This is a picture book for school age kids, with lots of text on each page. The story told is powerful, and will mesmerize readers and listeners.
The story begins when Patricia's great-grandmother, Anna, was a little girl in Russia. Anna's mother was given a beautiful china tea set for her wedding. The tea set had a blessing with it:
This tea set is magic. Anyone who drinks from it has a blessing from God. They will never know a day of hunger. Their lives will always have flavor. They will know love and joy . . . and they will never be poor.
I like when they explain that the blessings work:
And even though their lives were humble because there was never enough money, Anna's papa would say to her, "Oh, there is rich and there is rich. We are richer than kings, and do you know why?" Then he and Anna chanted together, "Because we have each other!" Anna felt that in Roynovka everyone was rich. They had one another!
But then the Tsar's soldiers come to Roynovka and they're told they must leave Russia, along with all the Jews. On the long, hard journey, they bring the tea set. But Anna's papa falls ill and almost dies.
However, a kind widowed doctor takes the family in and brought their father back to health. They called him Uncle Genya. But when Uncle Genya is told he cannot keep Jews in his house, he buys them tickets to America.
In gratitude, they leave the tea set with Uncle Genya – all except one cup. And that cup is handed down through the family, all the way to Patricia Polacco, with the blessing always recited along with it.
I can summarize the story, but of course you need to read it, in full, with the repeated blessing, in Patricia Polacco's words, with Patricia Polacco's illustrations. Again and again, she writes a story that packs an emotional punch.