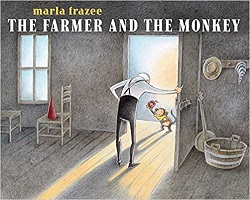 The Farmer and the Monkey
Review posted May 11, 2021.
Beach Lane Books (Simon & Schuster), 2020. 32 pages.
Review written February 6, 2021, from a library book
Starred Review
The Farmer and the Monkey is the sequel to The Farmer and the Clown, both wordless books picturing an old and plainly dressed farmer with an unusual visitor who has fallen off the circus train.
When it's a monkey, the farmer initially wants nothing to do with him. But even the farmer doesn't want to leave the monkey out in deep snow.
And then we get to see the farmer loosen up and gain affection for the monkey, despite some chaos that follows after him.
The ending is similar, when they see the circus train coming back.
But the flap copy tells us this is going to be a trilogy! I'll be watching for The Farmer and the Circus.
What makes these books so much fun is how much is told through pictures alone. I look forward to the day I can use this in a storytime, because it would be so much fun to hear what kids see in these wonderful pictures.