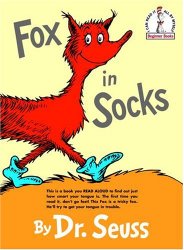 Fox in Socks
Reviewed March 2, 2015.
Beginner Books, 1965. 61 pages.
Starred Review
Today is Dr. Seuss's birthday. As has become traditional, at the City of Fairfax Regional Library, we held a Seussathon -- offering customers the chance to read Dr. Seuss books in the children's area all day.
As has also become traditional, I started it off with a reading of Fox in Socks.
I thought it would be fun to tell the story of my history with Fox in Socks. It's special to me, because I can remember when my mother bought it and brought it home. I was so impressed with the words at the beginning: "Take it SLOWLY. This book is DANGEROUS!" In fact, I still read those words with the same inflection my own mom gave them.
I remember I asked her what that meant. I don't remember her exact answer, but I was very impressed. And I remember her laughing when she made any mistakes. And very dramatically telling me her tongue was numb.
We lived in Kent, Washington, then, and I wasn't in school yet. I'm pretty sure my little sister was born -- so I must have been four years old. (Yes, this was a long time ago!)
Later, I remember *trying* to say things like "quick trick chick stack" and simply not being able to. Also "Six sick chicks tick." And "Bim's bends. Ben's bends." And the three free fleas. But I always did like Luke Luck and the Tweetle Beetles.
So that's why I have all my life (minus four years) been extra fond of this book. And then I was a big sister -- big sister to ten, actually (and little sister to two) -- and got many many opportunities to read to my younger siblings over the years.
Not too long after I moved out and got married, I had my own son, followed by a second six years later. Yes, I made sure to buy a copy of Fox in Socks very early.
Now? Well, thankfully I'm a Children's Librarian, and I can still give myself a dose of Fox in Socks at least once a year.
And this brings up the value of the book. Okay, there's not much plot. But you won't find a better book for building phonological awareness. You definitely notice the smaller sounds in the words, once a child is at least old enough to follow what's being said. When they are old enough to read, oh my each letter makes a difference!
And you know what? I think there's still a little Sondy in me who is simply pleased as can be to be able to say those words quickly.
Happy Birthday, Dr. Seuss!