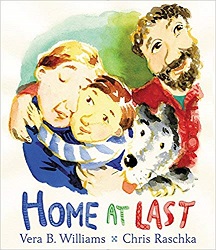 Home at Last
Review posted December 30, 2018.
Greenwillow Books, 2016. 36 pages.
Starred Review
Review written in 2016
I read about the creation of this book in Horn Book Magazine, so I was predisposed to like it. Vera Williams wrote the text many years ago, but set it aside until last year, when she felt the time was right. But she knew she was at the end of her life, so she'd need some help to finish the book, and she asked Chris Raschka. The result was that they collaborated on the book, and Chris completed it after she died on October 16, 2015.
The story might have been trite – an orphan child living in a home is being adopted – but this particular story is told with depth and warmth and love that makes it anything but typical. It's also a long text for a picture book, so it's not exactly a storytime selection, unless it's for an elementary school classroom, but it would make lovely cozy family reading.
The book opens as Lester is waiting eagerly for the arrival of Daddy Albert, Daddy Rich, and their dog Wincka, who are going to finally adopt him.
When Lester moves in with them, they give him his own room. Lester needs his suitcase filled with action figures to protect him.
But every night, Lester wakes up in the night and stands by his daddies' big bed, with Wincka sleeping at the foot. Every night, they wake to see him standing over them.
What Lester wanted was to climb into his parents' bed, too. More than anything, he longed to wriggle right into the middle of that bed, with Daddy Rich on one side and Daddy Albert on the other side and fat old Wincka at his feet, and to have his action figures in their blue suitcase right on the floor beside them. That way he knew he would be safe from everything bad in the whole world.
Lester never told Daddy Rich and Daddy Albert about this. But every night, as though he had an alarm clock ringing in his belly, he grabbed his suitcase and made his expedition down the hall and through the door to the side of the bed.
Lester's daddies have trouble with this. I appreciated the paragraph that expressed their thinking.
Daddy Rich and Daddy Albert had decided, long before they finished adopting Lester, that it was important for their new little boy to have his own room and his own bed. They had spent many weekends painting the room and finding the right bed for the boy who was coming to live with them. And they surely knew, from living with Wincka, how impossible it was to get a creature out of your bed once you have let that creature in, if only in an emergency . . . if only for a few nights.
The problem goes on though. The daddies try to help. They do lovely things together with Lester. They look forward to him settling in to school and feeling at home in the neighborhood. They do have some setbacks as well, but it's clear they love Lester and want to do what's best for him.
Finally, the solution – and a lovely one – comes from Wincka.
And I like the way the book doesn't end with that solution – that's only a part of Lester feeling at home. First, it talks about Sunday mornings when things are relaxed and everyone cuddles in the big bed and sleeps late and has pancakes together. The final spread goes further:
But he also loved when his new cousins – all four of them – stayed over on Saturday nights. They laughed and jumped around and played and played so much that they hardly slept a wink.
And at first light, they piled right on top of Daddy Rich and Daddy Albert.
"Help! We're being attacked!" the daddies shouted, dashing through the house chased by cousins and Lester and Wincka and even Silver. And then it was pancakes for everyone. And then an entire day of more games and walks and snacks and fun together.
Lester was truly home at last.
Here's a lovely warm book about a little lonely boy who needs a family – and finds one. I like the way it tackles head-on that he needs extra reassurance, and it isn't easy – but he does find a home. And that reassurance.
This book is a lovely legacy for an outstanding picture book creator. I also love the way the pictures are a wonderful blend of her style with Chris Raschka's, creating something new.