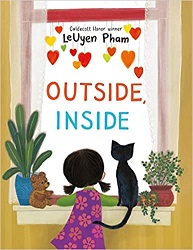 Outside, Inside
Review posted February 23, 2021.
Roaring Brook Press, 2021. 44 pages.
Review written January 28, 2021, from a library book
Starred Review
It gives me pause that the pandemic has been going on long enough for a top-quality illustrator to have a wonderful book about it published.
Here's the text for the first several spreads:
Something strange happened on an unremarkable day just before the season changed.
Everybody who was OUTSIDE . . .
. . . went INSIDE.
Everyone.
Everywhere.
All over the WORLD.
There are lovely spreads about the people inside and outside hospitals, as well as talk about the empty parks, playgrounds, and schools, and the animals that came out to play.
It talks about the many things we did inside while waiting.
It talks about WHY we did this. "But mostly because everyone knew it was the right thing to do." According to the Author's Note, the images on this page are of actual people who died of Covid-19, along with people who love them.
I got to hear the author speak about this book at ALA Virtual Midwinter meeting, and she couldn't talk about the hospital pages without crying. Though the book itself comes across as full of hope. There's a black cat on each page, leading the reader through the book – the perfect choice, because cats can go anywhere.
I love the spreads at the end that bring it home:
On the OUTSIDE,
we are all different.
[Here the image is of many homes, in architectural styles from all over the world, and children from all ethnicities looking out the windows.]
But on the INSIDE,
we are all the same.
[Now the sun is setting and the silhouetted, happy children all have red hearts radiating out from them.]
The final metaphor is that Spring will come soon. There's a wonderful spread of people outdoors, close to each other, and featuring a child giving an older relative a huge hug.
May that day come soon indeed.
This is a lovely book about hard things that fills the reader with hope. There's lots to talk about, but the actual text is simple enough for a very young child. The book feels universal, featuring people all over the world, and it will still make for lovely reading even when this pandemic is long past.