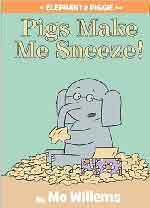 Pigs Make Me Sneeze!
Reviewed October 6, 2009.
Hyperion Books for Children, New York, 2009. 57 pages.
Starred Review
Sonderbooks Stand-out 2009
: #3 Picture Books
I love Mo Willems' books, and I try to refrain from reviewing every single one. However, this is the Elephant and Piggie book I got to hear Mo Willems himself read at the National Book Festival. Naturally, I bought a copy, and I certainly have to review it.
The more I read Mo Willems' books to kids, the more impressed I get. I can be completely losing the kids at a storytime, but if I open an Elephant and Piggie book, I soon have them hanging on my every word. They're funny; they're easy to read; they convey all kinds of exuberant emotion with simple lines; and they often teach a lesson, too!
In Pigs Make Me Sneeze! Gerald (the elephant) finds himself sneezing as soon as Piggie comes around. He is heartbroken to realize that pigs make him sneeze, so he should never be around his best friend any more. Then Doctor Cat comes along with an alternate explanation.
My teenage son pointed out that this beautifully illustrates a basic truth: Correlation does not imply causation. It actually makes me wish I still taught college courses in Intro Statistics, so I could bring in this book to teach that concept in a memorable way. (I still say Mo Willems' books are more effective than lectures.)
The summary of the book naturally doesn't do justice to the humor of the illustrations, and the comic timing of the characters' interactions. My son was also quite taken with Doctor Cat -- He would like to see a new book about Doctor Cat; he said he's as cool as Dr. McNinja, only he's a cat. Can you tell that even a fifteen-year-old could not resist the charms of reading this book when I brought it home? This book is in a class far above your ordinary run-of-the-mill easy readers that make up a plot to use simple words. Truly a book for all ages, and great for beginning readers, too.