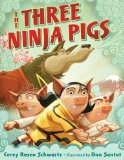 The Three Ninja Pigs

Review posted December 1, 2012.
Putnam, 2012. 40 pages.
There's a whole subgenre out there of Three Little Pigs variants, and I've definitely got a soft spot for them. This one doesn't attain the heights of The Three Little Wolves and the Big Bad Pig, or David Wiesner's The Three Pigs, but it's definitely fun.
I don't think I even need to tell you what happens. We've got three ninja pigs. The one who trains the hardest (the girl! yay!) is the one who defeats the wolf. Along the way, Corey Rosen Schwartz gives us rhymes that make us laugh instead of cringe. (Well, if you don't love puns, you may cringe, but the rhymes are excellent. And personally, I love the puns.) Dan Santat's square-jawed pigs are the perfect tough porkers to take on the bullying wolf.
Here's the sister pig training:
She balanced and blocked like an expert,
and practiced her lessons nonstop.
By the time she was through,
she could break boards in two
by performing a perfect pork chop!
Okay, there's nothing profound here, and Sister Pig manages to scare away the wolf with her ninja moves. But it's definitely a fun addition to the subgenre. And, hey, it's got ninjas!