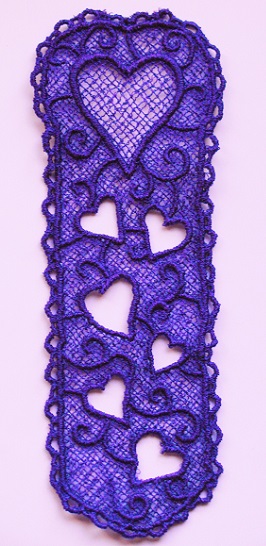 Today's Valentine's Day.
I'm not in a romantic relationship, and I would like to be — but I reject the notion that this means I can't celebrate a holiday that's all about Love.
Think about it — Love is the fundamental heart of the Christian faith. Consider these verses:
Jesus replied, "'Love the Lord your God with all your heart and with all your soul and with all your mind.' This is the first and greatest commandment. And the second is like it: 'Love your neighbor as yourself.' All the Law and the Prophets hang on these two commandments." — Matthew 22:37-40
"As the Father has loved me, so have I loved you. Now remain in my love. If you obey my commands, you will remain in my love, just as I have obeyed my Father's commands and remain in his love. I have told you this so that my joy may be in you and that your joy may be complete. My command is this: Love each other as I have loved you." — John 15:9-10
How great is the love the Father has lavished on us, that we should be called children of God! And that is what we are! The reason the world does not know us is that it did not know him. — I John 3:1
Dear friends, let us love one another, for love comes from God. Everyone who loves has been born of God and knows God. — I John 4:7
God is love. Whoever lives in love lives in God and God in him. — I John 4:16
"Though the mountains be shaken and the hills be removed,
yet my unfailing love for you will not be shaken
nor my covenant of peace be removed,"
says the Lord, who has compassion on you. — Isaiah 54:10
Your love, O Lord, reaches to the heavens,
your faithfulness to the skies.
Your righteousness is like the mighty mountains,
your justice like the great deep.
O Lord, you preserve both man and beast.
How priceless is your unfailing love!
Both high and low among men
find refuge in the shadow of your wings. — Psalm 36:7
The Lord your God is with you,
he is mighty to save.
He will take great delight in you,
he will quiet you with his love,
he will rejoice over you with singing. — Zephaniah 3:17
For I am convinced that neither death nor life,
neither angels nor demons,
neither the present nor the future, nor any powers,
neither height nor depth,
nor anything else in all creation,
will be able to separate us from the love of God that is in Christ Jesus our Lord.
— Romans 8:38-39
I think it's fantastic that we celebrate Thanksgiving — a day set aside to honor a wonderful spiritual practice. So why not treat Valentine's Day that way? It's a day set aside to honor Love — which is what makes life worth living. It's what the lives of Christians are supposed to be about. Sure, we can get by without romantic love (though it sure is nice when it comes along), but love itself is crucial. It's worth taking a day to think about it!
Although I can get discouraged when I think about romantic love, I have so many reasons to celebrate love! Both the love of God and the love of friends and how rich I am with people in my life whom I love and who love me.
This was brought home to me 10 years ago today. It was pretty much the low point in the end of my marriage (or one of the low points). My then-husband was trying to get through to me how very over our marriage was in his mind — by being cruel. (To be fair, it wasn't getting through my head. Even then, I didn't understand at all how he could throw away our years together.)
I was scheduled for surgery in a German hospital on Valentine's Day. It was for a "non-healing wound" on my cervix — how symbolic is that? — and they also found adhesions (scar tissue) in my uterus.
Anyway, I knew my then-husband was not going to be supportive. And it was Valentine's Day. And did I mention surgery in a German hospital? I felt very alone. So, out of desperation, I asked my friends and family to mail me valentines.
They came through. In fact, the quilted bag I carry to church each week was made by a friend on that occasion. And what could have been a horrible disaster now reminds me of how rich I am in friends and how much I am loved.
Yesterday, I tried to recreate some of that by "sorting" my Facebook friends — talking about the different times in my life where I've met people and made lasting friends and tagging people in each time period. (I've moved around a lot and picked up friends all over the world!)
But the joke's on me! After tagging about a couple hundred people — and I just got through relatives, high school friends, and college friends — Facebook won't let me tag anyone any more! So I guess that means even Facebook thinks that's more friends than a person can legitimately have! See how rich I am?
And the picture of the bookmark in this post? That was a Valentine given to me today by my lifelong friend Darlene, accompanied by a wonderful note. It was nice that today was a Sunday — I got other hugs and prayers and kind words and was freshly reminded how surrounded I am by love and how very wonderful that is.
Now, lest it sound like I'm gloating: I do have to make a point of reminding myself. There's no rejection quite as devastating as that coming from someone you love deeply. When they tell you that rejection is your own fault — because you are not worthy of love, or even worse because of ways you actually did fail them — it is so easy to believe the lie that you're not lovable.
So I'm taking back Valentine's Day — using it as a day to remind myself:
YES, I am lovable!
YES, I am loved, deeply and truly, by God and by many others.
YES, I get to love as well!
In closing, let me offer this prayer for you, Dear Reader:
And I pray that you, being rooted and established in love, may have power, together with all the saints, to grasp how wide and long and high and deep is the love of Christ, and to know this love that surpasses knowledge — that you may be filled to the measure of all the fullness of God. — Ephesians 3:17-19
Happy Valentine's Day!