I'm 52 today!
As a Numbers Person, I think 52 is very cool — we use it a lot in probability, because it's the number of cards in a standard deck. So I played some solitaire with my souvenir playing cards from Ireland and Britain and Germany.
But I've decided to start on a project. There are 52 weeks in a year, and I just finished 52 years of life.
I thought it would be fun, each week in the next year, to reflect on one year of my life.
So tonight, on my birthday, I'm going to talk about my first year.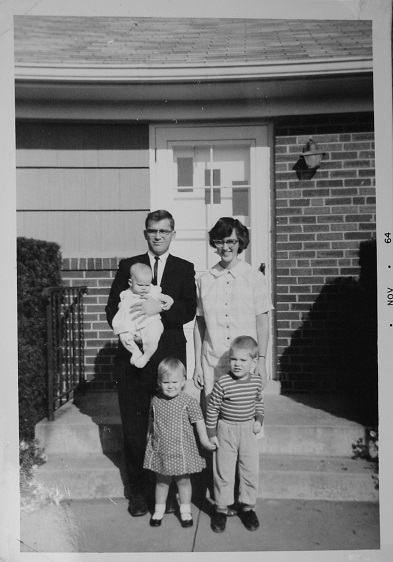 I was born on Flag Day in Washington, D.C. My family lived in Maryland, in what is now Columbia, was then called Ellicott City. My Mom was 23 and my Dad was 25. So young! Yet they already had two kids, Ricky, who was not yet 3 years old, and Becky, who was 15 months old.
My parents met in Seattle, attending Seattle Pacific College, and only lived in Maryland a few years, long enough for Becky and me to be born. It's kind of funny that I ended up living out here as an adult. I didn't remember the East Coast at all from babyhood, of course.
I checked with my Dad, and they moved away from Maryland after I was a year old. So that first year was on the East Coast. I found out tonight that they did some sight-seeing when they found out they wouldn't be staying — so I have been to places like Skyline Drive and Monticello, even though I didn't remember.
My Dad worked at Johns Hopkins Jet Propulsion Lab, and my Mom was a stay-at-home Mom, who always did think it was a terrible thing for women to work.
She told me a story about when I was very small.
She was quite overwhelmed with 3 kids under 3, and had been asking God Why she had to have all these kids (sort of a George Bailey "It's a Wonderful Life" moment.) The next day, I fell down the basement steps in my walker and cried for a solid hour. She held me and said, "God, I didn't mean it! I didn't mean it!"
I think she told me that story to let me know I was loved and wanted. (I'm not sure if it completely had that effect, but I appreciate the intention!)
I also want to reflect in these posts about how God had his hand on me. My parents met at a Christian college. I was born on a Sunday, the day after my Mom had spent the day at a church picnic. (I was the only one of my Mom's kids born on my due date.) They both love the Lord and brought us to church every Sunday morning and evening, and often Wednesday nights as well. So my first grace came by the family I was born into — they introduced me to Jesus.
I don't know how old I was in this picture, but it looks like somewhere around a year old.
I was ready for a wonderful life!