It's time for Project 52 – Week 20!
20 weeks ago, on my 52nd Birthday, I decided to reflect each week on one year of my life for the next year. I'm having lots of fun doing it, and it has amazed me how quickly my childhood went by! And now I've finished reflecting on my teens. This year I'm going to reflect on the year I was 20 years old — June 1984 to June 1985. It was the year I was a Senior at Biola University.
Being a Senior in college wasn't as liberating as being a Senior in high school. In high school, I felt more overshadowed by my older siblings, but really didn't in college, even though they also went to Biola. Since we had different majors, we didn't have the same classes, and since Biola was a bigger place than Brethren High School, not too many people who knew me knew my sister or brother.
But being a Senior was still great!
But I'm getting ahead of myself. I ended my junior year having realized I just fell for Steve Eklund. And we went out to lunch because I won a sort-of bet. Then he headed home to Phoenix. Instead of moving back to my parents' house, this summer I moved into a house on Biola Avenue with five other girls. I shared a room with Jeannette Sadler, just for the summer. I walked every day to campus and worked full time at Computer Services. (It was renamed from Data Systems.) Becky still worked there, too, so I still got to spend time with her, even though she'd graduated and was married.
And — I see by my journal that Steve called me on my birthday! That was exciting. And he wrote me letters that summer!
That summer I went to Disneyland three times. The first time was with Elizabeth Daniels, my friend from Chorale and the dorm, and with Jeff Petersen, my Math Brother (a fellow math major). I don't remember why the three of us went, because I hadn't remembered that Jeff and Elizabeth were friends — I think I was the link. Maybe Jeff wanted to take me to Disneyland and I had a day with Elizabeth and she was about to leave for good? (She just graduated, I believe.) I don't know how it happened, but I'm quite sure Jeff drove us and we had a really great time.
Here are Elizabeth and Jeff on the Teacups: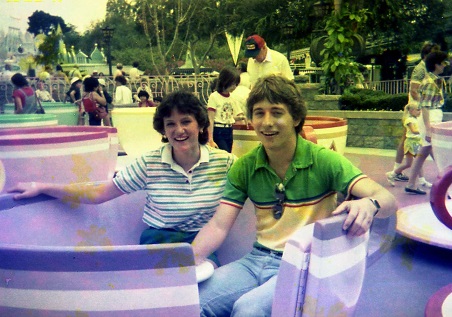 Here I am with Jeff: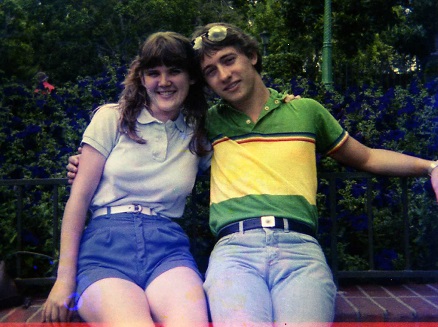 I bought myself a Winnie-the-Pooh on that trip!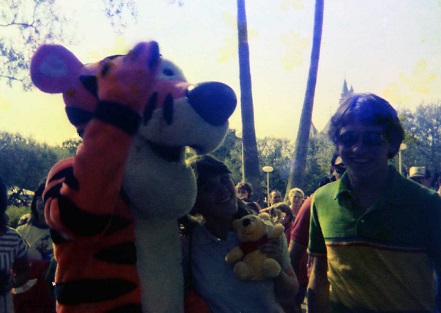 And one more of Elizabeth and Jeff and a friend:
That would have been early in the summer.
Then, according to my journal it was June 28, 1984, Steve came back to L.A. to visit!
I'm not sure where he stayed, but he specifically came to see me — and my friend Debby Scott. Yes, that Debby Scott, the same dear friend who had become the girlfriend of the last two guys I had a crush on. Now a new guy I had a crush on was coming to see me and her.
I don't remember what we did that day. Some driving around with Debby. Steve did spend more time at my place and we went to get Debby and then drove around and he went back to the house where I was living. And we talked of cabbages and kings and I had a wonderful time — but I was still terrified inside that I was going to get a broken heart.
In the evening, he was invited to a party at his friend Anne's house. She was the same band friend he'd brought with him when I'd invited him to my open house in the dorm. He invited me to go to the party with him. But I remembered how I felt about Anne coming to my open house, and I declined. Besides, I seem to remember that I had a migraine.
He did call me later from the party. Which, now, makes me wonder why I was so scared about getting my heart broken. But as far as I could tell, he came to California to see three girls, and I was only one of the three. Besides, I was now getting where I just assumed that if I fell for a guy, he was going to like Debby Scott better!
Anyway, it was lovely and solidified in my mind that I really liked this guy. He continued to write to me that summer. And I continued to have a wonderful summer.
The next trip to Disneyland was a double date. The one picture I took on that trip is at the top of this post. The date was with a guy named Louie.
Louie was one of those guys who was plenty nice, but I thought of him as "too nice" (which doesn't seem fair, but there it is). Anyway, he asked me on a double date, which I wasn't real thrilled about doing, but figured it would be fun — then the double date was with the one guy at Biola that I actively loathed. (I actually don't really remember why. Just that I really didn't like him.) And he brought a high school student as his date.
So I didn't have the greatest time in the world — didn't really feel in my element, but Disneyland's always fun, and we ate at The Blue Bayou in the Pirates of the Caribbean.
(Later that fall the guy I didn't like asked me out in the cafeteria when other people were around. I really didn't like it when guys did that, because it's hard to say No. But you can be very sure I did say No!)
Then the super-duper wonderful trip to Disneyland was later in the summer with the S.I.K.s!
The S.I.K. Club had been formed the year before with my sister, Batty Becky, and me, Silly Sondy, and the Mammano sisters Jolly Jill and Jovial Gina. Our theme was Joy and our method was feeling free to be Silly. We made a calendar full of silly holidays for August, so I'm sure the trip happened in August on Disney Day.
Here are Becky, Jill, and Gina at the entrance to the park:
We're inside! With the Matterhorn behind them:
We tried to get pictures with characters. Here I am with Gina, Jill, and a Little Pig:
Becky, Gina, and Jill are trying to pull out the Sword in the Stone:
One of the really fun parts of that trip was that every time we heard Snow White's wishing well start singing… "I'm wishing…."
… we'd all sing along, in Snow White voices.
Here are Gina and Jill in the row ahead of us on Big Thunder Railroad:
After a snack:
With Splash Mountain behind us:
And with Brer Bear:
And then, after a wonderful and silly summer, school started again. I was back in Sigma Chi dorm with Coral Nightingale. Here's Coral with her boyfriend Jo: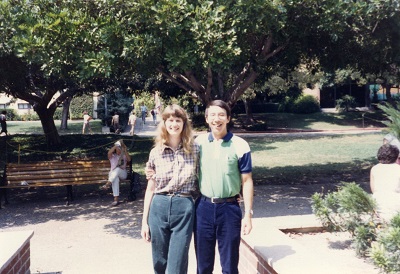 But I went back to the dorm early, since I was working full-time on campus anyway. And once Steve got back we did hang out together a little bit. And — I asked him to go hiking with me.
You see, in the Student Handbook every year, there was a list of local hikes. One of the hikes was on Palos Verdes peninsula, right near my parents' house. (Or at least closer to my parents' house than it was to Biola.) I'd long thought it would be fun to go try that out, but hadn't found anyone else interested. Well, Steve had a car. I suggested it to him as something fun to do (Somehow I managed this without feeling like I was being too forward. It was NOT a date.) — and he agreed.
I do remember that something like the day before we went to Palos Verdes, we were hanging out at La Mirada Park, and I got really frustrated inside that we were doing all these things together, but he didn't seem to be "interested" in me.
But I took a deep breath and had my quiet time and decided, the next day, that I wasn't going to ruin it by wanting what I didn't have, but to just enjoy the moment.
And it worked. We had an incredibly good time hiking by the ocean. In the first place, it's amazing what's hidden there at the bottom of a cliff. You have to hike over some rocks, but it's secluded from the crowded beach. There were some old rusting cars that had gone over the cliff in spots! But mostly it was rocks and sand and cool stuff. There was one little cove full of pebbles where the waves would go out with a huge rolling sound as all the pebbles tumbled back toward the water.
The beach was full of flotsam and jetsam. At one point, we found a square piece of wood, just the size of Steve's hand. He got the idea to carve a message on it. So he started gouging into it the words SEND HELP, with SEND above HELP.
When he'd started writing SEND, he noticed those were his initials. Which got me to notice that the letters downward were my initials. (S. H.) So here's what he carved:
S.E.N D
H.E L P
Of course whoever received the message would know who was asking, since it had our initials.
Then he ran out on the rocks that led out toward the ocean and threw it with all his might.
While he was running out, it looked like he was walking on the water. The sun was shining on the water and it was a lovely day, and I didn't have my camera, but I snapped a mental picture in my mind and can still see it in my mind. It was a perfect moment.
After that, every now and then we'd say to each other, "Help is on the way!"
Oh! I just remembered — that was the first time we read Oscar Wilde fairy tales to each other.
Steve had brought a little paperback book of Oscar Wilde fairy tales, "The Selfish Giant and other stories," and we stopped at various places in our hike and he read me some of the stories.
Like I said, a perfect day.
And most of the time I was able to thoroughly enjoy it and not be sad that he wasn't my boyfriend already.
So then classes started. I was no longer in Chorale. Though my schedule ended up being so full, for the first time I dropped a math class — Operations Research, the very class that was happening during the time Chorale met. (I felt horribly guilty dropping a class. But with the load I had plus working, it was a good choice. Though the particular class I dropped did come back to haunt me years later.)
I'd been getting asked out a lot my Junior year. But that fall, it slowed down. I strongly suspect I had stopped putting out "available" vibes. But I did have one last date with someone who wasn't Steve. Calvin Dyck, a violin major, asked me to go to a concert at the music building.
Now, I had been so burned in the past every time I really fell for someone, I fully expected to see Steve there, with a date. That just felt like what would certainly happen. Well, Steve was there — but he was not with a date. And I didn't feel like it was fair to Calvin that he'd brought me, but I was thinking about Steve. I also didn't like it that I couldn't really talk with Steve after the concert like I wanted to.
So I decided that I really shouldn't go on any more dates for awhile. It wasn't fair to them. But very soon after that, it was a moot point.
On Friday the 13th in October 1984, I went to my friend Karla's house nearby in La Mirada, I think to look at pictures she'd taken of Israel. I think Steve gave me a ride to her house on the way somewhere else — and then he showed up later to take me home. And Sam, his roommate, was with him.
Well, we dropped Sam off at his dorm, but at my dorm, Steve asked me if I wanted to go for a walk. And we walked behind the dorm and under the road to La Mirada Creek Park. It's a narrow park with bridges going over a creek. And there's a little bit of woods on the other end of it.
And somewhere along the way, Steve asked if I was cold and said we should walk very close together and put his arm around me. And I was laughing inside because all through high school I'd tried to get guys' jackets by being cold and it finally worked. But no, mostly I was crazy happy because he put his arm around me!!!
The next day, Saturday, October 14, 1984, we went on our first real date. It was a double date with Sam — and Debby Scott. But I wasn't even a bit scared of Steve knowing Debby now.
Sam drove, and Steve and I sat in the back. There was a point somewhere in the evening when Sam saw us holding hands in back and did a huge double-take but didn't say anything to us.
We went to Datilo's for dinner — a wonderful little place in Whittier where you could watch them make pasta that was right next to a used bookstore. After dinner and browsing in the bookstore, we went to see the movie Roxanne starring Steve Martin.
And yes! We were finally a couple.
Not too long after that, guys on Steve and Sam's dorm floor got a lead on the Biola Egg. This was a giant concrete egg that various groups tried to control. I got to go with them the night they snagged it and took pictures. They didn't have it long enough to paint their own logo on it.
(Oh, and the day before we started dating, there was a "Flattops for Jesus" fund-raiser for missions. One of my friends dared Steve to get his head shaved and offered $20 — so he got his head shaved. I decided I really did like him, because I started dating him in spite of this. He really did look better with longer hair.)
Anyway, here we are with the Biola Egg:
Here's Sam:
And Steve and me. Yep, we were in love:
So, it's kind of funny, but I don't remember as many details once I started dating Steve. I did visit his family in Phoenix that Christmas — because my family went to Phoenix to see my Grandma.
We read more Oscar Wilde fairy tales to each other. That summer I'd joined Book-of-the-Month Club, and the book that convinced me you could tell a book was good by the description came — Momo, by Michael Ende. When I'd read a little bit of the book, I became convinced it would be a good one to read aloud, so Steve and I began reading it aloud to each other, alternating chapters. I remember that we were almost finished when it was Finals Week. We thought we didn't have time — and then we had to do it anyway. Because Momo is a book about Time Thieves who convince people to frantically save time — and then steal it. Which is why when you are always in a hurry you actually have less time.
Spring semester, we took a Bible class together. I think it was the one on Eschatology. Anyway, each year at Biola, I'd only had one term paper per year — but that year there were something like six papers in that class alone, and I had papers in two other classes (even a math class!), so I had eight papers that last year. Now I'd done all-nighters with my previous year's papers. But that was a bit much with so many. But for the Bible class papers, I typed Steve's for him as well — typing both our papers on the computers at my work place.
So we did some almost all-nighters at the Computer Center. A lot more friendly than doing it by myself, even if it took longer with the extra typing. We did manage to get work done.
That was also the year I did a paper on the Fibonacci Numbers and Steve did a Music paper on the same thing — relating to the Music of the Spheres or some such. We did research together.
I should say here that I remember a lot of that time as frustrating. We were saving sex for marriage, and it was a lot harder than I thought it would be before I'd ever had a boyfriend! (Funny thing about that.) I do remember times when I thought if only we weren't Biola students and all our friends Christians, because no one else would think anything was wrong if we went ahead and had sex. But I had to be honest with myself that it would really mess up my relationship with God.
Fortunately, we were both on board with that. I don't think we could have pulled it off otherwise. But when one was weak, the other would slow things down. And we tried not to be Tired and Alone.
I thought at the time that saving sex for marriage would mean I'd know I had a husband with self-control and wouldn't ever have to worry about him having an affair. It was a nice theory. But anyway, I'm happy we did that, and it was a good solid start to our relationship.
And I want to say some of the things I liked about Steve. At Biola, I didn't have to worry about whether a guy was a Christian or not. (You had to fill out a statement of faith to apply.) When I first met Steve, I'd often want to eat dinner together on Sunday nights, and he finally told me that he fasted on Sundays. That was one of several quiet ways he tried to serve God without parading it.
Here's a picture from Easter 1985. We spent it with my family.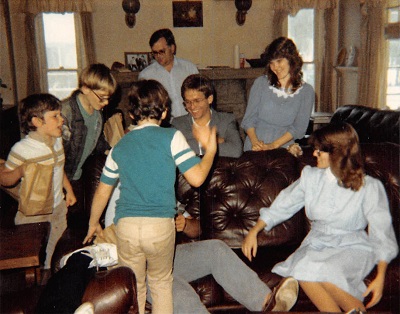 I don't know what we're all looking at, but Becky was there, too.
And in May 1985, I graduated from Biola University with a Bachelor of Science degree in Mathematical Sciences.
I wore Mickey Mouse sunglasses.
My parents and Abby came. Abby seems happy that I let her try the sunglasses.
Here's Steve, me, Jill, and Jeff. Jeff graduated that day, too, but must have already taken off his cap and gown.
And with Steve:
And so, I graduated!
I had spent the last couple months applying to grad school. I'd been tempted by schools on the East Coast, but when it came right down to it, I was scared to go so far, and didn't really want to leave Steve on the West Coast. (He still had a year left at Biola.) I ended up applying to PhD programs (That's normal for Math majors) at Cal Tech, USC, and all the UC campuses. I had an interview at Cal Tech and did not do well and did not get accepted. I did get accepted to all the others — and chose UCLA.
So graduation felt a little anticlimactic. I'd be working at Biola University Data Systems one more summer — then back to school again.
All in all, it was a lovely and very silly year.