It's time for Project 52, Week 26! Tomorrow's my half-birthday, and I'm halfway through!
Half a year ago, on my 52nd Birthday, I decided to start Project 52. Since there are 52 weeks in a year, each week this year I'm going to blog about one year of my life. And now I'm halfway done!
I'm afraid now that I had such an adorable child, all the rest of my posts will be dominated by photos. But I'm having fun looking at them and thinking about all the memories they spark.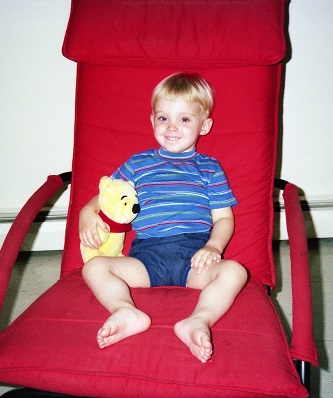 Last week I talked about being 25 years old and leaving California, where I'd lived for 20 years. Steve joined the Air Force Band of the East, and we moved to Browns Mills, New Jersey. I loved all the trees in our front yard!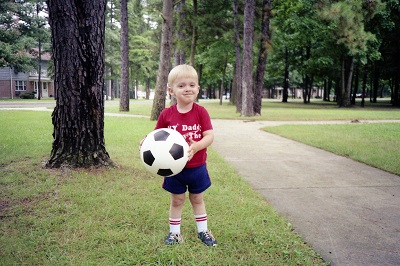 For the entire year I was 26, from June 1990 to June 1991, we lived in New Jersey. Sometime in Spring 1990, I went to a job fair for Burlington County College and got a job as an Adjunct Professor, teaching Math. I don't think I started until that Fall, in which case, 1990-91 would have been the only year I taught there. (Though it seems like I taught more than two semesters — I think one of the Saturday courses I taught might have been summer school.)
Interesting to me now, I remember that the Burlington County College campus where I taught had a good genealogy section in its library. That's interesting to me now, because now that I work in the Virginia Room here at City of Fairfax Regional Library, I've been working on my own genealogy — and learned that a large number of my ancestors actually founded Burlington County in the 1700s! My Mom's Mom was a Shreve, and her Shreve ancestor had land that bordered the land owned by Brown, who had a mill — which is what Browns Mills was named after. The Shreves intermarried with other Burlington County colonial settlers with good British names like French, Pancoast, and Scattergood and the like. They were Quakers until Colonel Israel Shreve decided to fight in the Revolutionary War. He brought along his 13-year-old son John Shreve, also my ancestor, who served as an Ensign and later Lieutenant, rather than leave him home with his stepmother.
Anyway, I remember I went into the genealogy section of the library and saw some familiar names (It must have been Shreve.) but had no idea that they were really related to me. (I will have to return some day, now that I have more information. Some of the houses that my ancestors lived in are still standing.)
Being fresh from California, I was so excited to live where there were so many sites from U. S. History. On July 4th, Steve's band played in Philadelphia outside Independence Hall. The speaker was Jimmy Carter.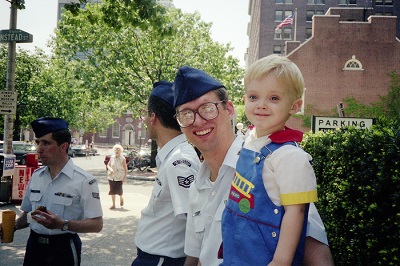 We had to see the Liberty Bell while we were there.
Here's the band getting ready to get back on the bus.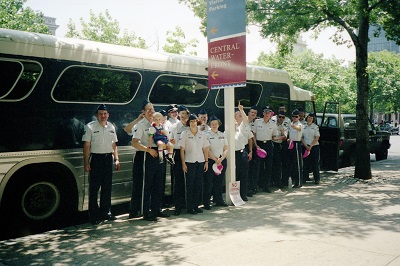 And living on the East Coast was Steve's chance to show me upstate New York, where he grew up. We took a vacation to Liverpool, New York, that year.
Josh was ready to go on vacation!
(By the way, these pictures remind me just how SWEET a child Josh, who is now Jade, was. Again, I'm not saying that boys can't be sweet. But I'm not so terribly surprised to be informed that Jade is really female when I reflect on this.)
This next picture is one of my favorites. We had stopped at a rest stop, and Josh and Steve were jogging along a path. The camera snapped at the exact moment Josh looked up at Steve with the thought clearly in their eyes, "Wow! Daddy! I'm running just like you!"
I think of this picture when I read the verse Ephesians 5:1 — "Be imitators of God, as dearly loved children…"
We met Steve's childhood friend Doug Rougeux, who was best man at our wedding, at Lake Oswego, New York.
There was an old fort there.
In Liverpool, Josh played on Daddy's old elementary school playground.
Doug had been a professional clown with Ringling Brothers and now did his own educational shows at schools and libraries and parks. Josh liked Doug's clown shoes.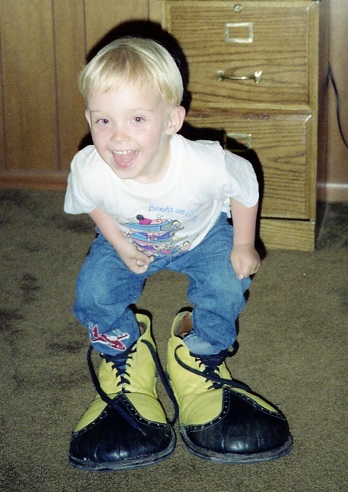 And Josh was fascinated by "Little Doug."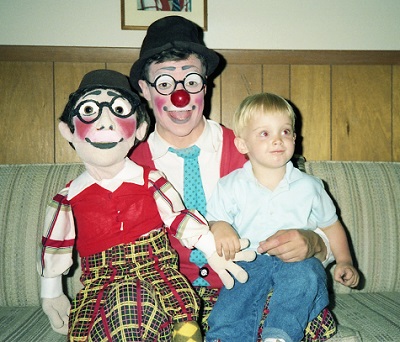 Lots of people visited us now that we were on the East Coast, and that was a reason to do more sight-seeing. Here's a trip with Stephanie and Bruce to Philadelphia.
Josh was still in the wandering off stage. We had a Mickey Mouse leash we tried to use. It was a little better when Josh got tired and gave up wandering.
We stopped at Friendly's for food on our way home.
This next picture is fun. Here's the story. I was getting ready to read Josh some books at bedtime. I asked Josh to pick books while I went to the bathroom. When I came out, the chair was piled high with books and Josh was dancing around it. That was about the time we started the tradition of reading THREE books at bedtime.
This was also the year Josh really learned to read. I remember it was in New Jersey that Josh saw a Stop sign and said, "STOP! P-O-T-S. Stop!"
But around Josh's third birthday, I ordered some Beginner Books through a book club. By the time they arrived, Josh had cracked the code and didn't need Beginner Books any more. That was SO much fun to watch!
More visitors. Here we are at the Liberty Bell again, this time with Wendy.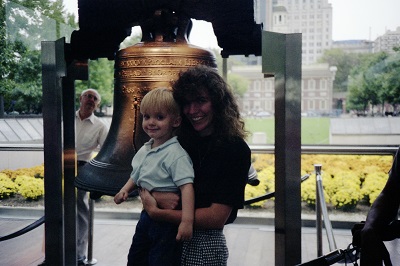 Ah, and this trip to the Liberty Bell has a story that goes with it. We didn't watch a lot of TV, because we couldn't afford to get cable. Josh had seen one episode of Teenage Mutant Ninja Turtles (Yes, they were around 26 years ago!) and was entranced. But he happened to see that one episode twice. And in that episode, a bad turtle impersonated the good turtles — and cracked the Freedom Bell!
Well, Josh didn't understand the whole impersonation thing and didn't realize that it was bad to crack the Freedom Bell. So when Josh saw the Liberty Bell, they started saying things like "Pow! Smash" and waving a fist at it.
Well, then Josh really looked at the bell and saw the crack. Their eyes got wide.
"It's broken!" said Josh. "I broke it!"
And that was how my child believed they cracked the Liberty Bell with the power of their mind.
Later, Gram E. and Gramp E. were passing through the Philadelphia airport, and we went to spend an hour with them.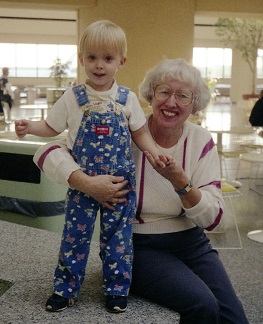 Those were the days when Gramp E. and Josh would play a game endlessly. One would say, "Something about… X" Then the other would say, "No, no, no! Something about… Y" And Y would be something very loosely associated with X. It was a fascinating game to listen to, and Josh's giggles and Gramp E.'s laughs made it completely delightful.
Around Halloween time, Gram E. sent two costumes she'd originally made for Steve! (Wait, I might be remembering that wrong. They might just be from the same pattern.)
And around November, our dear friends from California, Audrey and Tom deRivera, with their son Jonathan, moved to a Philadelphia suburb, about 45 minutes away! We were so glad to see them!
We still hadn't found a church we liked. I have to admit, I've never liked visiting churches. (It goes back to when my parents moved to California when I was a shy child, and they visited a lot of churches before they settled on one.) Nothing felt right. But Audrey and Tom found a nice church right away, so many weeks, we'd drive across the river and go to church with them.
This is at a park a block from their house.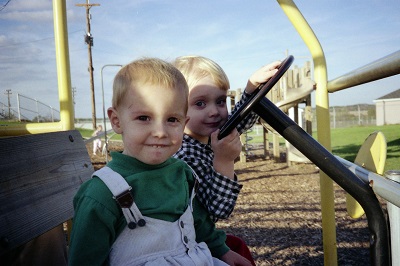 We had a little accident with radiation at that park! Here's Giant Josh holding Steve.
And my first year away from California, I was just crazy about Autumn! These were taken in our front yard.
For Thanksgiving that year, we drove down to DC and spent it with Darlene and Kathe.
This is one of my favorite pictures of the three of us. Steve took it at an angle that would show how TALL we are!
Kathe still had her dogs. (And always will, I think.)
We went to Arlington National Cemetery with Kathe and Joe.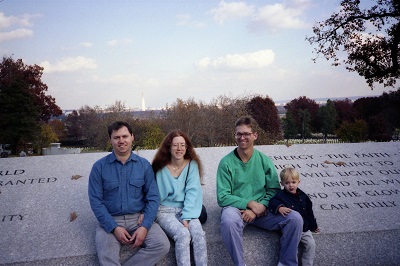 I was reading a book on decluttering at that time and read the idea to take pictures of your trophies — and then throw them away. I'm rather glad I chose to do so and not carry them all over the world! I had to zoom in to see what they were for. Five of the little ones were for 5-in-a-row Tic Tac Toe championships in high school (and junior high). The other little ones for Hex and 3D Tic Tac Toe championships. The bigger ones are for being Junior Honor Guard in 11th grade and Co-Valedictorian in 12th grade, and one is an award for one of the classes I took my Senior year. And the cute kid is even better than the trophies.
For Christmas, Steve's parents paid our way out to the West Coast to see them. Now, I was a tiny bit annoyed by that. They didn't ask — and I'd been looking forward to my chance at a white Christmas. However, it was good to see family at Christmas.
We started at Stephanie and Bruce's home in San Francisco.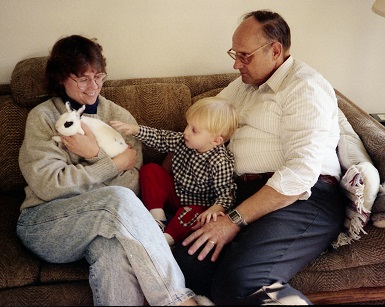 Christmas Morning. Just what every nephew needs! A drum!
Josh was always much loved!
Next we went to Long Beach, California. Here's my sister Wendy at my sister Becky's house.
And cousins Jason and Josh unwrapping gifts.
Here's my Mom reading to Josh and Melanie.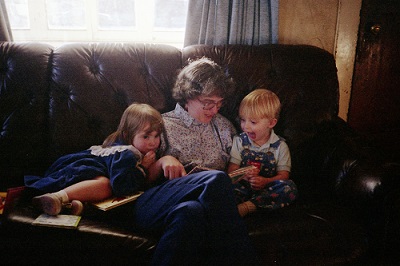 This is outside Becky's house. I think Josh was dressed up for church.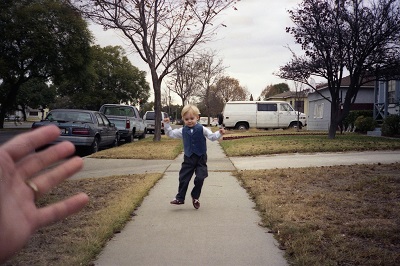 We had another gathering at Ruth's house, with Ruth and Susan and Darlene (also out in California for Christmas).
And here's a gathering of folks from First Evangelical Free Church of Los Angeles. It looks like Audrey was also visiting for Christmas.
And the last stop of our Christmas trip was Phoenix with Gram E. and Gramp E. again. Here Gramp E. and Josh are demonstrating how their Eklund noses wrinkle in exactly the same way.
Back home, the deRiveras were visiting:
And the very sad story of snow that year was that New Jersey got a record warm winter that year. The only significant snowfall happened while we were in California! It had melted by the time we got home. However, we got a little bit of snow and made the most of it.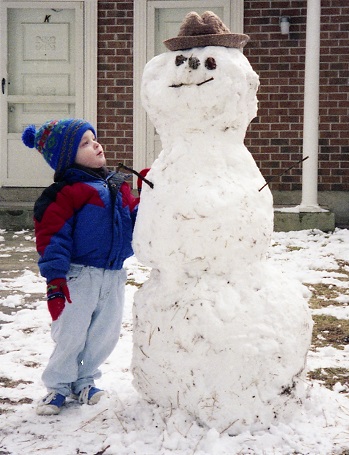 Here we are crossing the river to go to Philadelphia.
Now, January 1991 was the year the Gulf War started. I remember because sometime around February, Vice President Dan Quayle spoke at McGuire AFB, and the Band played for him. And, yes, even though his misuse of the English language appalled me, I shook his hand.
Having my husband in the military when a war started was a bit unnerving. Band members did check, and whether in wartime or peacetime, the mission of the band is morale and public relations. They weren't going to be sent to fight.
A week after the Gulf War started, the apartment next door to us caught on fire.
I woke up in the night because I smelled smoke. My first thought was that someone was bombing the Air Force base. Yes, I smelled smoke through the walls with all the windows closed. In my sleep. Steve didn't smell it when I woke him up, but by then our neighbor was knocking on our door.
Our neighbor was a firefighter on base. His 17-year-old wife (they had two kids) had had a fight with him and gone to her mother. He was frying chicken while drunk and fell asleep. And burned down the apartment. (Well, gutted it.) He later convinced her it was her fault for not being there. (Grrrr.) But they were no longer our neighbors. We made sure we got renter's insurance after that incident. (They were held liable.)
But it was quite terrifying to wake up to a fire next door. One week after a war started. The next day I was afraid to go to sleep, because with the residual smell of smoke, I wouldn't know if a new fire started off a spark they had failed to put out.
It was interesting to me that Josh wasn't scared at all. To a little kid, Mommy and Daddy will take care of it. It was terrifying to be Mommy and realize how little control I had.
In March, Josh turned Three Years Old! This is how they felt about it that morning:
Here's the Band commander's daughter and our next-door neighbor Philip. Jonathan deRivera was also at the party.
And who knew? Six Flags Great Adventure was only 20 minutes away from us in the forest of Jackson, New Jersey. I was so happy to go to a less crowded amusement park. Never mind that it rained a little.
Our little Josh got chosen to go up on stage during a show!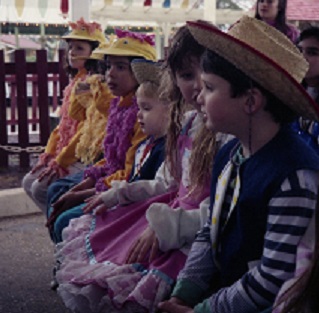 Josh didn't bat an eye when performing: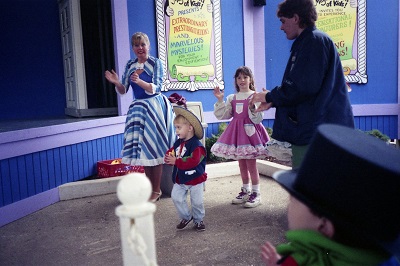 And still loved those characters.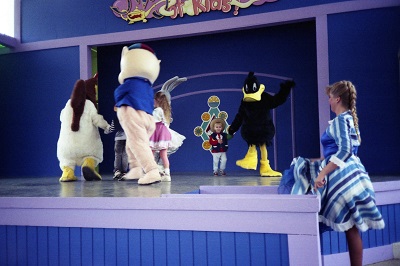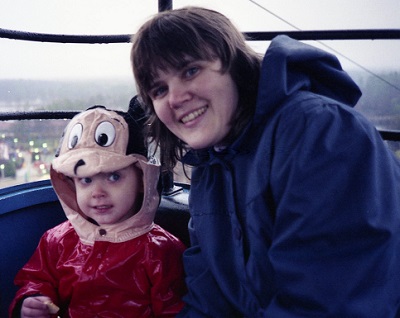 In April, we went back to DC to see the cherry blossoms, and Darlene and Kathe. This is on Darlene's couch:
And in DC. I'm glad we went then, because now I never brave the crowds!
I love this one!
And later, we went to Washington's Crossing. I think my sister Wendy was with us then, too.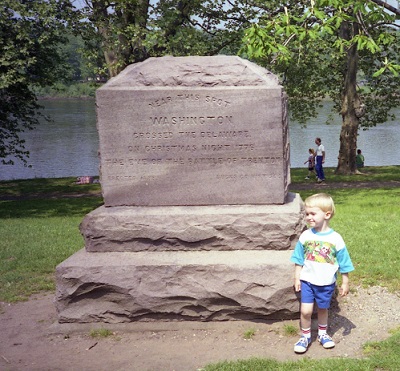 At Washington's Crossing, they've got the famous painting of Washington Crossing the Delaware. It's a giant-sized painting, and they've got it up on a stage. Well, Josh, a musician's child, saw the stage and decided to get up there and dance. Alarms went off and lights flashed! Oops!
This next picture was taken at the Band building probably when we'd gone to pick up Steve. (We only had one car, so did a lot of that.) Josh saw the podium and knew what to do.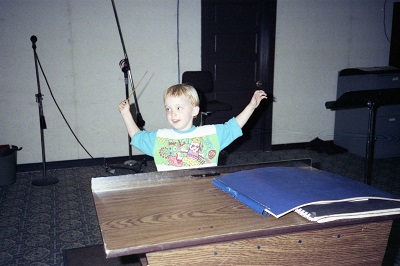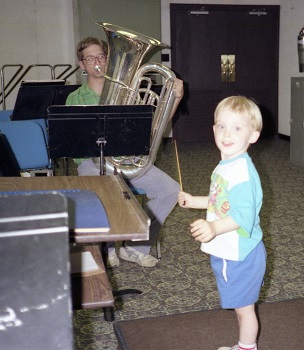 The band at McGuire often played in New York City. One time, they were playing at Lincoln Center when Audrey was visiting her family on Long Island — and we agreed to meet at the concert.
And here's another concert where the deRiveras joined us.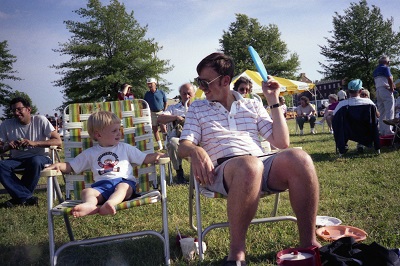 The annual Air Show at McGuire AFB was fun for Josh.
In May 1991, we discovered Valley Forge. It's a beautiful place, and the history is amazing to try to fathom as well. (But mostly, it's a beautiful place in May.) We first went there on our own.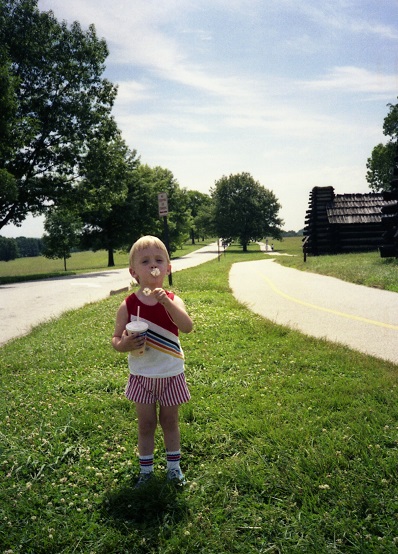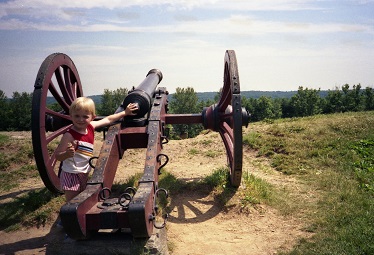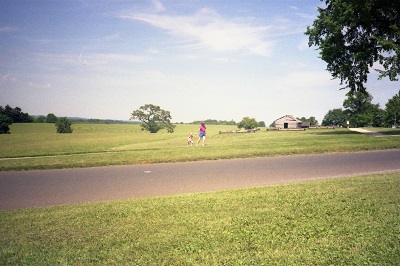 Not long after, Darlene had a business trip near Valley Forge — so we met her at the park. (Here's another picture I love.)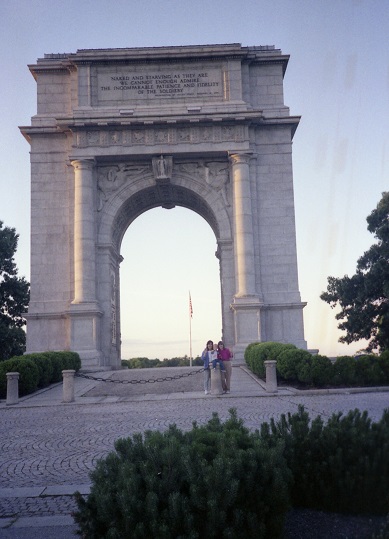 And finally, to wrap up my 26th year, on my actual birthday, we did some hiking at Valley Forge and then met the deRiveras at a nearby band concert.
Since it was Flag Day, we dressed both our boys in red, white, and blue.
And they passed out flags for the kids to wave.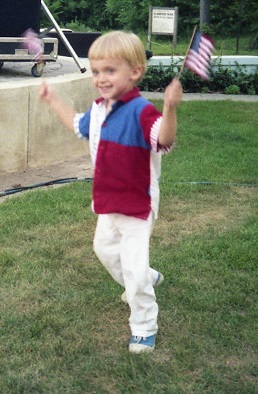 Our kids danced in front of the stage for the entire concert, until they were exhausted.
What a day, and what a year!