The final day of ALA Annual Conference — June 28, 2010 — was an exhausting frenzy of acquiring books!
I did go to some sessions:  One on Research and Statistics that I found interesting because of the practical use of math involved — but more applicable to academic librarians than it would be to me.
I also went to the ALSC  Poetry Blast, which was simply fun — hearing poets for children read and recite their own work.
I did catch several book signings.  One of the ones I was most excited about was M. T. Anderson.  I have been convinced he is brilliant ever since I read Feed, was further confirmed in that opinion when I heard his 2007 Printz Honor speech, and was absolutely convinced when I read Octavian Nothing.
I got to chat with him for a bit, and he had some insightful things to say about cuts to libraries.  I'm only a bigger fan now.  Here I am posing with him: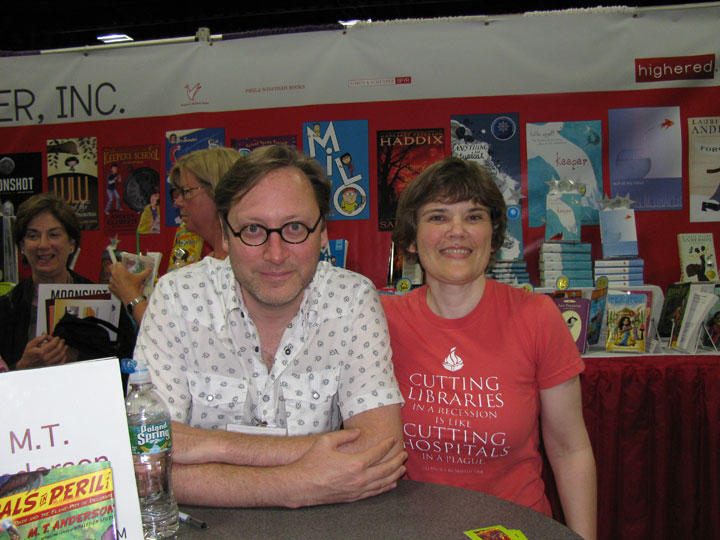 It was the last day of the exhibits, so prices on books got lower and lower until they were free.  I made three trips back to my car!  It was hot, so that was probably not smart — I was completely wiped out that night.  But it was a situation where I was simply incapable of resisting.
Here's my son amazed at my loot the next day: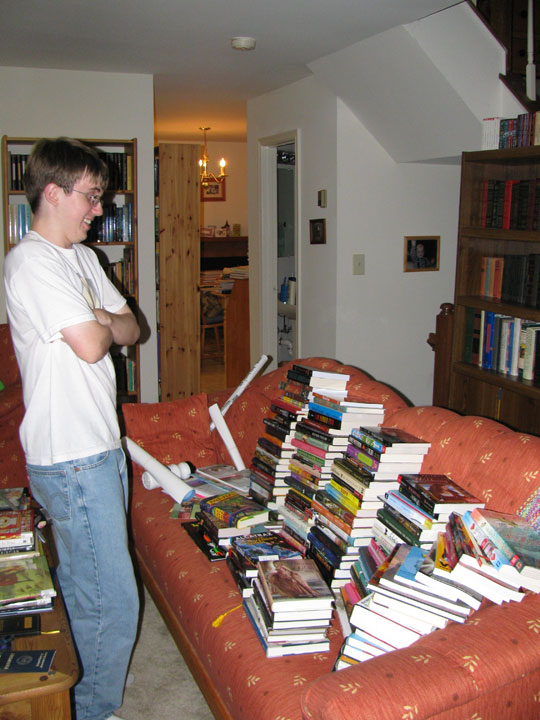 If I remember right, I came home from the four days with 124 books, 27 of which were signed by the author!  Very cool!  Here's a closer look at the titles: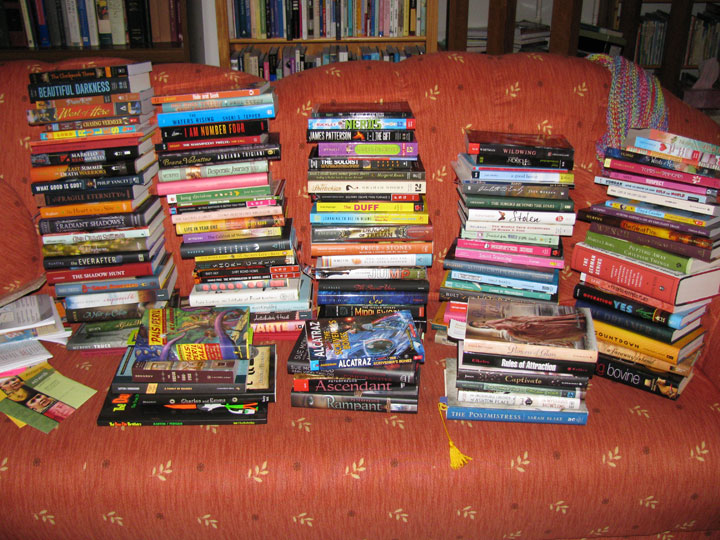 The day finished off with the Printz Awards.  I found a seat right behind Diana Peterfreund, author of Ascendant, and Ally Carter.  John Green's in the row ahead of them:
The speeches were inspiring.  I love that at the Printz Awards, all the Honor recipients also have to give a speech.  They do a fine job!  We heard speeches by Adam Rapp, Deborah Heiligman, Rick Yancey, John Barnes, and finally the Award winner, Libba Bray.
Libba is full of overflowing exuberance!
A couple of good quotes from her speech:
"There is a place where amazing parallel universes do exist.  It's called the Library."
Laughter is defiance, but also acceptance.
"Every time you read a book, it's a strike against ignorance… unless you're reading Sarah Palin."
(Sorry for those who don't like that last quote.  I loved it, myself.)
During the reception afterward, I got to congratulate most of the winners.
Here I am with Libba Bray:
Here is an Honor winner, Rick Yancey:
And another Honor winner, John Barnes:
Finally, here I am with John Green:
After that, alas! my camera batteries completely died.  But I had great conversations with more authors whom I am  in awe of like Nancy Werlin, Rebecca Stead, Libba Bray, Laurie Halse Anderson, Linda Sue Park, Diana Peterfreund, Ally Carter, John Green, MT Anderson, and more whom I'm afraid I'm forgetting because I didn't get their picture.
As I mentioned above, I'm convinced that MT Anderson is brilliant.  Several of us librarians were standing around him talking to him, and I think John Green got kind of jealous.  He's used to being the center of crazy fans!  Though we were more than happy to talk to him, too.  Of course, the last time I went to the Printz Awards, in 2007, I heard both of them speak and was very impressed.
I went home from ALA completely exhausted.  What with three trips to the car loaded down with all the books I could carry in the blazing heat, and not managing to find a place to buy dinner — so only having cake — I woke up in the middle of the night and almost fainted.  I suspected dehydration, but maybe it was just overexcitement from a truly fabulous and memorable and inspiring weekend.
When I went to ALA, I had just spent my first week not working at the library, after being RIF'd.  So I was feeling very sad and discouraged — but ALA picked me right back up.  It confirmed that, in my heart, I AM a Librarian, no matter what job I currently hold.
I also felt, more than ever, that I'm part of a fantastic community of children's librarians and writers and readers and bloggers.  They are my people, and it's getting where I actually know a lot of them.  And that feels great!