Sunday, June 27, 2010.  I drove back into DC for the Newbery/Caldecott Banquet and experienced the highlight of my whole year.
I went three years ago, sat in the back, didn't really dress up, and didn't see a soul I knew — but still loved it.  This year was totally different except the loving it part.  Susan Kusel, founder of the wonderful DC Kidlit Book Club, got TEN tables close to the front.  I talked four other Fairfax County Librarians into going and was surrounded by people I knew from the book club or by reputation for their books.  And I'd gotten bold during the week, happily introducing myself to authors everywhere I turned.
And I bought a dress!  I ordered it, so it was a bit of a risk, but I loved the color and the fact that it matched the shawl I'd knitted so beautifully.  Here I am after the banquet, completely happy: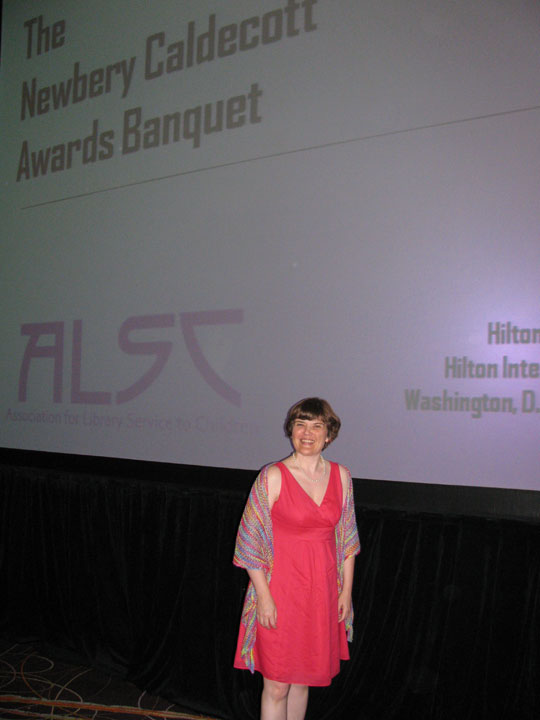 The evening started with stars of the publishing world milling around with cocktails. 
Here are School Library Journal Bloggers Extraordinaire, the two Elizabeth B's: Betsy Bird and Liz Burns.  They are helping with the ALA Red Carpet videos.
The first night of ALA, I bought Betsy's book,  Children's Literature Gems: Choosing and Using Them in Your Library Career, and I'd been carrying it around all weekend, hoping to meet her and have her sign it.  But alas!  Due to a sprained ankle, she didn't get to the SCBWI Kidlit Drink Night, and the only time I saw her, at the Newbery Banquet, was the only time I hadn't brought the book.
Betsy always wears tattoos in honor of the winners:
In honor of the Caldecott winner, The Lion and the Mouse, Betsy wore illustrations of lions and mice from classic children's books.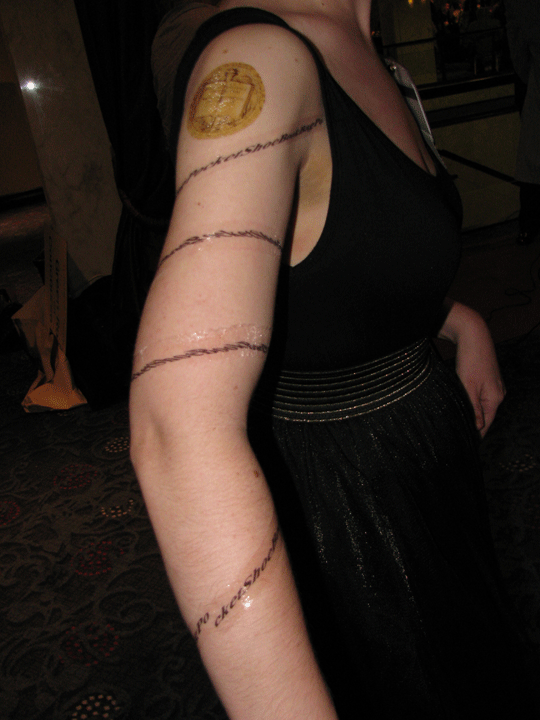 In honor of the Newbery winner, When You Reach Me, Betsy has tattooed on important words that someone needed to remember from the book.
I hung out and watched the Red Carpet interviews for a bit, but they didn't ask to interview me.  (Can you imagine?)
Here are two authors whose books I've enjoyed, Jim Averbeck and Laurie Halse Anderson:
I saw Richie Partington and introduced myself to him.  He's one of my Facebook friends because we took an online class on the Newbery Medal together. 
Richie is also the sort of person editors walk up to and introduce authors to!  I was chatting with Richie when a Scholastic editor walked up to him and introduced the two authors she was with.  What was I to do?  I was NOT going to walk away, believe me!  So as the group was chatting, they naturally turned to me to begin chatting, too.  One of the authors was Brian Floca, a distinguished author and illustrator and author of the recent Moonshot: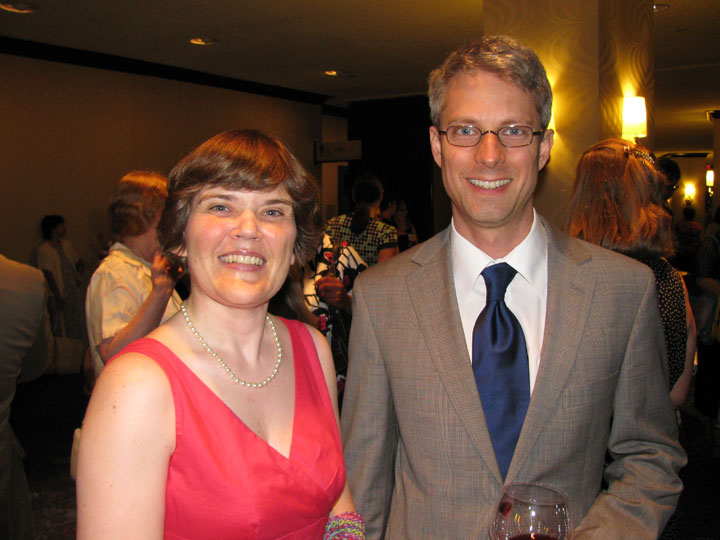 By this time my friend and fellow librarian, Nancy Bronez, joined me and took the picture. 
Next, I saw Laurie Halse Anderson, whom I'd met at the YA Author Coffe Klatch that morning, so I introduced Nancy and myself to her.  Nancy and I both admire her work very much.
The next person I accosted was Jon Scieszka.  I'm a huge fan of his — as you can tell by my attendance at his workshop Saturday and my lurking to take his picture earlier that afternoon.  Now I was thrilled at a chance to get my picture with him.
Looking at the picture above after the fact, it strikes me as hilarious that the sign behind Jon, with an arrow pointing to his head says, "Restrooms are to the Left."  Since he has a little boy prankster's heart, smile, and laugh, this struck me as wonderfully appropriate!
The doors opened, and we found our seats and connected with the other FCPL Librarians.  Since I had just been RIF'd and had begun working that week at the Office for Children instead of the library, it was very good to see them.
Here's Nancy Ryan, my branch manager at Herndon:
Even though Nancy is not a children's librarian, I have converted her into an even more devoted Mo Willems fan than I am myself.  So when I saw him at a nearby table, we had to go over and introduce ourselves and get pictures:
First, Nancy and Mo:
Next, me and Mo:
Here are the other ladies at our table, two of whom are members of the DC Kidlit Book Club, Patty Reeber, Genie Bailey, and Susan Sikorski.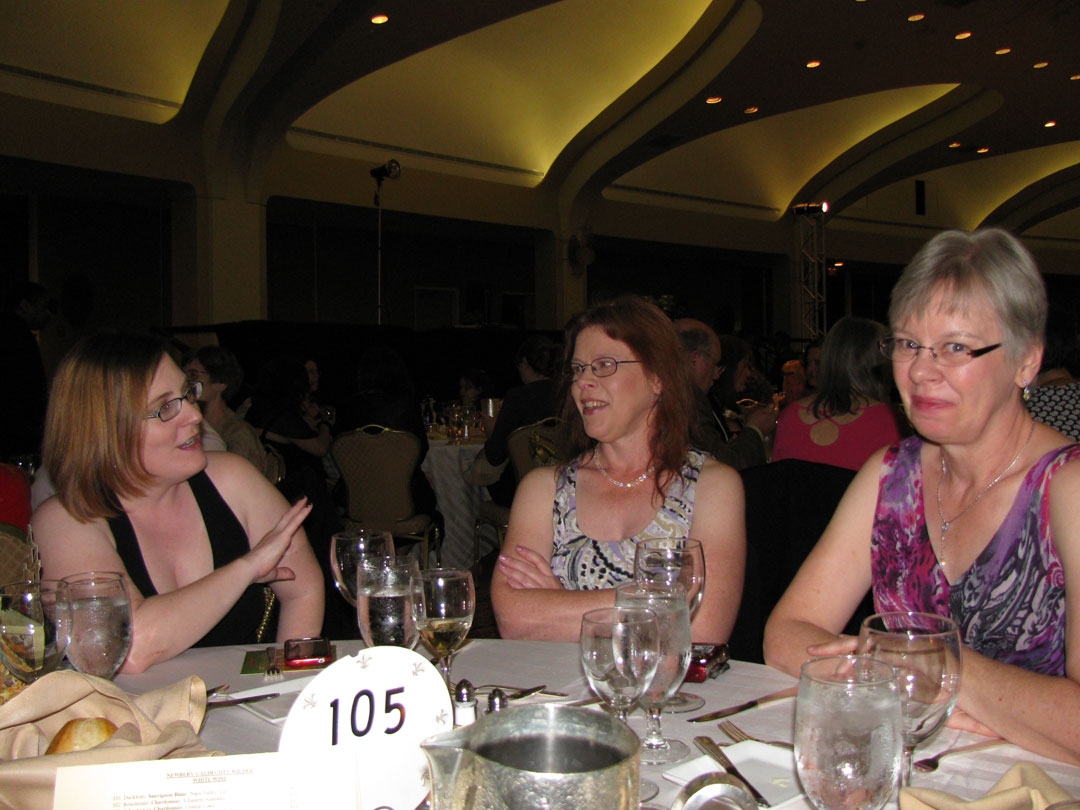 And here are the other four librarians from Fairfax County Public Library, Nancy Ryan, Gena Bos, Susan Fay, and Nancy Bronez: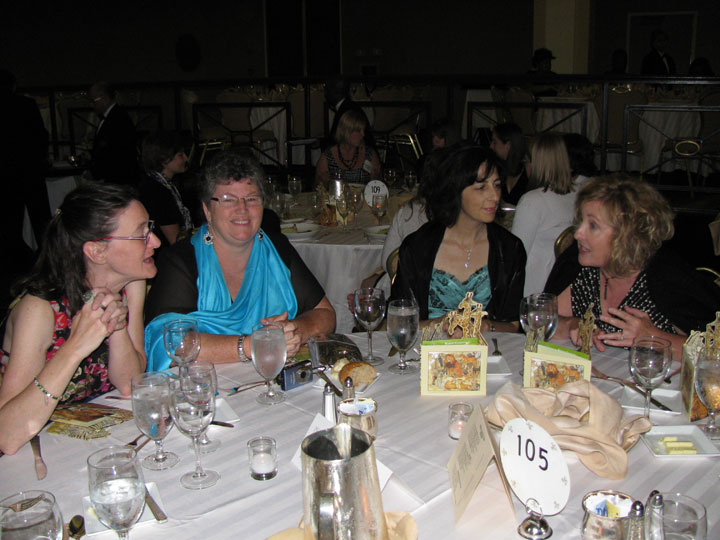 And here we are all together and looking at the camera:
Next, more schmoozing.  First, I snagged some authors who were also at Susan Kusel's tables. 
Sara Lewis Holmes is a fellow member of the DC Kidlit Book Club and organized the SCBWI Kidlit Drink Night on Friday.  I've reviewed her book Letters from Rapunzel.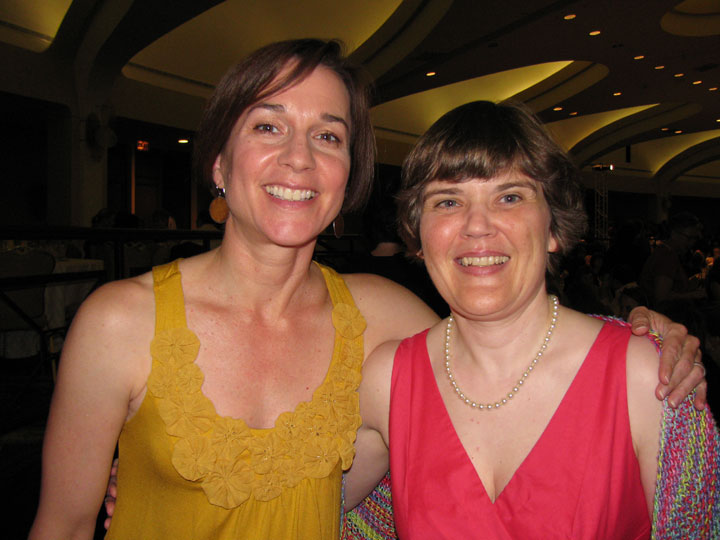 Then I introduced myself to Jim Averbeck.  When I reviewed his book, In a Blue Room, I had no idea he was so handsome!
And next, I had to introduce myself to Tanita Davis, author of this year's Coretta Scott King Honor book, Mare's War.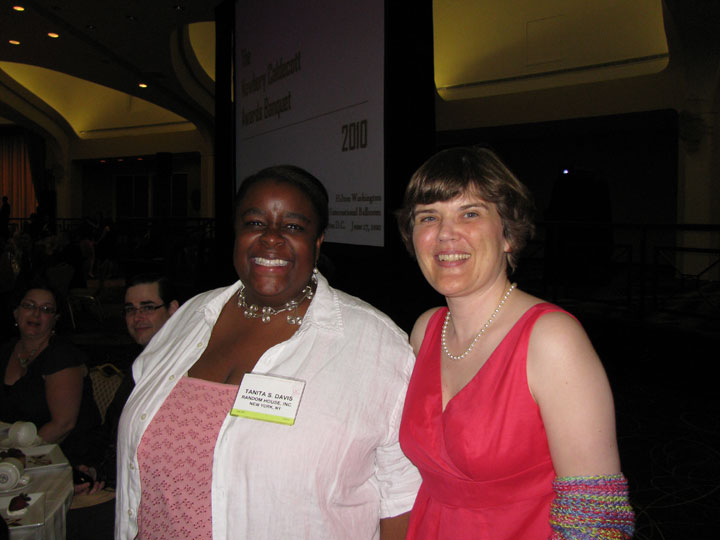 Then at a nearby table, I saw the warm and delightful Soroj Ghoting, a speaker for ALA who had just done a workshop I'd attended at FCPL:
Then the presentation of the awards began.  The speeches were fabulous and inspiring. 
First, here's Jerry Pinkney speaking about the Caldecott Award:
I think everyone in that room was thrilled for Jerry.  He has won FIVE Caldecott Honor Awards — and The Lion and the Mouse was absolutely brilliant.  As you can tell from my review, I wanted it to win from the moment I first read it.  And once I'd heard this nice man speak, I was all the more happy for him!
Then came the Newbery Award and honors.  Here's Rebecca Stead speaking:
Rebecca wrote When You Reach Me, another book I was very happy to see win the gold.  I loved Rebecca's speech.  She talked about knee-knocking joy and helped all of us experience her humbled thrill of this incredible validation.  Again, I got the impression that a super nice person had won an incredible award, and I couldn't help be thrilled for her.
Afterward, it was time for more pictures with the friends I'd shared the fabulous night with.  Here are the FCPL ladies again:
Here I am with Nancy Bronez:
Here I am with Nancy Ryan: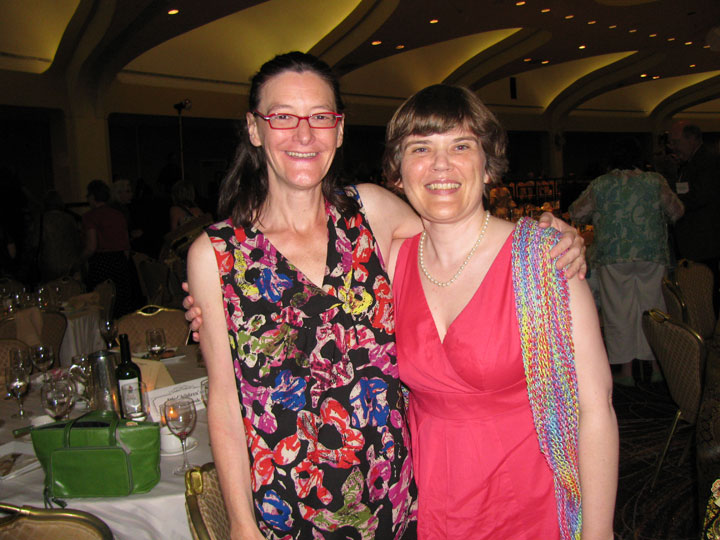 Here are some cute toes belonging to Nancy Ryan and Gena!
And here I am with the Banquet sign behind me:
On our way out of the banquet room, we saw Susan Kusel, who organized getting seats at TEN tables.  She was still pretty stressed out, though, and couldn't stop for long: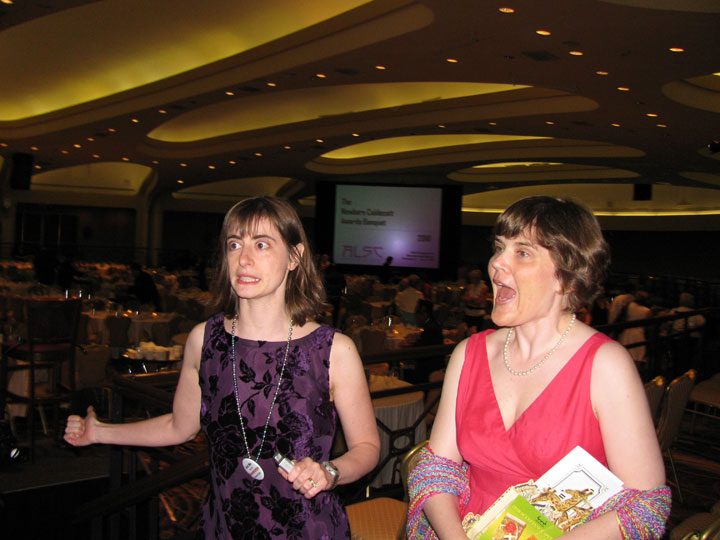 The expressions on both our faces made me laugh!
We wrapped up a beautiful night by standing in the receiving line to congratulate the winners.  The ALSC folks were very nice, and had someone in front of each winner to tell you whom you were meeting!  I figured it wouldn't be polite to flash a camera in their faces when I met them, so I took a couple pictures ahead of time:
And another part of the line that included Rebecca Stead: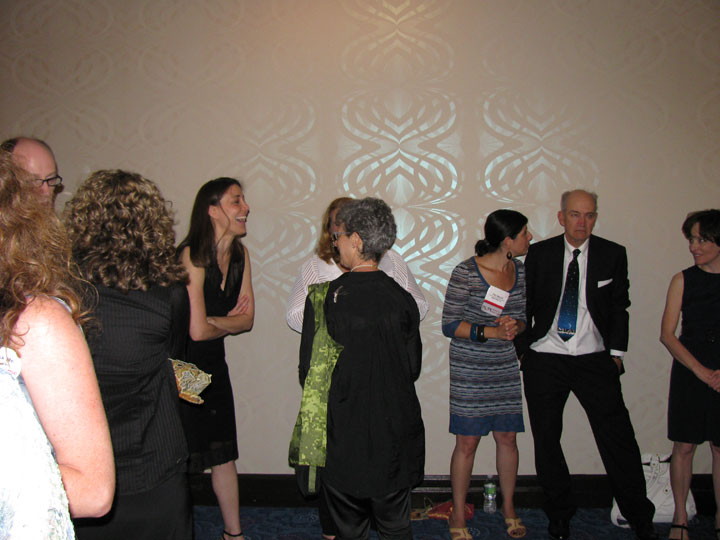 The whole evening was a peak experience for me.  I was thrilled to meet these authors I so admired, proud to be a children's librarian (whatever my current job), happy to be with fellow lovers of children's books, and happy to be a writer and determined to keep at it.  All in all, I was inspired!