It's time for Project 52, Week 37!
37 weeks ago, on my 52nd birthday, I began Project 52. Since there are 52 weeks in a year, each week I'm taking one year of my life and blogging about it. This week, I'm covering the year I was 37 — June 14, 2001, to June 14, 2002. Now, by this time we were taking truly amazing trips. And I took wonderful pictures. I'm going to promise myself that will eventually post all these albums of pictures on Facebook. But try to include only the best here.
Last time, I did manage to cover the year I was 36 in one post. So I'm going to try for a summary only. But it will be difficult! (Though it will help that I haven't scanned most of the pictures. I did get scans when I got the film developed, but they are mostly too dark and don't do the pictures justice. So stay tuned for albums on my Facebook page when I get them scanned!)
We hit 110 castles that June, visiting Burg Cochem on the Mosel River on June 24.
And then came my favorite vacation of all the ten years we lived in Europe — 3 weeks in Ireland!
The reason we went to Ireland was that in January Jade (then called Josh) had taken the SAT in 7th grade — and scored 700 Math and 680 Verbal. Of 20,000 top 7th graders taking it, they were in the top 110 verbal scores and top 210 math scores. Josh qualified for Johns Hopkins' Study of Exceptional Talent, which had many summer programs. Well, one summer program was offered by Dublin City University's Center for Talented Youth. What an opportunity! We wanted so much to sign Josh up! I asked my Dad and he was willing to pay the tuition — and Josh was headed to Ireland for 3 weeks!
But we couldn't just let our 13-year-old go to Ireland all by themselves, could we? We decided it would be best to fly with Josh to Ireland and back home to Germany. (Ryan Air flights were very cheap.) So that meant we were going to have to spend a 3-week vacation in Ireland!
Ohhh, I wish I could talk about every detail of that trip! I'm sure it's just as well I don't have the pictures scanned. We started and ended in Dublin. And traveled all around the perimeter of the island in the three weeks.
Our first night was spent in Dublin. The next day we visited Newgrange — older than the pyramids — and then dropped Josh off. The Irish kids were friendly. It was a little scary to drop Josh off, but they ended up having a fantastic time.
That night, we drove to Hatch Castle! I had a book of all the castles in the British Isles, so of course I wanted to see that one while we were nearby. It didn't turn out to be very big. But it was Hatch Castle!
Then we spent the night in Carlingford, which of course also had a castle.
And yes, I really need to stop giving the play-by-play. We spent a few nights at a Bed & Breakfast in Northern Ireland. My favorite place was the Giant's Causeway, with the hexagonal pillars.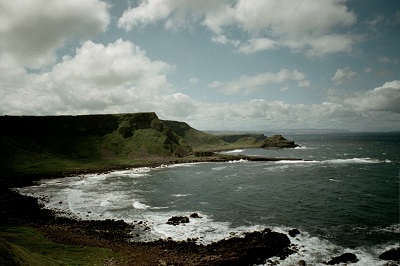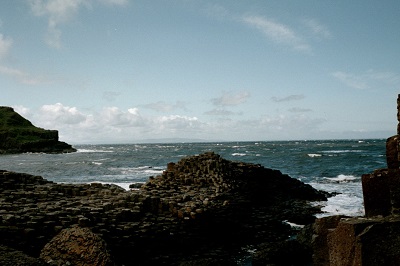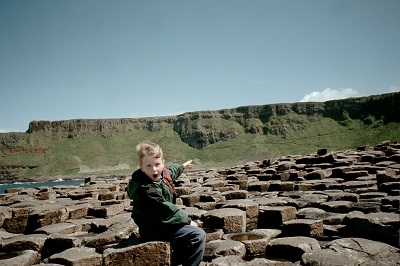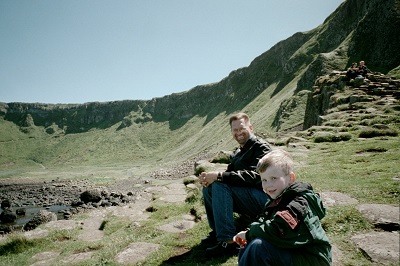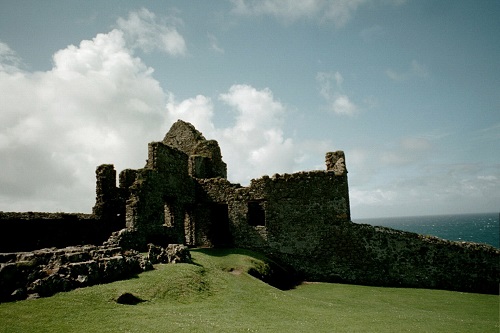 But we spent our middle week in a self-catering farmhouse in the south of the country, but at a central location. While we were there was the only day that we had rain. That was perfect, since we stayed in the farmhouse and did our laundry.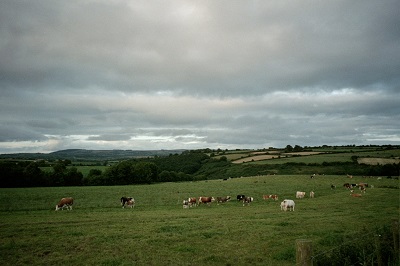 We drove back north to a lovely Bed & Breakfast on the water just north of Dublin in the town of Skerries. Steve had to go back to work before we were done, so we took him to the airport. From then on, I didn't do as much driving around, but Timmy and I had a great time in Skerries, and one day took the train into Dublin before picking Josh up at their graduation ceremony on the 27th.
Let me just say that Ireland is one of the most beautiful places in the world. I fell in love with it. We got some Irish music CDs and played them while Steve expertly drove us around the island in a rental car. And okay, I can't resist posting a very few of my favorite pictures.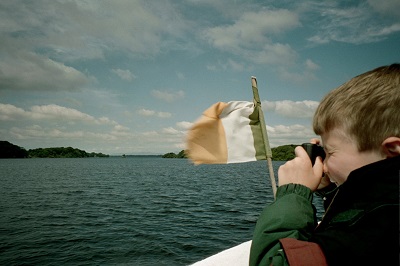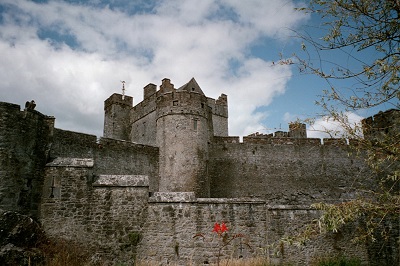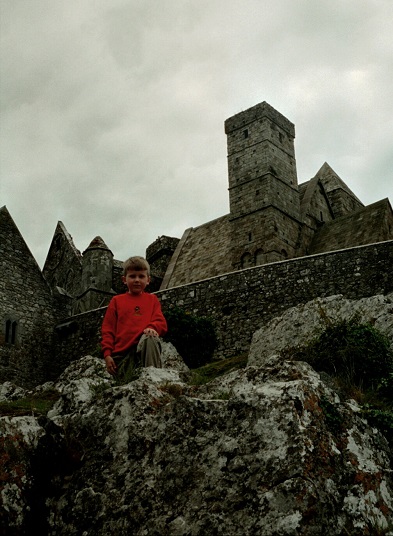 Yes, I've kissed the Blarney Stone!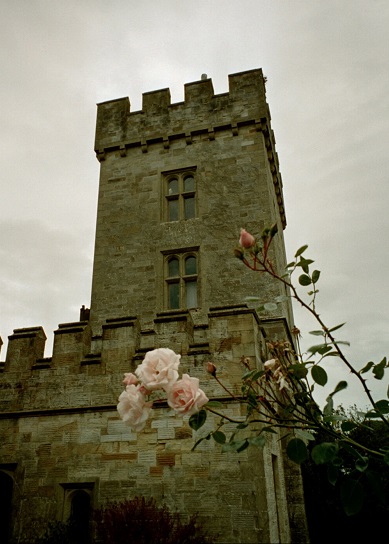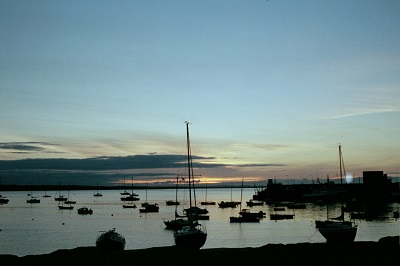 When we got back to Germany, soon it was Timmy's 7th Birthday.
Then on August 4, 2001, I wrote my first issue of Sonderbooks!
When I started Sonderbooks, I thought of it as an e-zine. So I wrote it in "issues" and emailed it out. I was reading so many books now that I was working in a library, I decided I wanted a way to tell people about them.
I was very excited when I quickly made some new friends via Sonderbooks. And of course, eventually (I think within a year) it became a website, I added a blog, and I added some supplementary blogs (like this one), and I still write it today!
The next big event, sadly, was September 11, 2001.
I was working at the library, scheduled to work until 7:00 pm. My co-worker Elfriede got a call from her neighbor, and little by little she told us something terrible was happening.
I ended up going home early (It happened around 5:00 pm) to see if my kids were okay. They didn't know about it, but I felt better being with them. We ended up watching images on German TV while listening to American radio for hours. The base shut down. No school or work for a few days. We were all stunned. We went back to work and school on the 14th.
Things changed for the USAFE Band and with life on base at that time. Lots more security. Lots more.
Our next adventure was a weekend trip to the Black Forest and the Rheinfall in Switzerland on October 6-7.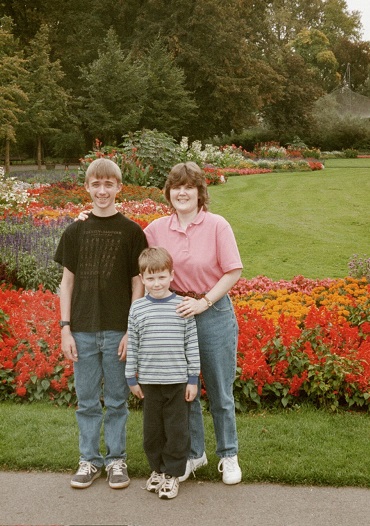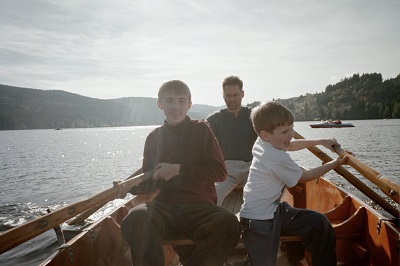 And don't forget that even though we now lived in Alsenborn instead of Gundersweiler, we still could go on stunningly beautiful hikes, walking out our own door.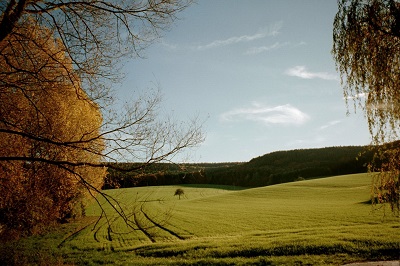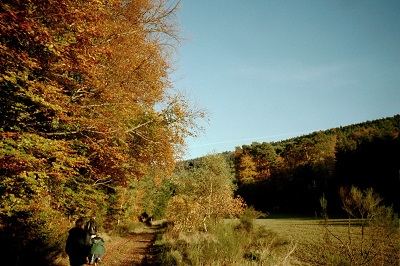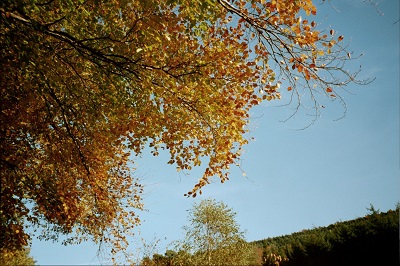 This one's from a Medieval Fest at Castle #129, Ruine Ronneburg.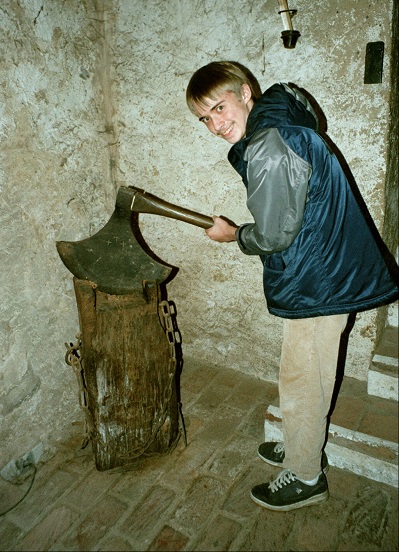 That year Timmy was Harry Potter for "Book Character Day." We were still reading the Harry Potter books aloud. Josh was in 8th grade and Timmy was in 2nd grade. And my journal says that we saw the first Harry Potter movie on November 22, 2001, which was Thanksgiving Day. We had dinner at the Kaiserslautern Rathaus Restaurant (a tall tower) rather than cook a turkey ourselves that year. (I liked it that all German restaurants were open on Thanksgiving, and you weren't keeping any workers from a holiday.)
I see that by now I was meeting with my friend Jeanine now and then to work on photo albums, and with my friend Leah to knit! (Still lots and lots of headaches on my calendar, though.)
And that year we really did get a White Christmas again!
Then January 3, 2002, was our 15th Wedding Anniversary! Steve and I took our first and only overnight trip away from the kids after Josh's birth. (No, wait, we did one more in 2005.) We visited Rothenburg ob. der Tauber. It was bitter cold. We walked around the town and spent our brand new shiny Euros and used up all our Deutschmarks. I purchased Pu der Bär, Winnie-the-Pooh in German.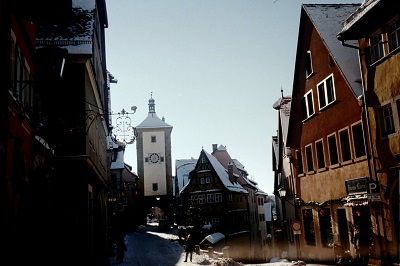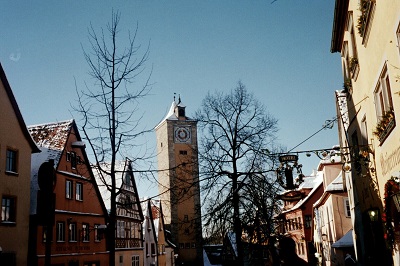 We had some nice sledding in the field next to Alsenborn!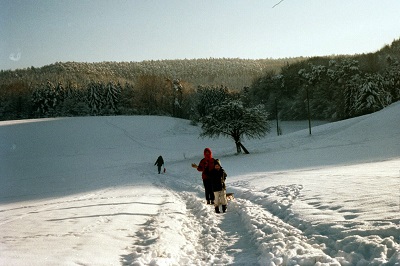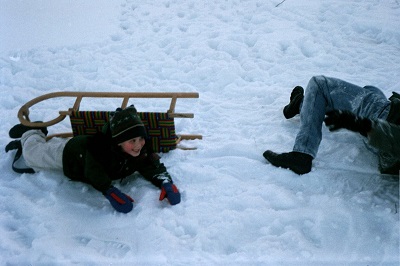 Josh turned 14, and those are some MathCounts trophies behind them. Josh had already won 1st place in the "Chapter Competition" — 1st place in the Individual Round and 1st place in the Countdown Round.
March 20, 2002, was the DODDS "State" Competition. Josh had been 6th place in 7th grade — the top four go to National competition.
This year Josh got 2nd place on the written tests (which determines the team) — and 1st place in the Countdown Round!
Here's how the Stars and Stripes described it:
MAINZ-KASTEL, Germany — Matt Lane and Joshua Eklund sat deadlocked at 2 apiece after 11 tough math questions between them, buzzers at the ready.

Matt, the top seed, had displayed his best poker face after each question, while emotions had danced all over Joshua's.
Josh was the one who got that last question right.
Here Josh is happily preparing to be interviewed by AFN TV.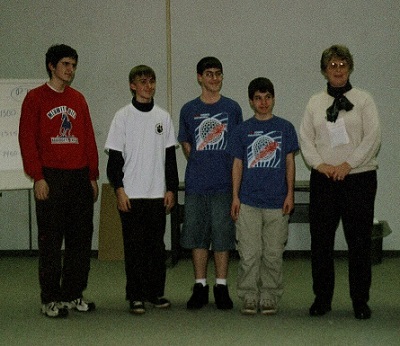 And then — I finally got a digital camera! The literally hundreds of dollars I spent developing film for the Ireland pictures convinced me it was time.
Our next adventure was a week in Italy during Spring Break. The cool thing about that was that RyanAir was expanding its service to Italy — so we got plane tickets for 50 cents each! Now, with taxes and fees, it ended up costing us a total of $60 for the flight, but that was an awfully good deal! Mind you, with renting a car and hotels and the way we couldn't seem to find inexpensive meals — It was still an expensive trip. But we still got a 50 cent flight to Italy.
I remember a big fight with Steve on that trip, where he threatened to leave me. Why did it take me so completely by surprise when he really did leave me a few years later? I guess once I got over it, I focused on enjoying Europe and always took the optimistic view….
But other than that, the trip was wonderful. We flew in to Bergamo, went to Sirmione and Verona, Venice, Padova, Bologna, Lucca, Pisa, Carrara, then back to Bergamo to fly home.
I did love that Steve had already had many opportunities to go to Venice with the band — but he saved it to visit the first time with me.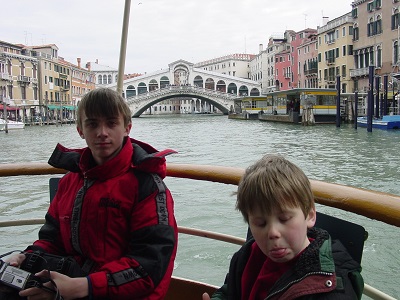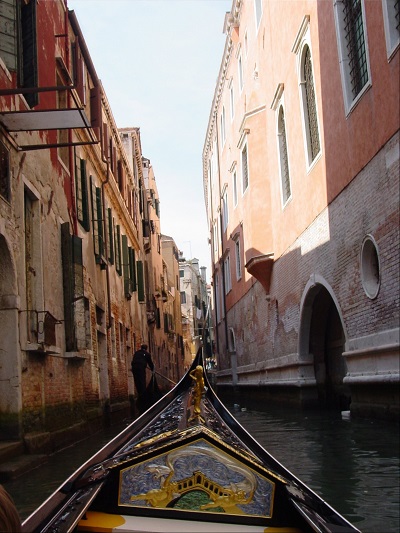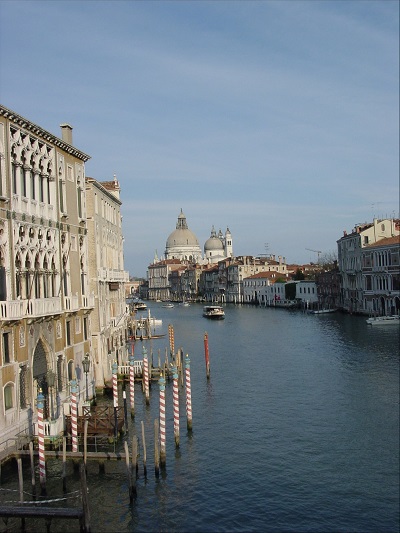 The favorite thing of everyone else in the family was feeding the pigeons in St. Mark's Square. But that worked– I loved to take their pictures!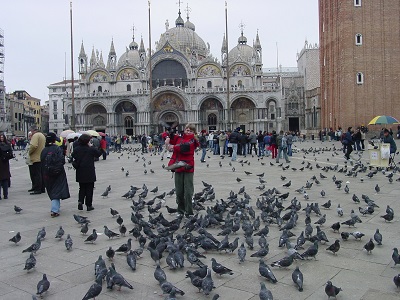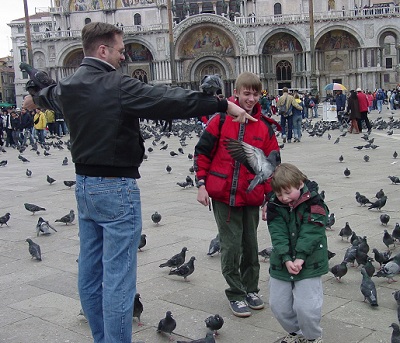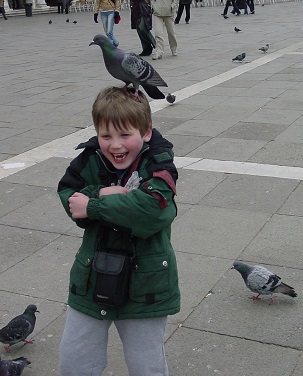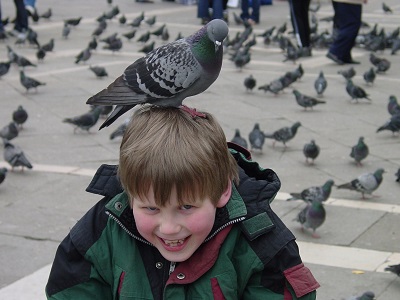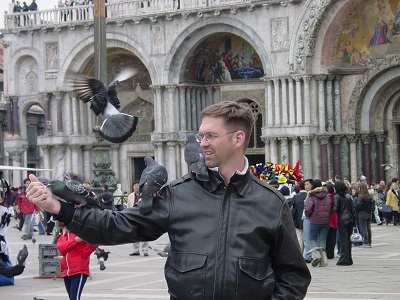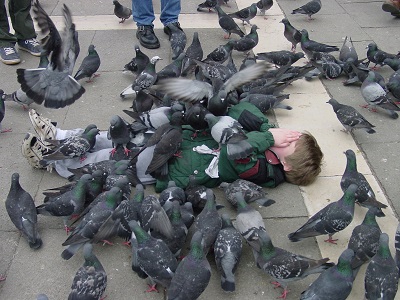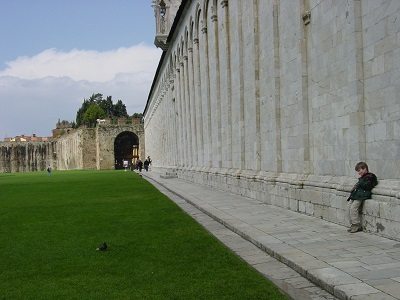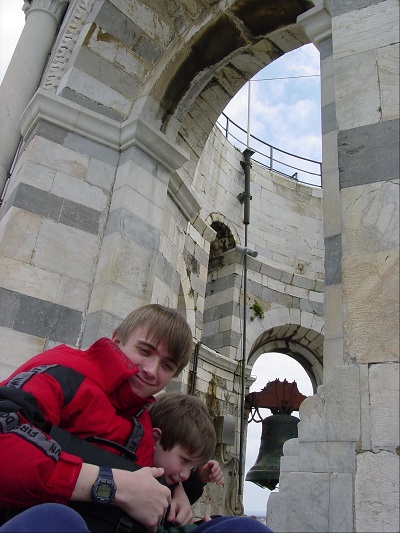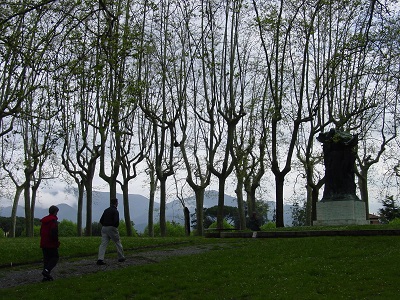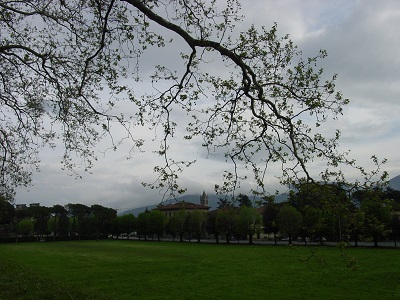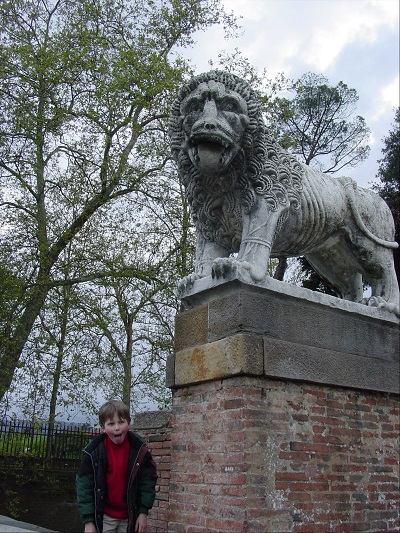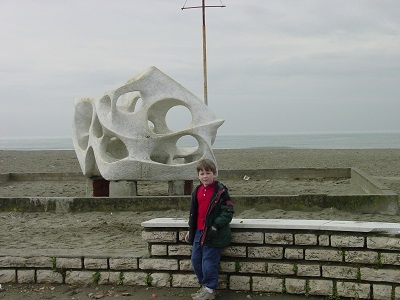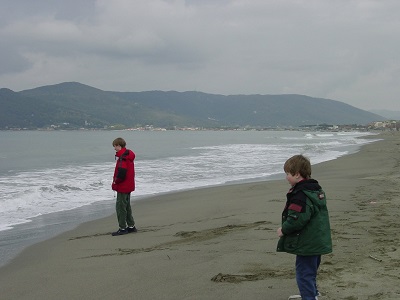 This next is too adorable not to share. Timmy did a project where we videotaped him reading the Gettysburg Address as Abraham Lincoln.
And I took some pictures of some of the most wonderful people in my life!
Here's Jeanine:
Here's my knitting buddy, Leah:
Here's my dear co-worker, Elfriede:
And here's my boss at that time, Mary Wallace:
Josh got to play Petrucchio in a "Young People's" version of "The Taming of the Shrew."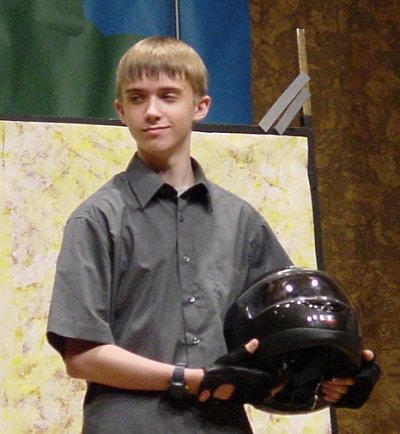 And the year finished up in Chicago for the National MathCounts competition! Steve's sister and her family met us there, as well as Steve's parents.
Here are the cousins: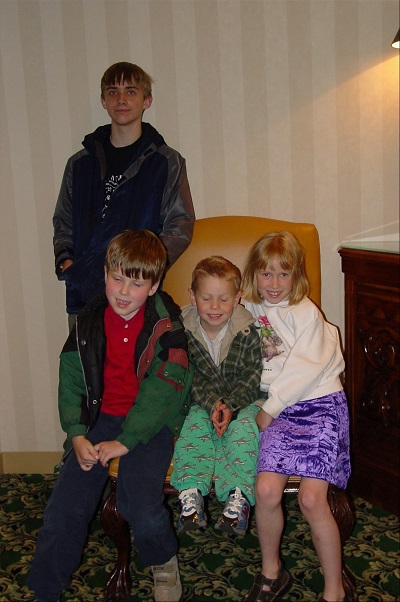 On my 38th birthday, we girls (Gram E, Stephanie, Karli, and me) went to the American Girl show.
There was a reception at the science museum.
Here's the MathCounts Team from DODDS.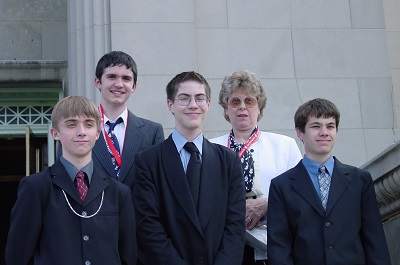 And next week's post will begin with the next phase of our trip, when we spent some time in DC with Kathe and Darlene.