It's time for Project 52, Week 38!
38 weeks ago, on my 52nd birthday, I began Project 52. Since there are 52 weeks in a year, each week I'm taking one year of my life and blogging about it. This week, I'm covering the year I was 38 — June 14, 2002, to June 14, 2003. Once again, the challenge is summarizing, not posting all the wonderful pictures, and trying to get it down to one post.
Last time, I mentioned that on my 38th birthday, we were in Chicago, where Jade (then called Josh) was competing in the National MathCounts competition.
Now, the two previous years when Josh had done very well in MathCounts but hadn't quite made the national DoDDS team (6th when they needed to be 4th), those years the team had gone to Washington, DC, to compete. So my heart had gotten set on the year that Josh made the team we'd go to DC. And then when Josh did make the team — the competition was in Chicago!
So — we decided to make a trip to DC on the way home from Chicago. Steve had to get back to work, but Josh, Timmy, and I made a stop in Virginia to see my dear friends Kathe and Darlene.
We stayed at Kathe's house. Kathe now had two kids, Tim and Ben. They are the same distance apart as Jade and my Tim — only my Tim is the youngest and Kathe's Tim is the oldest. (First Timothy and Second Timothy. Back then, my Tim was Timmy and Kathe's Tim was Tim. Who knew they'd ever live near each other?) Here are Kathe and Ben.
And we spent a day in DC.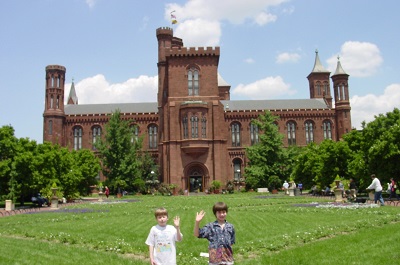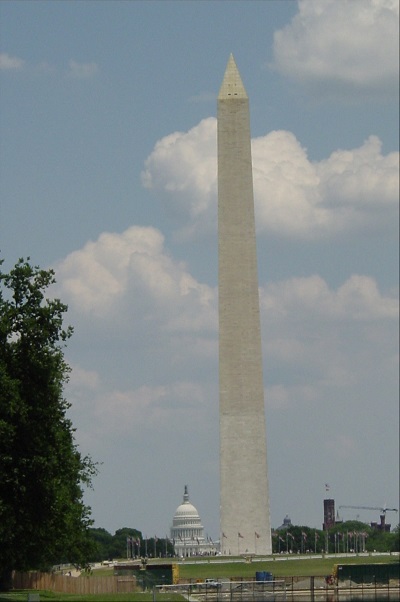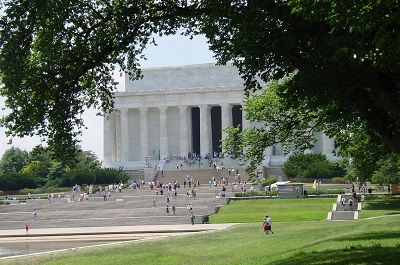 Oh look! Darlene's oldest, Ryan, was born by then, and was with us in DC.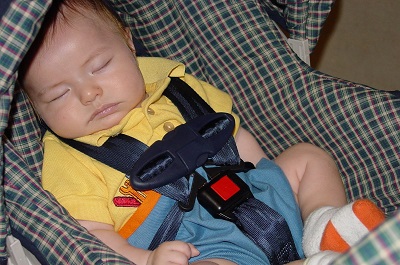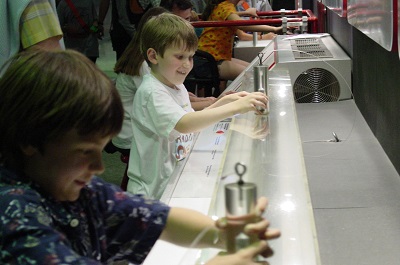 Here's an extra cute one of Kathe and Ben.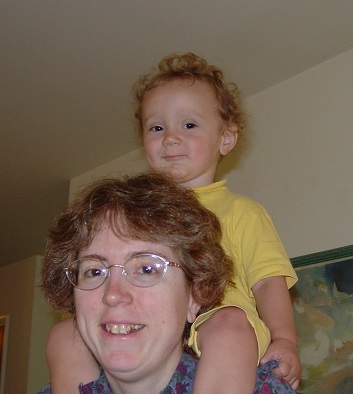 This was another day in DC. We wanted to go to Ford's Theater (because of Tim's project on Lincoln), but it was closed. We did see the room where Lincoln died.
(Kathe was such a nice hostess, taking us all around!)
Finally a picture with Josh! Later, Kathe took us to Shenandoah Caverns. Next to the caverns, there's a parade float museum. We explored it for awhile.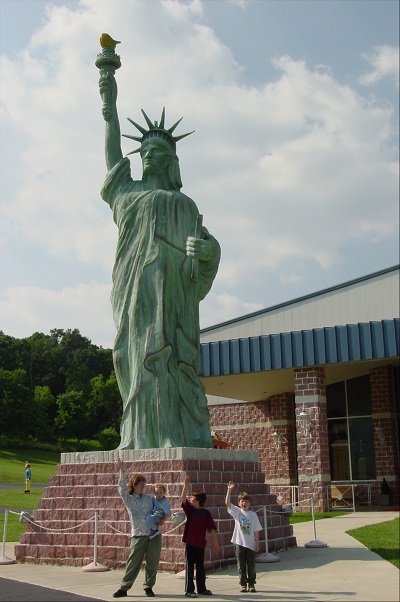 Back at Darlene's house, little Ryan was at an adorable age!
Our friends the Ciufos (from Germany and Illinois) were now stationed in DC, so they came to see us at Darlene's house and all the kids played together.
It wasn't quite the 4th of July, but we set off fireworks while we were in America.
And that was the second time I got to visit Gateway Community Church, then meeting at Rachel Carson Middle School!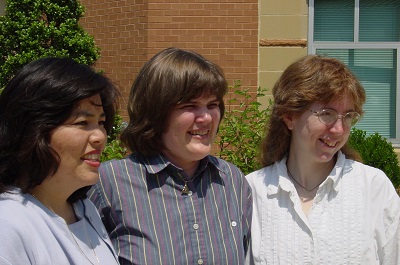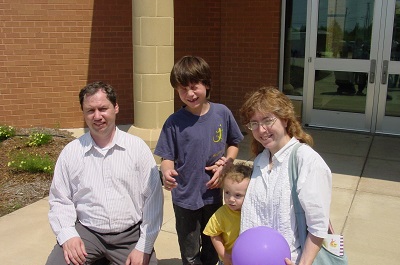 Josh enjoyed Kathe's dogs.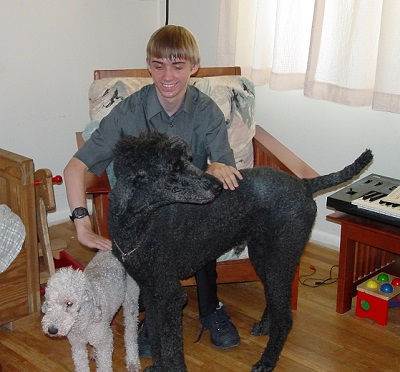 A Group Picture before we went back home.
Back home, Germany was doing well in the World Cup! This picture was taken out our window.
We'd spent our money on the trip to America, so we did shorter trips that summer. Here's Schloss Dhaun.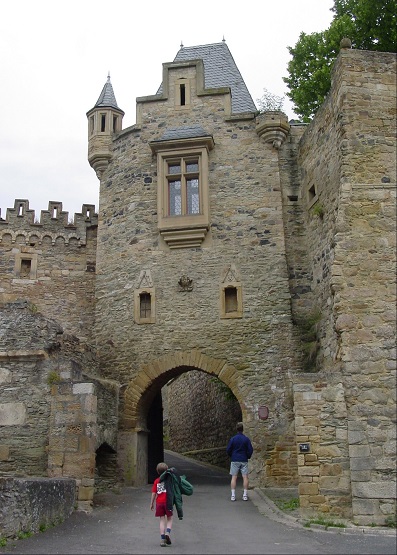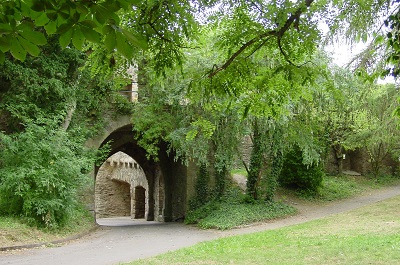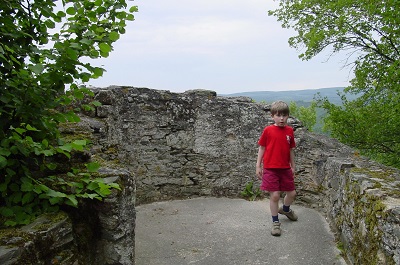 It's always fun to fill a doorway! (Or window?)
We did an overnight trip to go to LEGOLAND Deutschland, which was quite new.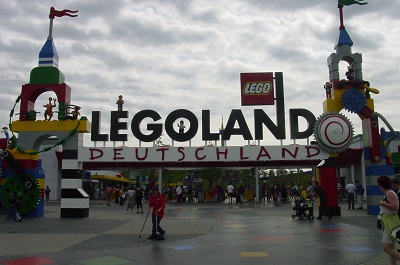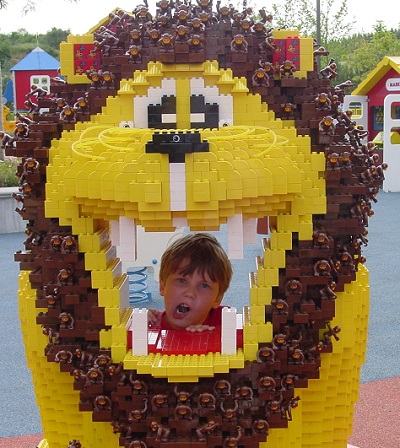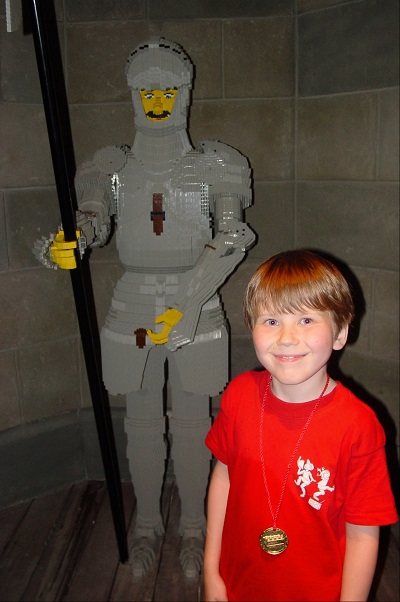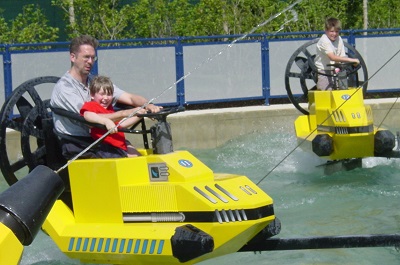 Now that I think about it: Josh is probably missing from the LEGOLAND photos because that was when they were in Ireland! Josh again went to the Ireland Centre for Talented Youth program at Dublin City University. This time we put Josh on the plane and didn't get to take an Irish vacation ourselves. So it seemed like a good idea to do something special with Timmy. (My 2002 calendar is missing is why I had to remember that.)
Timmy turned 8 years old at the end of July.
Josh was back. They did not like getting their picture taken and had painted their fingernails in Ireland. (Perhaps there were some clues about their true gender? It was soon after that they grew their hair out.)
We also took a trip to Detmold in northern Germany when my sister Marcy toured there with the Continental Singers.
Detmold had some amazing rock formations. And now Josh is the one letting me take their picture.
We visited Hameln on that trip.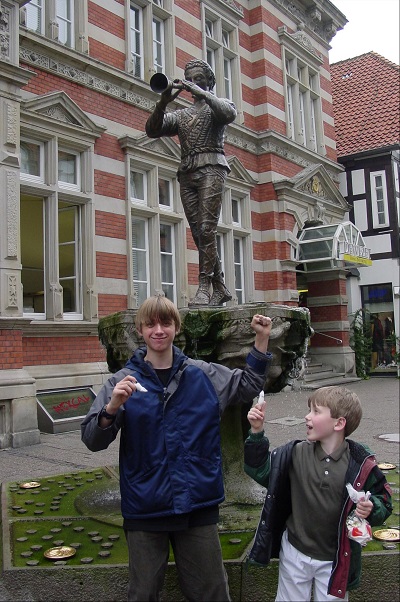 That Fall, Timmy started 3rd grade and Josh started high school!
In October, my cousin Jani came to visit! We took her to stay with her former college roommate from Switzerland, traveling through the Black Forest.
The Swiss family was charming, and fed us Raklete. We liked it so much, I bought Steve our own Raklete grill for his birthday that year.
And one of my favorite translation stories happened there. Jani's friend was married, with an adorable two-year-old son. I mentioned how adorable the boy was. The father got out his dictionary and said, "Yes, he's cute, but he gets this… raving madness."
I laughed so hard, because I knew exactly what he meant! But I'd never before heard a child's temper tantrums called raving madness. The perils of dictionary translation!
After dropping off Jani, we went back home by way of "Heidi's Alp." So beautiful!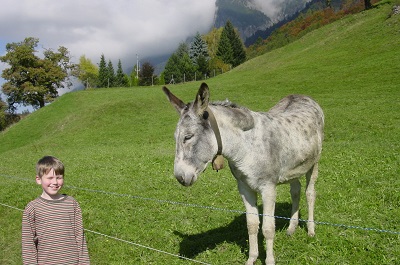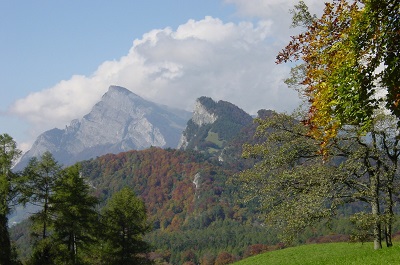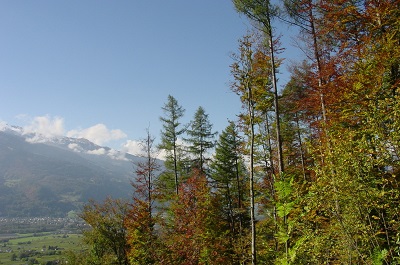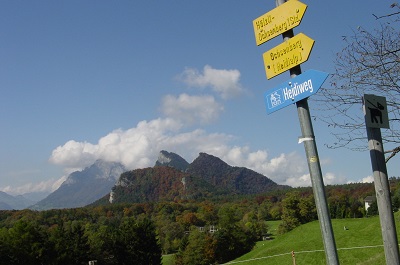 We drove through Liechtenstein on the way home, simply to say we'd been in another country.
Jani came back to us before going back to America. Steve was on a trip, but I took her to Heidelberg.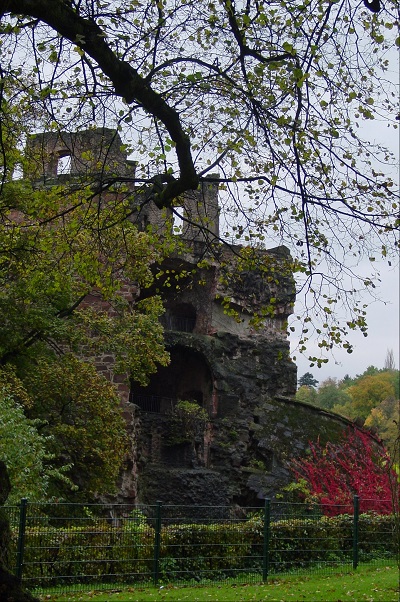 And another favorite, Burg Rheinfels: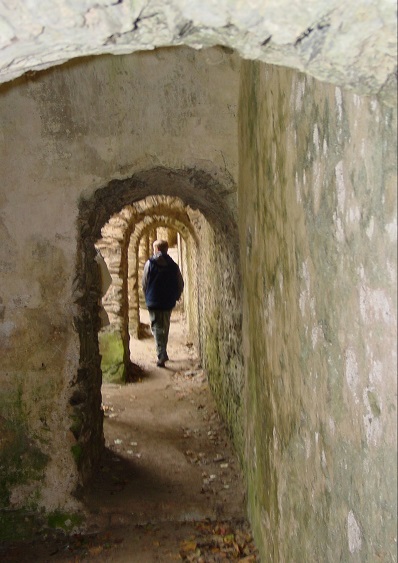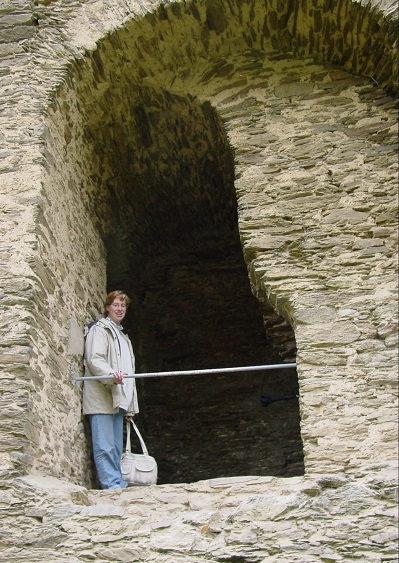 Here's the Raklete grill we got for Steve's birthday. It's a party and a meal both! You grill at the table. Put meats and veggies on top, and melt Raklete cheese underneath. Also boil some small potatoes to serve with it. So yummy! And it's a lot of fun as each person cooks their own. (It's making me hungry just thinking about it. Steve got to keep the grill when we left Germany.)
And in January 2003, we moved to Sembach Village. This was our fourth and final home during our 10 years in Germany. We'd never been crazy about the Alsenborn house. The Sembach house was no Gundersweiler and had no view, but it was very large with five bedrooms, a storage room, a living room, a huge den, and two kitchens. (For awhile, it had been rented as two apartments.) And we could still walk to great hiking.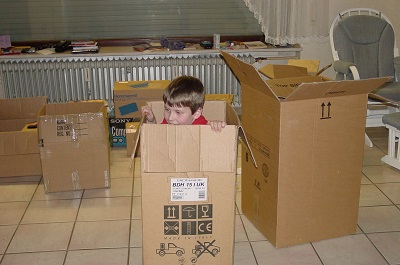 2003 did not start well. I purposely planned to take two weeks to move, thinking that would take off the pressure — but it just prolonged the pressure. And on the day when we had rented a truck to move the big stuff — It snowed six inches.
We had a fiasco with trying to get our ID cards renewed — multiple trips to Ramstein. We all caught the flu that year and were each sick for at least a week. I got a sinus infection that stayed with me for weeks more. And lots and lots of headaches to go with that.
And then my Mom had a heart attack, at 61 years old. That took me by surprise. Her grandmothers were both long-lived. I hadn't realized that one of her grandfathers died of a heart attack. Fortunately, it didn't kill her, though she had bypass surgery, and we later came to think that surgery may have caused her Alzheimer's to start sooner.
In 2003, though, I did sign up for a writing course with Gotham Writer's Workshop. I ended up starting my second children's novel, which I eventually did finish. It was nice having a course to work on — kept me doing it.
We didn't do anything for our anniversary that year, since we were moving. But with Josh old enough to babysit, we went on dates more often. Steve started taking me to the opera in Kaiserslautern. The first one we saw was MacBeth by Verdi. It was an interesting experience to see an opera based on a play written in English, sung in Italian, with a German translation flashed on a screen above the stage. I could read German well enough to follow along what was happening.
In March, we started traveling again. We went to the Mathimatikum, "The World's First and Only Math Museum" in Giessen.
Josh turned 15 on March 19.
But sadly, right around Josh's birthday, the war in Iraq started. Which meant that all field trips for DoDDS schools were cancelled. Which meant that the big Brain Bowl competition, which Josh had been working toward for months — was cancelled. I did get to see Josh play against the faculty, and they were awesome. Each Brain Bowl team has to have one student from each grade (as well as I think two alternates who can be any grade). That year they had an outstanding team because the Senior who had been on the team four years was super good — and Josh, the Freshman, was super good. But alas! They didn't get to prove their prowess that year. And the next year, they didn't have Seniors who were quite as strong.
We were planning to send Josh to Ireland the next summer, and this time we were paying, so we didn't do a big trip for Spring Break, either. We did some day trips.
We went back to Rheinfels — but this time Josh wrote a script and filmed a movie there — the Monster of Doctor Flugenstein. It was tremendous fun, and I enjoyed seeing the kids be once again enthusiastic about visiting a castle!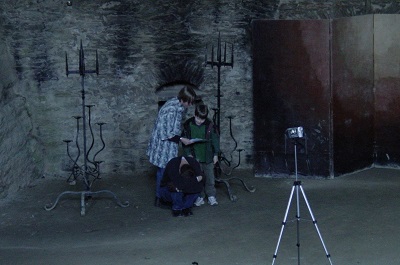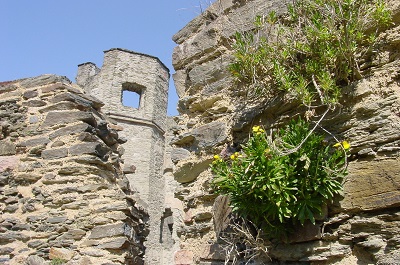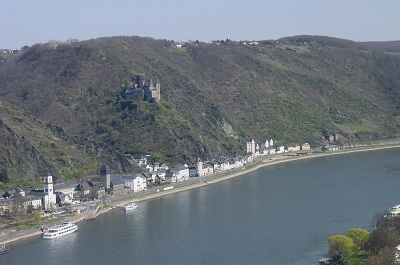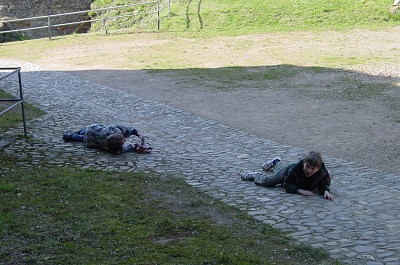 On April 13, we drove out to Verdun.
We touched Castle #136, the medieval Porte Chausée.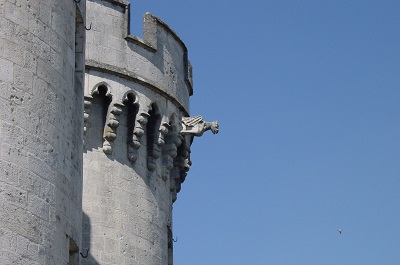 Here's what I wrote in my journal:
Sunday we drove two hours out to Verdun. It was another glorious day. We got a snack at the lovely Meuse waterfront and touched Castle #136 — The medieval Porte Chausée. Then we went to the Underground Citadel and did the ride that takes you through a re-creation of war time in the citadel. Finally, we drove out to the now nonexistent village of Fleury to the Battle of Verdun Memorial and Museum.

We learned about the horror of World War I. It's no wonder the French are not in a hurry to go to war again!
Our new home had lovely Spring flowers.
Then when June rolled around, Steve's parents came June 4-11. One of our trips with them was to the Rose Garden in Zweibrücken. We had a wonderful lunch featuring fresh Spargel (asparagus) there.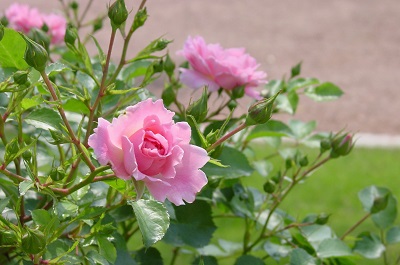 The next day we went to a Medieval Fest at Castle #139, Burg Satzvey.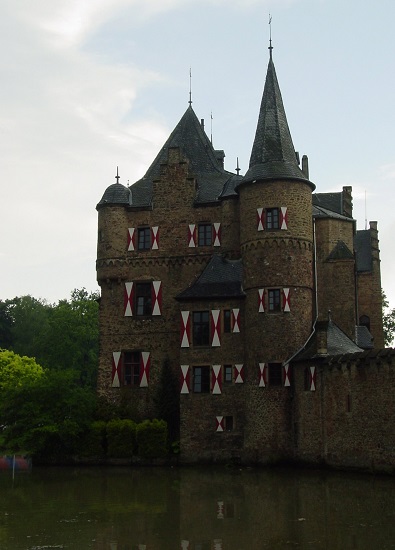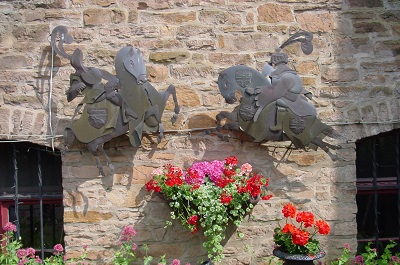 They even had a jousting demonstration.
For my 39th Birthday, we had to go to a castle. I chose Neckarsteinach on the Neckar River, a town with four castles, the "Vier Burgen" above it. There was a hiking trail to all four castles. So we visited Castle #140, Hinterburg, Castle #141, Mittelburg, Castle #142, Vorderburg, and Castle #143, Burg Schadeck.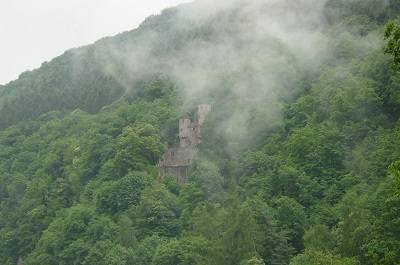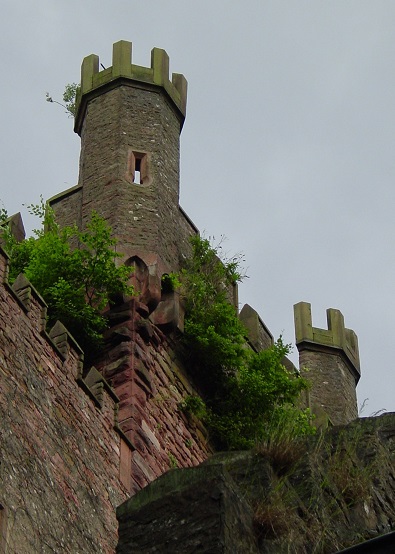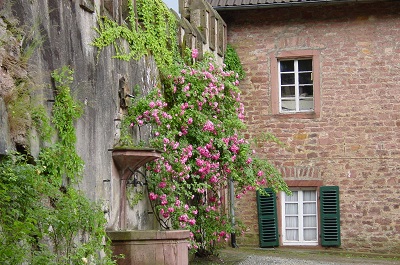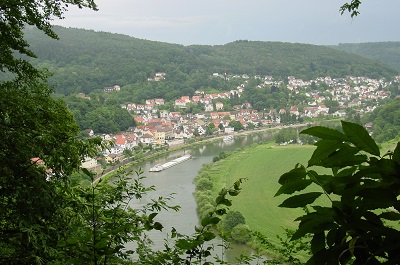 Looking back on that year, I remember a lot more tension with Steve than I was willing to admit at that time. My journals still go on about how wonderful my husband is and how much I loved him. But I may have been convincing myself that everything was fine. When he does show up in photos, he's just not as thoroughly enjoying himself. He went along, but his heart's not in it like it used to be. Which makes me sad, looking back.
But — our kids were getting older, we were still traveling, I still loved my job, and I still loved living in Germany. We were now very close to the base, which added many levels of convenience. The bus stop situation was better, so I believe Josh was able to watch Timmy after school again. I was writing my second book, and this was the year I converted Sonderbooks, my e-mail newsletter of book reviews, into a website of book reviews.
Life was good! Next up was our vacation to Scotland the summer I was 39!