It's time for Project 52, Week 42!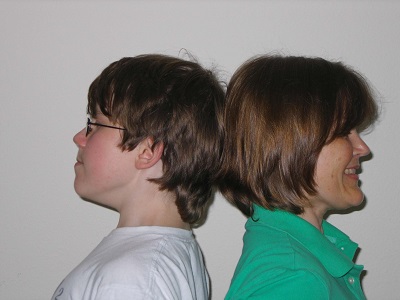 (This picture was taken October 10, 2006, which seems to be the exact day Tim caught up with me in height!)
42 weeks ago, on my 52nd birthday, I began Project 52. Since there are 52 weeks in a year, each week I'm taking one year of my life and blogging about it. This week, I'm covering the year I was 42 — June 14, 2006, to June 14, 2007.
Last time, I covered the moment of truth when my husband confessed he'd been having an affair the entire previous year and a half – and that before that he'd had a plan to kill me. That happened four days before I flew to Virginia with my kids Jade (then called Josh) and Timothy. Josh was going to start college in Florida in October, and Tim was getting ready to start seventh grade. Steve flew to Japan to join the US Air Force band there.
Moving Day was August 18, 2006. I was shell-shocked, tired, and overwhelmed. Kathe and Darlene picked me up at the airport. I remember that Darlene's 2-year-old Michelle was along, but I don't remember if her older son Ryan (who must have been about 5) was along – if he was, he didn't start telling his life story like Michelle did. I don't think Kathe's boys Tim (my Tim's age) and Ben (a little older than Ryan) came, because there was only so much room in the van.
And Darlene put us up in her basement for six weeks while we waited to find a place and for our household goods to arrive. There was a bedroom down there for me and a bathroom, and my kids slept in the larger basement room on bunk beds.
In fact, here they are on the lower "bunk."
Here are Darlene's adorable children:
My calendar is just full of errands those first few weeks. I had to buy appliances, like a microwave. (Different voltage in Europe, so we'd been using some loaner appliances or I left electronic things with Steve.) I had to register Tim for middle school. And find an apartment. I had no income on my own, so to apply for an apartment, I had to fax an application to Steve in Japan to co-sign. I got a library card at Reston Regional Library and used the internet there. (Darlene had dial-up, which I used sometimes.) I needed to buy a car.
I remember that in those first few weeks, I lost my cellphone (after I had shifted it to work in America) and also lost Darlene's spare house key. I felt like a basket case.
But it was good to have the support of my friends. I went to Gateway Community Church starting on August 20, 2006. And two weeks later, on September 3, I went to my first Sunday evening small group meeting. Darlene and Kathe both went to Trisha and Phil Sallee's small group. The whole group welcomed me. I remember we were having a discussion, and Kathe's husband Joe was talking, and I thought, "I know Joe! This isn't scary!"
That Home Fellowship Group had started a nice tradition of doing service days at each other's homes. On Labor Day, they went to Kathe's house and did some deep cleaning work. (I don't remember what we did, actually — It was basically whatever the host thought would be helpful.)
And on September 6, 2006, Timothy started 7th grade at Rachel Carson Middle School in Herndon, Virginia. He had already gone to middle school in 6th grade in Sembach, Germany — but 7th grade was the start of middle school in Virginia. So at least all the kids were new to the school, the same as him.
On September 9, Josh flew to Japan to visit their Dad. Steve wanted the kids to get to visit, and since Josh's college classes didn't start until October, we worked it out to happen then.
The last week of September, I began my own grad school classes online — tricky since I was still dependent mainly on library computers. One of that first quarter's classes, "Action Research," was essentially Introduction to Statistics, a class I'd taught many times. So it seemed silly that I was required to take it, but it wasn't so bad having an easy class my first quarter. But the rest helped me get excited about becoming a librarian.
I took the Gateway to Gateway class to become a member of Gateway Community Church on September 30, 2006. And we finally moved out of Darlene's basement into our own apartment on October 7. However, we still didn't have our household goods from Germany. Darlene and Matt loaned us the mattresses we'd been sleeping on, and some other furniture they'd picked up for us. (I'd bought an entertainment center for $100 from a neighbor, for example. And someone had put some furniture out by the curb.)
I don't know why the kids had to distribute their stuff all over the floor when we had so little there, but here they are in our new apartment.
And on October 14, after we'd only been in our apartment a week and before we got our household goods, Josh left for college in Orlando, Florida, sight unseen, at Full Sail University, to study film.
I remember that in the airport Josh's suitcase was too heavy – so Josh took out the plush bathrobe they'd gotten me to buy for them and wore it! With the beard and long hair and bathrobe, Josh looked like pictures of Jesus.
Our household goods finally arrived on October 17 — and on October 18, Timothy and I flew to California!
The excuse was my 25th high school reunion. However, they'd had a big celebration the year before, in combination with the Class of '80. So not too many people came. But it had also been 3 years since I'd seen my family.
It was funny, though — the staff at Rachel Carson Middle School weren't nearly as understanding about taking a family trip in the middle of the school year as the school staff were in Germany, when they realized that the opportunity to take trips was more important than mere schoolwork. So they gave me a hard time, but I arranged it anyway.
Here are my Brethren High School Class of '81 classmates who made it to the reunion that year. Happily, Ruth and Darlene were among them. (Spouses not in this picture.) This is Frank, Brenda, Stacy, Becca, Daphne, Delphine, Karen, Darlene, me, Ruth, and Dan. It was lovely to catch up with these folks. Since I had moved away from California relatively early, this was the first reunion I'd attended since the very first one.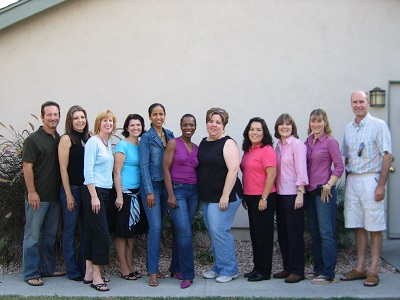 But when we got back home — we were surrounded by boxes and disassembled or broken furniture. (Those were the worst packers of all the ones we'd ever had in our Air Force moves. But remember I'd been way too distracted to oversee their packing — the day they came was the day Steve confessed.) Here's how our apartment looked. It was overwhelming.
However, November 4, 2006, was the day Gateway truly became my family — the Home Fellowship group came over and helped me unpack! They put my bookshelves back together and filled them. (Not a small task!) They put our beds back together and took the borrowed mattresses back to Darlene's. They put my desk together. They put my dishes in the cupboards. They hooked up my stereo and TV. It had been so overwhelming — and they brought order to the chaos, even though most of them still didn't know me real well.
I'm planning to gloss over most of the rest of the year. After I wrote the last post, I found myself wondering why why why I kept praying so long and so hard (we're talking years) that Steve would come back to me.
There were a lot of reasons. A big one was denial. It took me a long time to grasp – let alone believe – that my husband had an affair, let alone that he had a plan to kill me.
And I was in the habit of loving him! I wasn't able to just shut that off. Many would argue that if I loved him, I should want him to be happy — and he said he'd be happier unmarried. The only trouble with that was that he didn't seem even the slightest bit happy. And he was walking away from the church and God. I couldn't bring myself to believe that would lead to his happiness.
I admit I'd gotten the idea from Rejoice Ministries, who told the story of their founders. Charlyne Steinkamp prayed her husband back after they were divorced two years, when he was getting ready to marry the other woman. As they said, if I didn't pray for my prodigal, who would?
And Steve was on the other side of the world. He'd moved there to get away from me. He did call Timothy every night. We soon got cellphones, so he could call Timothy direct. But I could pray earnestly for Steve — and that's pretty much what my quiet time notebook is filled with that year — but I did not have to live with him.
I mentioned that once I found out Steve had an affair, it was much easier not to believe him when he explained how the whole thing was all my fault. But that did not have that effect on Steve. It seemed he was working all the harder to explain to me what a terrible person I was and how no one could live with me and how he was done trying to put up with me.
And money was a problem. When I moved, of course I lost my job, which was only half-time. I was taking classes full-time. At first, we both got money out of the joint account. But Steve started putting less and less money into it — and then pretended that was his whole paycheck. When my rent checks bounced, he blamed me for ruining his credit. I tried to cover them with a cash advance on my credit card, which he never did pay back.
He actually used the line "How dare you accuse me of hiding money?" not knowing that I'd looked back on our history and learned that if he used that line, it was a certainty that he was doing that thing. I told him, with great concern, that he needed to go to Accounting and Finance because they obviously weren't paying him the correct amount. He was getting $2100 housing allowance for me and the kids in DC, a single housing allowance at the Japan rate (which I could look up), Basic pay (which I could look up) and a meals allowance.
It was a mess while I was moving in and having to buy supplies. And a car. Eventually, we worked out that he would give me $2800 per month, my housing allowance plus a small portion of his basic pay. He started pressuring me to find a job.
And it wasn't easy to find a job. When we'd moved, I'd hoped I'd be able to work from home for my brother Jeff, who had a business writing software for graphing calculators, making them much more intuitive. But his business didn't end up doing well enough to be able to hire me for the amount I'd need to make. I applied at libraries, but had no luck.
Oh, and I do want to say that Steve didn't pay a penny for my grad school degree. I got a scholarship. I got several units waived because of work experience. I took out loans – which I am still paying off, but will finish with in 11 more months. And my Dad paid the remainder and for textbooks. (Thank you, Dad!)
But we still managed to have some fun that winter. Josh was home a little extra over Christmas break because they got to skip one of the required courses because of AP credits. This was after already having won an award for being an outstanding student (not about grades but about being impressive!)
My brother Robert came to visit while going to a gaming convention (where he won!) and we spent a snowy day in DC.
But at the same time, I was super worried about Timothy. His life had basically come apart. He'd lived in Germany from the time he was 2 to the time he was 12. Now he had to leave the place where he'd grown up and his friends and everything familiar. His Dad had moved to the other side of the world and his big sibling had moved to Florida. Now it was just him and his struggling mother.
Steve did call every day from Japan – but it wasn't the same.
At school, I did get him into Geometry in 7th grade and honors classes. His teachers raved about him at the parent-teacher conferences. But he was showing a lot of signs of depression. Some days I couldn't get him to get out of bed.
One thing I noticed though was that he did better when I got more time with him. So I wasn't in a hurry to get a job on top of attending school full-time. (Online classes, but still full-time work.)
Some time that winter, when I had threatened to take computer time away if he didn't get out of bed (I didn't know what to do!), Tim said, "Maybe I should just kill myself." I'm not sure I have ever been more terrified than when I heard those words.
But — we got through it. What actually cleared up Tim's depression was when Steve's parents took Tim with them over Spring Break to Japan to visit Steve. When Tim came back, he no longer seemed depressed. And I was so relieved.
And not too long after that, I got a job! And it was at Sterling Library – only a few miles from my home. It was 20 hours per week as a Youth Services Assistant. It was fantastic to be working in a library again! I began working for Loudoun County Public Library on May 17, 2007. I was finishing my third quarter of graduate classes, and I only had four classes left, so my plan was to take two classes each for summer quarter and fall quarter and finish in December 2007.
So God's timing was perfect. As far as I was concerned, it was just lovely that I didn't get the job until the degree was almost finished — and until after Tim was getting settled and was better able to handle some afternoons and evenings on his own.
I was still attending church and small group and being loved on regularly. I was praying earnestly for my husband and "standing for my marriage." I was reading daily encouraging emails from Rejoice Ministries. But mostly, God was comforting me. And I was getting many reasons to smile.
Something significant happened in church on April 29, 2007. I'm going to write out the description I wrote in my Quiet Time journal.
Not only were the Rejoice Ministries emails encouraging me to listen to God's voice, but folks at Gateway Community Church also talked about doing this. To be honest, that wasn't really part of the tradition I grew up with. When I was a Biola student, a popular book was called Decision Making and the Will of God, which taught that as long as it doesn't go against Scripture, God doesn't really care what you do.
But that year I was 42, I was desperately seeking God. I was still being told that I was an awful person. And I was trying so hard to return that with love. I was trying to do the right thing. I was trying to forgive Steve when he hurt me — but almost as if he couldn't hurt me if I tried hard enough to forgive. (Only, he had more power than anyone to hurt me, actually.)
On April 29 in church we sang the song "I can see clearly now" with Christian words put in. We've never sung it again. Maybe because I took a copy of the words? I've got them posted at my desk still.
And here's what I wrote on April 30:
Father,

I want to record the amazing thing You did for me yesterday.

Back in November 2005, the week after Steve told me he wanted a divorce, I was driving to the conference in Paris. I was praying earnestly about the conference in Paris and about my marriage. I looked up, and there was a rainbow over my path.

I thanked You, Lord, and said I'd take it as a sign that the conference would go well and my marriage would be healed.

The conference did go well, incredibly, wonderfully well, with bright, sunshiny days even in November.

Afterwards, I told people about the rainbow and that I hoped it was also a sign that my marriage would work out. And soon after, while I was thinking about this, I saw another one.

So yesterday, when we sang "I can see clearly now…", it was natural that I thought of Paris. Here are the words:

"I can see clearly now,
the rain is gone.
I can see all obstacles in my way.
Gone are the dark clouds that had me blind.
It's gonna be a bright (bright), bright (bright)
Sun-Shiny day.

"I think I can make it now,
the pain is gone.
All of the bad feelings have disappeared.
Here is the rainbow I've been prayin' for.
It's gonna be a bright (bright), bright (bright)
Sun-Shiny day.

"You've opened my eyes and I can see the Light.
You've opened my heart and I can see the Way.
You've opened my mind and I can see the Truth.
I'm feeling a bright, bright…
I'm sensing a bright, bright…
I'm believing a bright, bright
Son-Shiny day."

As I sang the second verse, I thought about this whole crisis in my marriage. Then here's how my thoughts ran:

"I think I can make it now, the pain is gone." – Yes, my heart is so much lighter than it was, I AM gonna make it!

"All of the bad feelings have disappeared." – Well, not ALL of them, but they ARE on the way out.

"Here is the rainbow I've been prayin' for." – Ah! Remember the rainbow I saw just before Paris? I took it as a sign that both the conference and my marriage would turn out beautiful. And it really did come true as a sign of a wonderful week in Paris! I hope it's also a sign that my marriage will be healed and become a thing of beauty!

"It's gonna be a bright (bright), bright (bright) Sun-Shiny day" – Remember how incredibly sunshiny it was in Paris, even in November? It was so beautiful. That was such a gift of God. Wouldn't it be neat to pray for a rainbow right NOW? But that would be silly, and not really fair. Of course God can't give me a rainbow now. I mean, come on, we're inside! Besides that, it's already bright and sunshiny, so there's no way a rainbow could even shine through the back window. This isn't the sort of day when rainbows appear. But it would sure confirm that my marriage is going to be restored. Well, I'll just thank Him for a bright sunshiny day and the wonderful memories from Paris. I won't test God by asking Him for something impossible.

We kept singing. After that song, a lady (Susan Foose) walked in and chose a seat smack in front of me, 2 rows ahead, with no one in between us. So as she stood and sang, I had a direct view of the back of her blouse.

Her blouse was colorful and pretty. It had an Eiffel Tower on the back. I noticed it, because I always notice the Eiffel Tower and think of Paris.

"Look, Timmy! How pretty! It's Paris!"

But before I could nudge Darlene and point out the beautiful blouse and explain why I love Paris so much from that conference there, it dawned on me that the shirt didn't just portray Paris. – It was an impressionistic RAINBOW over Paris!

Just when I had thought God couldn't bring a rainbow inside, He did exactly that. I was completely blown away. I don't doubt it any more. That was far too specific, too carefully crafted especially for me.

God is amazing. I can imagine Him smiling as he sent that rainbow inside, just for me.
The timing was incredible. Paris. A rainbow. That strange thought that entered my head to pray for a rainbow. And the way she chose a spot directly in front of me.
Let it be known: God can even bring a rainbow inside! And He'll do it when He knows His child desperately needs some encouragement. And wow! He let me know He cared about me that much!
Dear Reader, reading that now, I'm still taking it as a sign! Not that my marriage would be restored, but that my life would be restored and become something beautiful. There would be Beauty and Joy in my life again.
It's gonna be a bright, bright, bright, bright Son-shiny day!