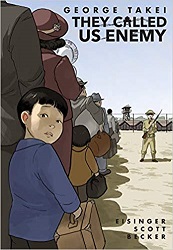 They Called Us Enemy
Review posted July 18, 2019.
Top Shelf Productions, 2019. 208 pages.
Starred Review
Review written July 17, 2019, from my own copy purchased via amazon.com
2019 Sonderbooks Stand-out
:
#1 Longer Children's Nonfiction
I got to hear George Takei speak at ALA Annual Conference and received an excerpt from this book which I got signed by all of the creators. All of that got me so excited about it, I went ahead and preordered my own copy and read it the day it came in.
I didn't know much at all about the incarceration of Americans of Japanese descent during World War II, even though one of my best friends has parents who were imprisoned as children at that time. And I guess I thought I knew more than it turns out I did. George Takei presents his memories as a five-year-old sent to the camps, but he inserts the facts of what was going on to make it possible for American citizens to be imprisoned simply because of their ethnicity.
The whole timeline and explanation is laid out. After Pearl Harbor, Americans of Japanese descent were regarded with suspicion, and young men were turned away from army recruitment centers. Next came curfews, and then the families were rounded up and sent to camps. George talks about the irony of going to school and reciting the Pledge of Allegiance surrounded by barbed wire and guards. The story is told from the perspective of a five-year-old who doesn't know that anything he's experiencing isn't normal.
George's father emerges as the hero of this story. He did what he could to help his family at the time. As George grew up, his father talked with him about democracy.
Our democracy is a participatory democracy. Existentially, it's dependent on people who cherish the shining, highest ideals of our democracy and actively engage in the political process.
His father said about FDR:
Roosevelt pulled us out of the depression, and he did great things, but he was also a fallible human being, and he made a disastrous mistake that affected us calamitously. But despite all that we've experienced, our democracy is still the best in the world.
The art in this book is wonderful. Young George is adorable and mischievous. His parents' love for each other and firm resolution to take care of their children is communicated in the pictures. At times, a manga style is used to show George's excitement, with stars coming out of his eyes. It's used with a light touch, but effectively.
The book is framed with a modern-day George reflecting on his experiences and the book touches on where his life went from there. Taken all together, this book is powerful and moving. And it's also shocking – what the government was able to do to United States citizens. Unfortunately, it's also horribly timely.
This is a book everyone should read. Since it's in comic format, it doesn't take long. Invest an hour of your time reading this. You won't forget it.