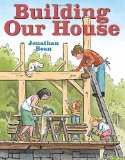 Building Our House

Reviewed 02/13/2013.
Farrar Straus Giroux, New York, 2013. 44 pages.
This book isn't funny. It doesn't reach out and punch you with its brilliance. It's on the long side for preschool storytime. But it quietly won me over. I found myself reading it more than once, poring over the detailed illustrations, enjoying the oversize format and the story – the whole process of building a house.
The author based the book on what his parents actually did. They bought a farmer's field, moved into a trailer on the property, and then built their own house. This book shows that process, starting with tools and a plan, then purchasing the materials, and setting the corners by the north star.
The format works well. It's a larger picture book than usual. Most spreads have four pictures, two on each page, showing the day-to-day process. Special moments, like the frame-raising party and the moving-in party, get a whole double-page spread to themselves.
The pictures have lots of detail, and you can look at them over and over and still find new things. This would be a great choice for kids interested in construction machines, but also children interested in a family story, or even children who simply like to find details in complex pictures.
This is probably on the long side for preschool storytime, but it would be a lovely book for sharing individually with a child.