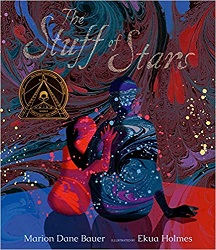 The Stuff of Stars
Review posted March 6, 2019.
Candlewick Press, 2018. 36 pages.
Starred Review
Review written September 25, 2018, from a library book
2019 Coretta Scott King Illustrator Award Winner
2018 Sonderbooks Standout
:
#2 General Picture Books
The Stuff of Stars is a gorgeous and glorious book.
The book is an extra large square, so it's got a weighty presence. All the pages use marbled papers in swirly patterns. The front cover has the title in gold-sparkled lettering like star clusters.
Here's how the book begins, on black paper with other dark swirled colors and one white dot:
In the dark,
in the dark,
in the deep, deep dark,
a speck floated,
invisible as thought,
weighty as God.
There was yet no time,
there was yet no space.
No up,
no down,
no edge,
no center.
It goes on to poetically talk about the Big Bang on the third spread. And slowly how the stars and worlds formed. Christians, there's plenty of room to explain to your child that God's responsible for that Big Bang.
I like when it talks about what isn't there yet:
And throughout the cosmos
stars caught fire.
Trillions of stars,
but still no planets
to attend those stars.
And if no planets,
then no oceans,
no mountains,
no hippopotami.
No violets blooming
in a shady wood,
no crickets singing
to the night.
No day,
no night.
Next, planets are formed, and even Earth, "one lucky planet, a fragile blue ball." And it talks about the creatures that were formed on earth, from mitochondria to sharks, daisies, and galloping horses.
And then there's a shift of gears:
Then one day . . .
in the dark,
in the dark,
in the deep, deep dark,
another speck floated,
invisible as dreams,
special as Love.
Waiting,
waiting,
dividing,
changing,
growing.
Until at last,
YOU burst into the world.
And it builds to the cozy image of two people cuddling together, the same as on the cover.
The random list of earth's creatures combined with the glorious swirling images is a perfect pairing.
You
and the velvet moss,
the caterpillars,
the lions.
You and the singing whales,
the larks,
the frogs.
You,
and me
loving you.
All of us
the stuff of stars.
A marvelous and wondrous book.