My birthday was Friday, and I received an amazing gift from my friend Lauri Ann.
I woke up with a vestibular migraine, which I'd had more than a week. I was feeling rather down. Lauri Ann's gift was the only thing I had to open. (No offense to my family — I am always late with their presents, too. And this time, I didn't get my new address out to people.)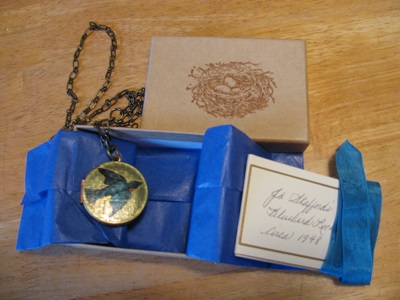 It is an antique locket, owned by singer Jo Stafford. It was given to her by Gordon MacRae when they recorded the song "Bluebird of Happiness."
Lauri Ann included the words. What a nice reminder that I have so many things in my life to be happy about now!
"Remember this: Life is no abyss. Somewhere there's a bluebird of happiness."
In fact, I remembered that I've been enjoying seeing lots of birds from my balcony. I thought it would be nice if soon I'd see a bluebird.
But I didn't end up reading on my balcony Friday, like I'd planned. People (not me! Yay!) were doing noisy yard work. So — I went to Great Falls National Park. And had a wonderful hike along the River Trail. And my migraine left before I got there.
And you know what? I saw many, many great blue herons. Now that I know what they look like, because of the one that lives on my lake, they were easy to spot. One was right below me when I looked down from the overlook.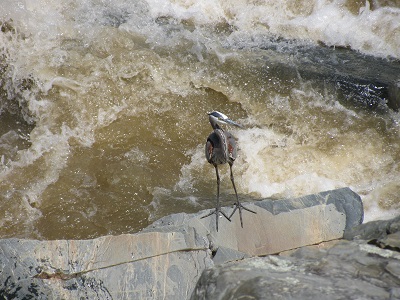 So you know what I decided? I've got not just a bluebird of happiness, but a Great Blue Heron of happiness! Whenever I see him — and I spot him almost every day now when I walk by my lake — I get a reminder of how much I have to be thankful for. And the locket is a lovely reminder as well.
"Hold your head up high,
Till you find the bluebird of happiness.
You will find greater peace of mind
Knowing there's a bluebird of happiness.
And when he sings to you,
Though you're deep in blue,
You will see a ray of light creep through,
And so remember this, life is no abyss,
Somewhere there's a bluebird of happiness."