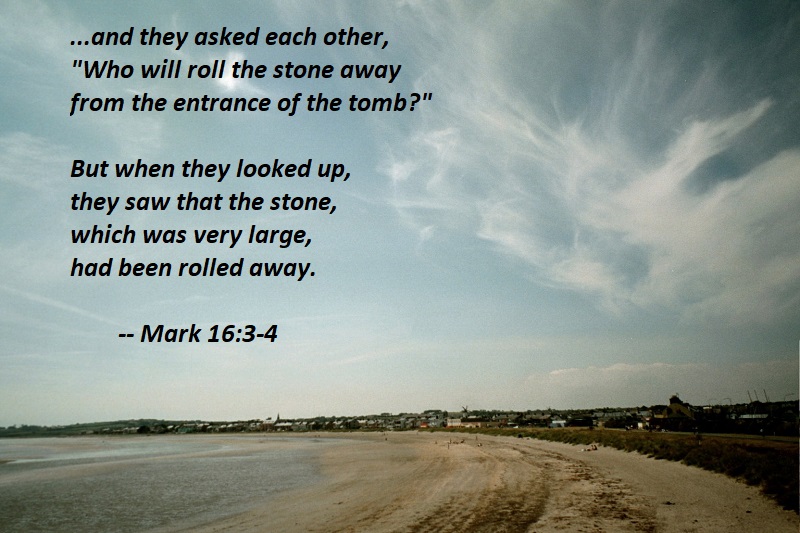 I've been thinking about these verses for the past couple of weeks. And I can't avoid the thought that God's trying to tell me something.
The women were on the way to the tomb to anoint Jesus' dead body. Even though he told them more than once he was going to rise from the dead. And they were stewing about how they'd move the stone. It was very large.
This should have been a legitimate concern – The stone was very large. Three women probably wouldn't have been able to move it. But maybe they could have found someone to do it. Maybe with some effort they could have figured it out. Maybe the Roman guards would have taken pity on them. They weren't planning to steal the body – just wrap it with spices.
As it was? This example is the epitome of needless worry. They're worrying about who's going to roll the stone away – when a much, much bigger miracle had happened.
Yes, their worry was taken care of – the stone was miraculously rolled away – but that was only the beginning of how God came through for them.
***
In my life, I've got something I've been praying about for a long time. It's something I can legitimately put some effort into trying to make happen. (And I've worked on it in the past with no luck, but maybe I just didn't work hard enough!)
But I feel like God's been telling me "Wait on the Lord." And I also feel like God's been telling me, "I'm going to take care of this one for you."
But I still get tempted to stew. Right now I'm on the Newbery committee, so I don't have time to put in effort on this anyway. But what about after my Newbery service is done? Maybe I should start working on it again then? Who will roll the stone away? Above all, even though that's still a ways away, Hadn't I better make plans?
About a month ago, the verse that kept coming up was John 4:50 — The man took Jesus at his word and departed.
Now it's The stone, which was very large, had been rolled away.
I do believe that in general, we have a certain responsibility to do our part. My pastor has talked about the Path of Trust – somewhere smack in the middle of Control and Letting It Happen.
Me? Without fail, my tendency is to be on the Control side of the diagram – at least trying to be in control.
How many ways does God need to tell me He's got this?
And maybe there's a bigger miracle going to happen than even the part I could have tried to organize myself.
Who will roll the stone away from the entrance to the tomb?
Let's watch and see. Maybe it will be God Himself.
And maybe that will be the smallest part of the miracle God's going to do.
[Photo: Skerries Beach, Ireland, July 2001]