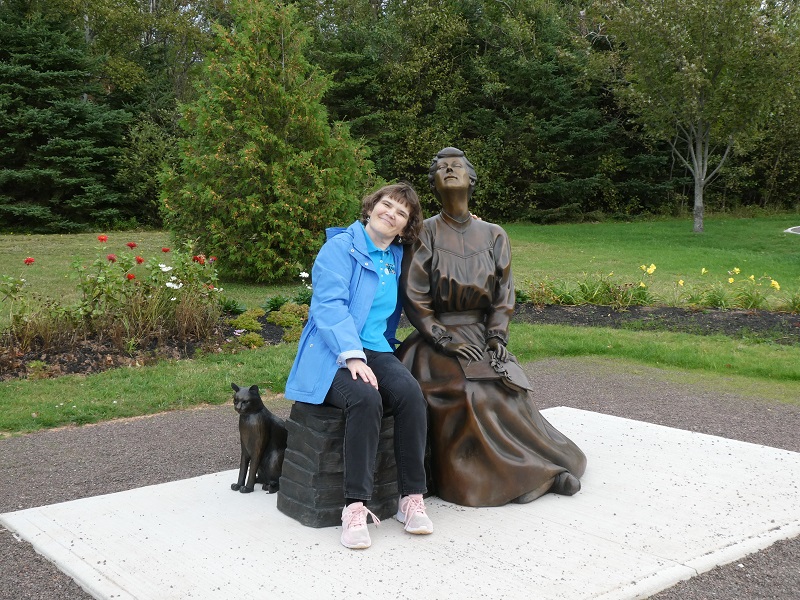 At the end of September, I went on a road trip to Prince Edward Island with two childhood friends to celebrate all three of us being 55 years old. This is the tale of that trip.
We took two days to drive to Prince Edward Island. On our first day in Cavendish, we went to Green Gables Heritage Place, and then hiked through the Haunted Wood. The first place we came to when we emerged was Montgomery Park, dedicated to L. M. Montgomery, the founders of Cavendish and the founder of the Christian and Missionary Alliance, who was also from Cavendish. (I suspect the sign is tilted from Hurricane Dorian, which passed through a few weeks before we did.)
It's a quiet little park. We saw a sign pointing us to the site of L. M. Montgomery's childhood home, and the way led through the park.
Here's a diagram of the main sites in Cavendish: Green Gables Heritage Place, the MacNeill Homestead (L. M. Montgomery's childhood home), Lover's Lane (which was closed because of trees down from the hurricane), and the Haunted Wood trail. I think this park was probably on part of the grounds of the MacNeill Homestead.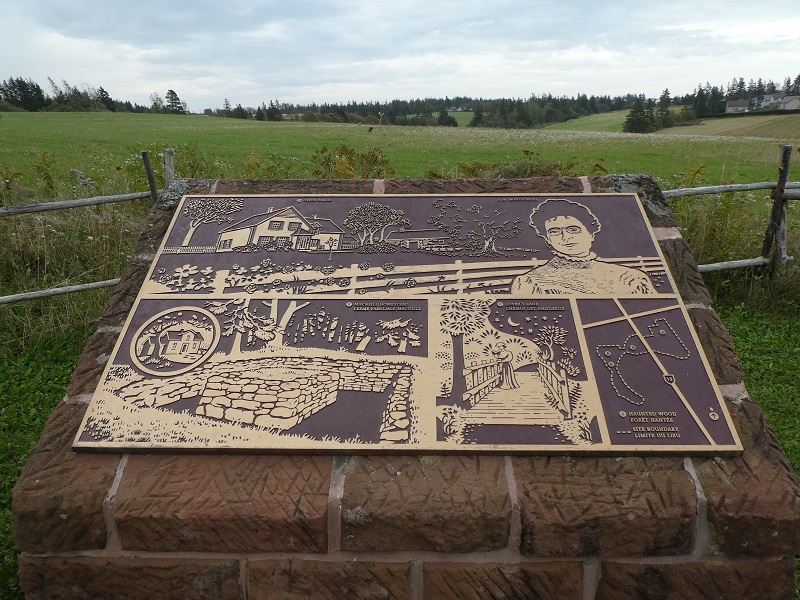 Such a lovely view!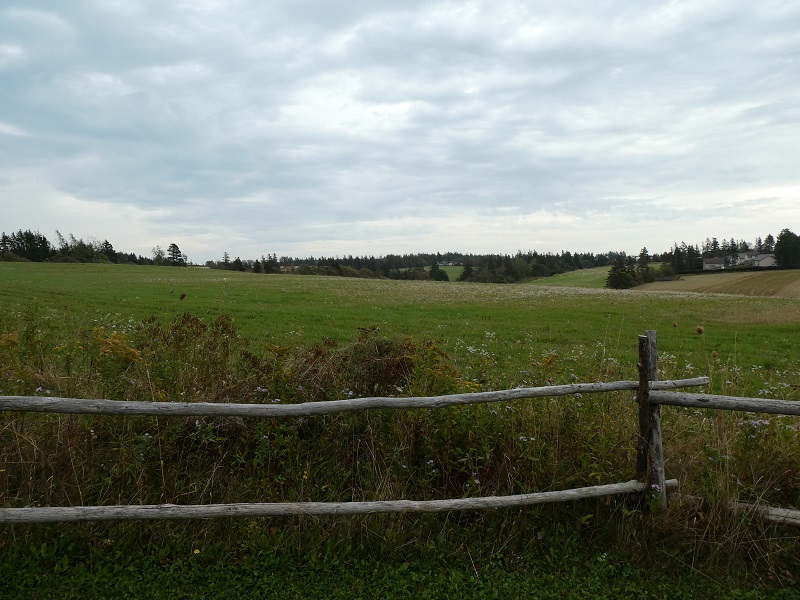 The wording on the plaque in the next picture is:
L. M. MONTGOMERY'S CAVENDISH

Bringing together the real and imaginary worlds of Lucy Maud Montgomery (1874-1942), this landscape is intimately associated with her formative years and prolific career as a writer. To the northeast are the ruins of the author's home from 1876 to 1911, the Cavendish farmhouse where she lived with her maternal grandparents, Lucy and Alexander Macneill, following her mother's illness and death. It was here that Montgomery wrote her most famous novel, Anne of Green Gables (1908), and her beloved The Story Girl (1911), as well as numerous other stories and poems. She drew inspiration for much of her writing from these surroundings, including the house to the west, now known as Green Gables, and places such as the Haunted Wood and Lover's Lane, which are cherished by her fictional character Anne Shirley. This landscape of rolling farm fields, woodlands, and winding paths provided Montgomery with great joy in her early years, and remained dear to her throughout her life. This setting has also held special meaning for generations of her admirers, who continue to visit and reflect upon the life and work of this well-loved, internationally renowned author.
Then I saw the Maud Montgomery statue. She's pausing in her writing to enjoy a Flash of beauty.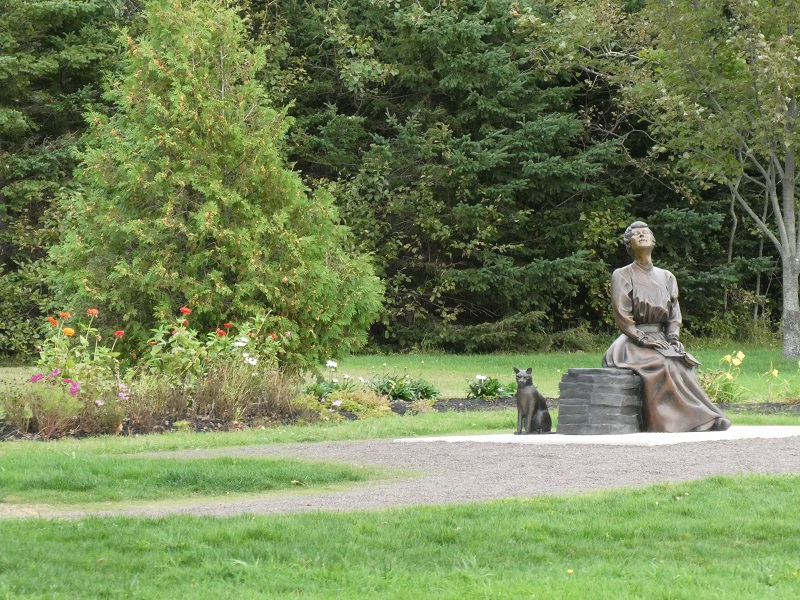 And a bench off to the side has a curious cat sculpture.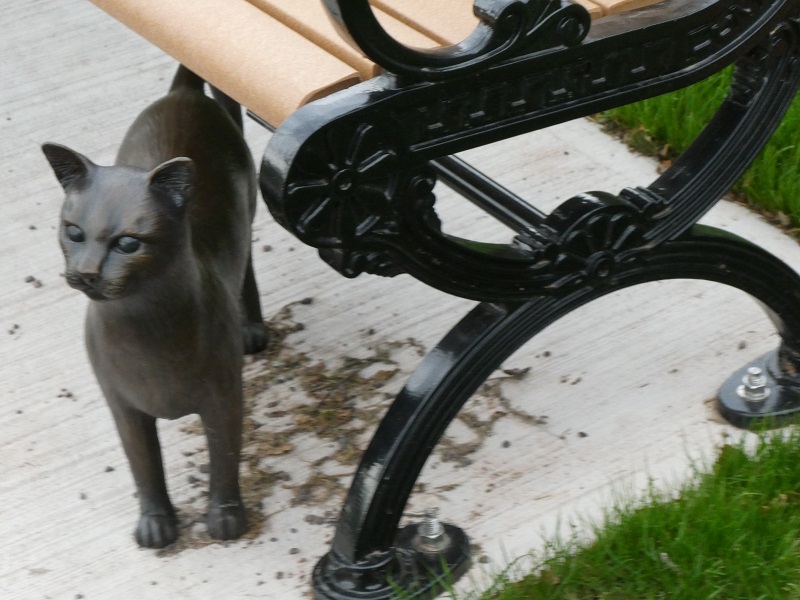 I had to pose with my heroine!
Darlene took a turn.
And Ruth chose to pet the cat!
It wasn't until I was taking pictures of Ruth that I noticed another cat behind the author.
Also in the park was information about the Founders of Cavendish. A map of some of the original settlers shows Clarks, Simpsons and MacNeills. Maud Montgomery was related to both the Simpsons and MacNeills, and the other surnames listed as founders of Cavendish all show up as names of friends in her journals.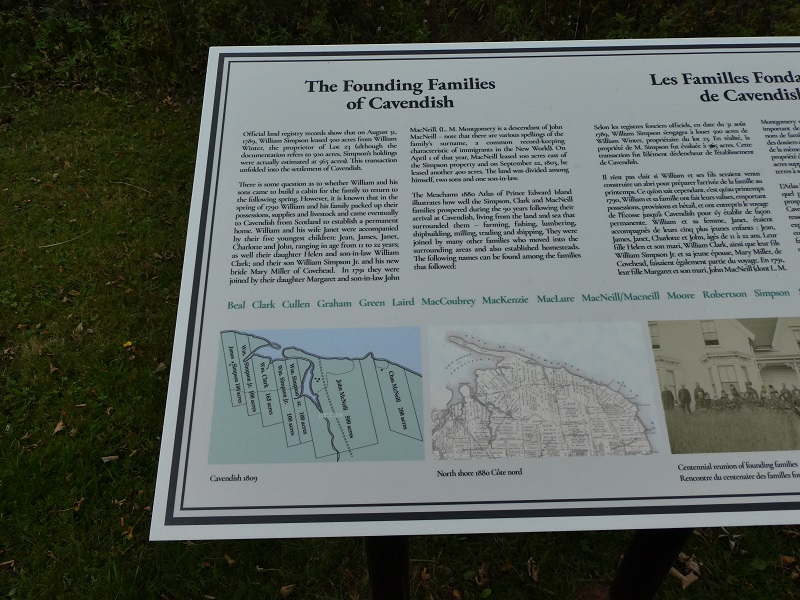 The monument pictured below reads:
FOUNDING OF CAVENDISH 1790 BY SCOTTISH SETTLERS

who had arrived on the island of St. John in 1775

on these acres Cavendish was born

Near the sand hills the first home — a log cabin — was built by William Simpson Senior and his wife Janet Winchester

Here with four of their ten children sons William Junior and James and sons-in-law William Clark and John McNeill with their families five homes were established and Cavendish became a community
It was time to go on past the park to the site of L. M. Montgomery's Cavendish home. We bid farewell to the author.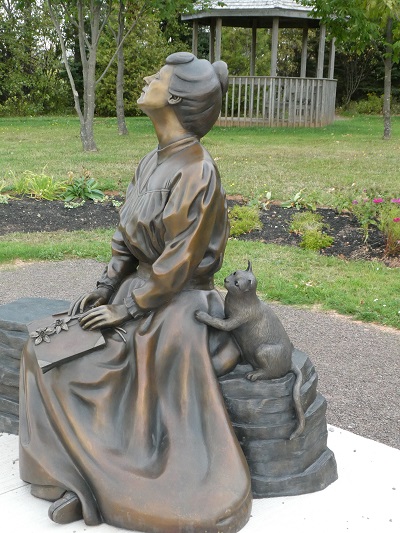 The next installment of the tale of our trip will cover the site of her Cavendish home.