This week my church small group, which is going through my not-yet-published book Praying with the Psalmists, is covering Thanksgiving Psalms.
My whole point in the book is that we can use the patterns in Psalms to write our own psalms and pray our own prayers. I've got examples in the book. But if I'm going to be consistent, I should write another psalm with each chapter we cover. And I like doing that to build a habit.
But honestly? I don't feel a lot like giving thanks right now.
Yesterday, I wrote a lament in honor of my six-year-old niece who has relapsed with leukemia. That news is weighing on my heart.
And today, I was going to finally tackle the big shelf in my closet that collapsed a week and a half ago and see if I could put it back up. But when I got out of bed, the tile floor in my bathroom was covered with water. Water was dripping steadily from a fire sprinkler head on the ceiling.
I live in a condo. I called and talked with several people. But the people in the condo above me didn't see any signs of trouble, so the consensus is that I need to call a plumber and get the leak diagnosed. It may be my neighbor's or the condo association's responsibility to repair, but it's leaking in my home and I need to get the work done.
So figuring all that out took most of my day, while the drips keep coming in a bucket in my bathroom at a rate of one every few seconds. I did find a plumber who's open all weekend and will come tomorrow morning.
Then in the evening, I thought I'd finally take a look at that metal shelf that had fallen down. And when I stepped in the closet to lift it up — my foot got soaked. The carpet is soaking wet. (This closet shares a wall with my bathroom.) I think I can hear more dripping in the walls.
There are lots of good sides to it — I'd taken all my clothes out already. If the shelf hadn't fallen, I might have never noticed that water. It's only wet inside the closet, not in the rest of my bedroom. Now if they have to make a hole in the wall, I can have the same people who repair it also put the shelf back up.
But I am not in a happy mood!
All that said, before all this happened, I'd decided to write my thanksgiving psalm about my walk in the bluebells on Good Friday. And when I'm not in a mood to give thanks is probably a good time to remember the many reasons I have to give thanks.
A Thanksgiving Psalm has the basic form:
Call to Praise
"I Was in Trouble."
"I Called."
"The Lord Answered."
Response of Praise
I'll talk about my experience in the bluebells in the psalm. I'll put a bluebell picture between each of the parts of the psalm.
Thanks Among the Bluebells
I give you thanks, Lord,
for you have been good to me.
You answered my prayers
and brought me so far.
You healed my heart
and filled me with joy.
The first time I visited the bluebells at Bull Run,
about fifteen years ago,
I'd heard about it in an employee newsletter,
and I went after a trip to my divorce lawyer.
I was so sad about the divorce,
and walking among flowers reminded me of my husband,
of the flowers at Keukenhof,
of hikes throughout Germany.
I told myself that now I was bothering no one
by stopping every few feet to take pictures.
I didn't have to worry that what brought me joy
was boring anyone else.
I could simply enjoy the amazing beauty
wild and free, filling the woods.
But I still missed my husband
and felt so alone.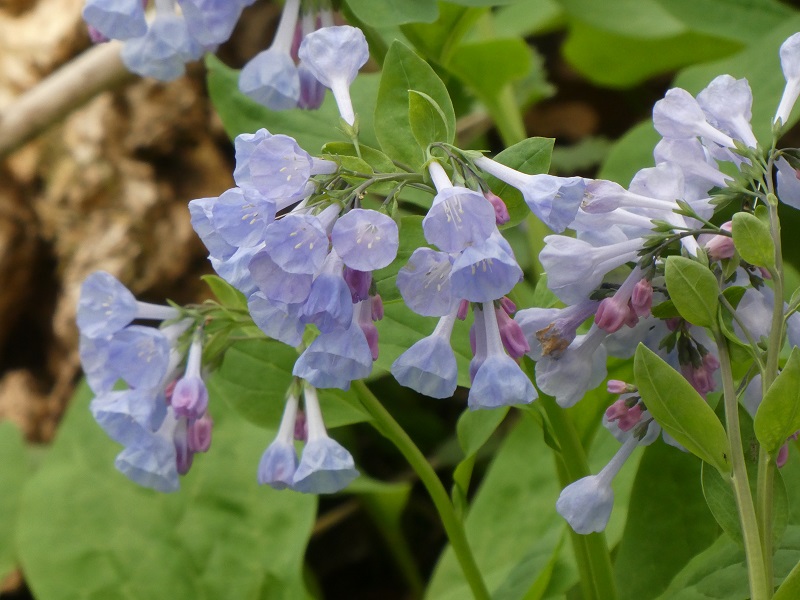 And my walk became a prayer walk
asking you, Lord, to help me,
to be with me.
I was still trying to pray my husband back at that time,
but I also wanted your guidance in the life ahead of me.
I had a new job at Fairfax County Public Library
(which was how I heard about the Bluebell Trail),
and I asked your help in paying my bills,
working as a librarian,
making a home for my youngest,
and somehow healing my heart.
I'd been with the lawyer,
asking for her help.
But among the bluebells, I was with you, Lord,
asking for your help.
And when I went back to the Bluebell Trail
this year on Good Friday,
it struck me how thoroughly you've answered those prayers
in fifteen years.
My heart is healed.
Now it's easy to wander with joy
and the woods make me think
of other delightful rambles.
I remembered that first walk,
fresh from the lawyer,
and I thought what a different place
you've brought me to.
I've got my dream job,
feeling competent and capable as a librarian,
ordering children's books
for the entire library system.
I've got a home I love,
surrounded by its own beauty of nature.
My bills have been paid
and my heavy debts lifted.
And life is so much more joyful
so much more hopeful
than it was on that walk fifteen years ago.
At that time I hoped for a joyful and vibrant life,
but then it was a request of faith
and now it's acknowledging
where you've brought me.
While I was walking through the bluebells
"O Love," a song from our Good Friday cantata,
was going through my head,
especially these lines:
"O Joy, O Joy, that seeks me through the pain,
I cannot close my heart to thee.
I trace the rainbow through the rain
and see the promise is not vain
that morn shall tearless be."
So I praise you, Lord,
for your unfailing love,
and your wonderful deeds for humankind.
You brought me out of a place of deep emotional pain
and filled my heart with joy.
"Weeping may remain for a night,
but rejoicing comes in the morning."
Thank you, Lord my God.
Thank you, Father.
You're very welcome to post your own thanksgiving psalm in the comments! Tell about a time when you were in trouble, you asked the Lord for help, and the Lord answered. I have to say it really helped my mood.