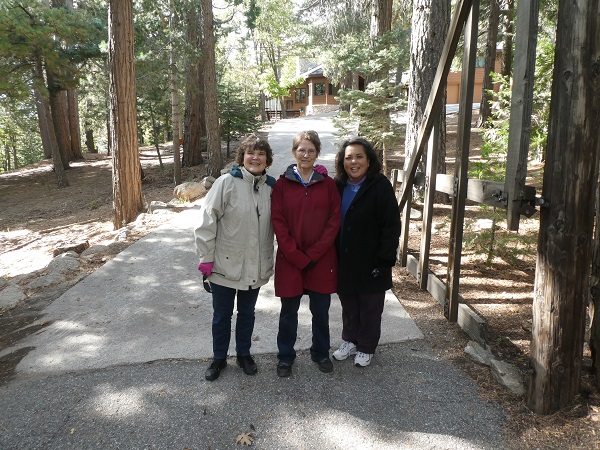 Last week, my friend Darlene and I traveled to California for our friend Ruth's 60th birthday. It was a lovely trip. We had a great time together.
But Ruth has early-onset Alzheimer's, and I am all torn up inside about it.
Explanation for this post: I have written a book, Praying with the Psalmists: Open Your Heart to God Using Patterns from Psalms in Your Prayers. This book is not yet published. But the premise is that we can use patterns from Psalms in prayer to open our hearts to God when things trouble us.
The book may or may not ever get published, but I'm trying to model praying with the psalmists in my own prayers when things are heavy on my heart. [You can follow along with the blog series "Praying with the Psalmists."] At this time, Alzheimer's is so heavy on my heart.
At first, I thought I'd write a lament, as I did in "Lament for Leukemia." But despite the situation, Laments generally are more for prayer requests — bad situations where you are asking God to come through. My friend's Alzheimer's is a horrible situation out there in the world, and I can't help wondering how God allows it. Why is this happening to someone who loves God? I just hate it. So this is a situation for a Wisdom Psalm.
Now, the trouble with writing a wisdom psalm myself is that I don't particularly think I have wisdom. So I think of the ones we laypeople write as Pep Talk Psalms — reminding ourselves what we know about God, reminding ourselves that it's worth it to follow God, reminding ourselves that we actually do trust God. Some Wisdom Psalms in Scripture that I love are Psalm 1, Psalm 34, Psalm 37, and Psalm 73.
In my book, I cover five key concepts from the biblical Wisdom Psalms: Blessings, Teachings, Consequences, Oversight, and Perspective. But maybe you'll get the idea from the example and the biblical examples. I'm going to attempt to use parallelism and dive in and write a psalm about this. I'm going to start with the situation, but then remind myself what I know.
A Psalm for Alzheimer's
Father, I hate Alzheimer's
with every fiber of my being.
First, my mother had it,
starting in her early sixties.
It started kind of cute:
holding hands with Dad in new situations,
not understanding mirrors,
proud of getting a puzzle piece in,
telling my Dad they should get married.
But every time I saw her,
she was much worse than the time before.
I just got a memory on Facebook about the time
more than a year before her death,
already on hospice,
when she fell out of her wheelchair
broke her nose, cut her forehead,
and had to remain bedridden
for the last year of her life.
When I saw her two months before her death
at my Dad's funeral,
she couldn't talk,
couldn't smile,
couldn't sit up,
couldn't feed herself.
People asked if she knew me,
but how would I even know if she did?
I really hate Alzheimer's.
So now my friend Ruth has it,
about ten years younger than my Mom started.
Yes, she knows me.
Yes, she can still talk,
with a little trouble putting thoughts into words.
Her frequent "Yeah, uh huh…" reminded me so much
of my mother for a while saying constantly "okay… okay…",
though Ruth is working to engage in conversation
at least in that way.
She's happy!
She laughs a lot.
Her husband does a wonderful job
of keeping things light,
laughing with her,
making her failings foibles.
She's got grandbabies nearby,
living in both homes where she spends her time.
She's not thinking about the future
and what it will hold for her.
She's enjoying the present.
She did hike with us,
her husband leading her by the hand.
I tried — and failed to get her past the spot
where she needed to put her foot just there —
because she's not looking at her feet.
We looked at pictures
from junior high and high school.
She knew who people were
(or at least said she did)
when we could get her to look at the TV
where they were showing.
In the old pictures, in every single set
there'd be a picture of Ruth
perched atop a swingset or boulder or castle wall or tree.
She can't climb any more,
and I hate that.
In fact, she has trouble sitting down
in an ordinary chair.
And I hate it.
I know it's only going to get worse.
Though Ruth isn't thinking about that.
She's enjoying her husband's care,
her children and grandchildren,
and wherever she finds herself.
She enjoyed our visit,
and I'm so glad we got to be there for her.
But I hate Alzheimer's.
[Crying break.]
Lord, why did this have to happen
to someone so vibrant, so alive,
so sharp, so kind,
so always full of mischief,
always literally climbing on boundaries?
Now I'm home,
no longer putting on a brave face so Ruth won't see my distress,
and my 7-year-old niece is getting
a stem cell transplant for leukemia.
A high school friend's husband, a pastor,
just passed away from a brain tumor.
Thousands of innocents were recently murdered
in terror and war, both Israelis and Palestinians.
And, Lord, it all seems so hard.
But whom have I in heaven but you, Lord?
I'm not going to decide you don't exist
because terrible things happen in the world.
I'm not God,
and that's a good thing.
But I don't understand.
And that's okay. I'm human.
What do I believe?
I believe you bring good even out of terrible things.
I believe that mankind is fallen,
but that you redeem.
I believe that my mother is in heaven now,
and all her suffering is not even worth comparing to the glory she now faces.
I believe that my father shone so brightly while he cared for her,
as Ruth's husband is beginning to shine now.
[I still don't think it even comes close to outweighing the evil of Alzheimer's,
but, yes, good comes out of it.]
I believe that because Alzheimer's and leukemia exist,
humans are exercising their ingenuity and brilliance
and discovering cures.
The stem cell transplant is a much simpler process
than the old bone marrow transplant.
Immunotherapy shows great promise
for many kinds of cancer,
and research for Alzheimer's treatments
is making great strides.
We have come so far in medical science!
May it continue, may lives continue to be saved and prolonged.
And Lord, above all,
I believe you are with us.
You became a human,
Emmanuel, God with us.
You took up our infirmities
and carried our diseases.
I believe you know our suffering
and carry us.
Sometimes you calm the storm
and sometimes you guide us through the storm.
You love Ruth, your precious child.
Thank you for her life,
thank you for her friendship,
thank you for her laughter,
thank you for her love.
Thank you that you are always with her.
Thank you that she's been my friend
for almost 50 years.
Thank you that despite awful things,
there is still joy in this world.
Thank you that we were able to bring some of that joy
to our friend Ruth.
Grant her husband and children
grace and perseverance.
Be with them all on the journey that follows.
But thank you that Ruth herself is living in the moment,
still trusting you.
And you are faithful.
Okay. That's my psalm. I think it helped. The fact is, I still believe that God is good. I don't claim to know higher meaning for Alzheimer's. But I choose to believe that God is good and God is loving. And God brings good out of even this.
Hey, anyone reading this — I'd love it if you tried writing your own psalms, too. You can tell by my example that they don't have to be very good! But use the comments if you want to share.