I'm posting Project 52 — since my 52nd birthday, each week I post a reflection on one year of my life.
Right now, I'm at my parents' house in Wilmington, California, and I had a chance to scan in some more pictures from old photo albums.
I chose a few more from years I've already covered in the first six weeks of Project 52, so I thought it would be fun to do a bonus post with those pictures.
Here I am as a newborn:
And here is two months old:
This next picture was taken at Grandma's House in August 1965, so I was a year old.
The kids, from left to right are Ricky (3 years old), Me (1 year old), Becky (2 years old), Uncle Larry (4 years old).
I love this next picture because of Becky's funny face, also taken in August 1965 at Grandma's House: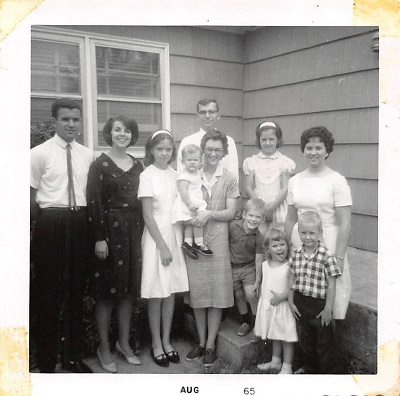 From left to right, we have Uncle Allen and his wife Judy, then Aunt Susie, then my Mom holding me with my Dad behind her, then (in back) Aunt Donna, and Aunt Linda. The kids in front are Ricky, Becky, and Uncle Larry.
Still toddling at Grandma's House, this one's from November 1965:
And Sister Pictures don't get much sweeter than this. I was 1 year old, and Becky was 2 years old.
Still at Grandma's House, that same November visit:
Here's another picture of 3-year-old me and my neighborhood friend Patty with our new cat Zeenie.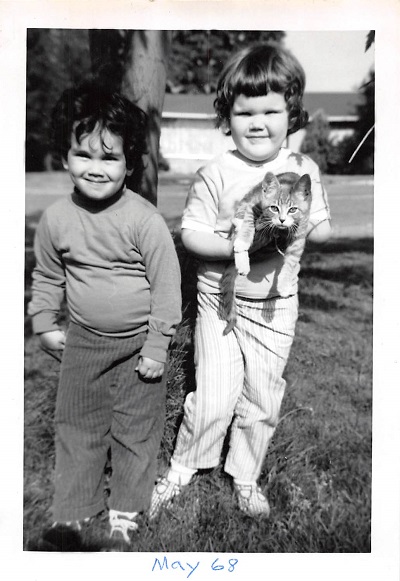 And here are Patty and me playing with Play-Doh:
Here's another Sisters picture, this time with my little sister Wendy, taken September 1968:
This picture makes me feel vindicated. It was the family birthday celebration for my fifth birthday. Didn't I say that I had gingerbread as the cake for that birthday?
Here's a picture from our August 1969 ferry trip to Canada. This confirms that I remember Randy at least as being a real handful on that trip.
And here's a picture of my first day of Kindergarten! We're waiting for the school bus in front of our house. You can tell I'm in half-day Kindergarten, because I don't have a lunch box.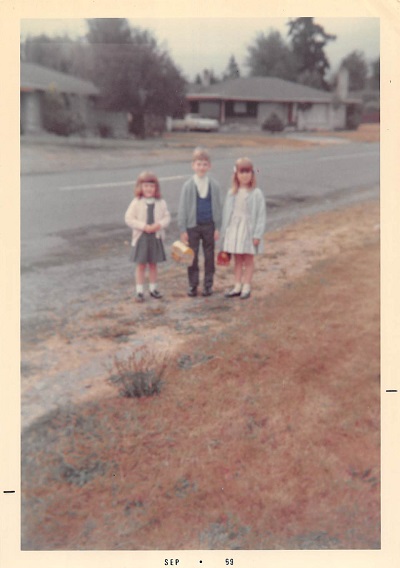 The cardigans all three of us are wearing were knitted by my Grandma. I wore that pink sweater for years.
This next picture is of my little sister Wendy's second birthday in October 1969. The story is legendary that she spoke her first complete sentence that day after I had gone to school, when she told Mommy, "Don't put my blue dog on the sofa." You can see from the picture how much I enjoyed her delight in the big blue dog.
And here's an unusual profile picture of me, taken in October 1969.
Here's a nice Sisters shot. Our Mom liked to buy us outfits that went together, but these dresses lost their bows fairly quickly. They were still nice dresses, though.
Randy did learn to walk early. Here's a picture with him in December 1969, only ten months old.
And here's a picture taken March 1971 with my sister Wendy in our backyard in Carson, California.
And the last bonus picture was from that same month, March 1971, also taken in our backyard. I had started wearing my hair in ponytails most days. (I thought it was very wonderful to use red and white ponytail ties with my red, white, and blue outfit.)
Okay, now I'm stocked up with photos for future posts! Stay tuned!