Life is FULL of reasons for Joy!
That's the motto I've adopted for my life as a single Mom and a career woman.  Indeed, 2009 was full of lots of joyful moments:
We moved last Spring!  (Be sure to note our new address.)  Our new place is a rental townhome, and it's much cozier and more homelike than our old apartment, but much less expensive, so a winner all around.  I have a longer commute to work, but I'm discovering the joy of audiobooks, so I don't mind.
We've discovered Virginia is beautiful.  Tim and I had some good times hiking this year at places like Shenandoah National Park, Manassas Battlefield Park, the creek right by our home, and even on a frozen solid creek at the start of the year.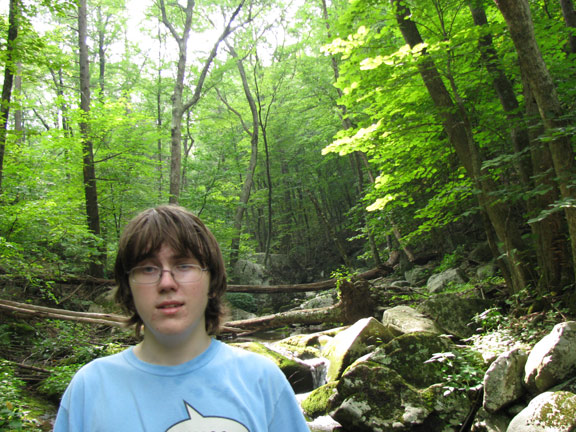 I'm still thoroughly enjoying my job as Youth Services Manager at Herndon Fortnightly Library.  There's lots of variety, and I particularly enjoy connecting kids with great books.  With budget cuts, I may be forced to look for a new job next year, but I have thoroughly enjoyed the time I've had at this job.
 Tim is a Sophomore at Thomas Jefferson High School for Science and Technology, ranked the number one high school in the nation for the third year in a row by US News and World Report.  He's not terribly talkative (He's a teenager!), but I'm pretty sure he likes going there!  He admitted to particularly liking his Computer Science class last year, so this year he's taking AP Computer Science.  We'll see if that ends up being the area he specializes in.  (Seniors have to do a research project.)
 Josh is living at my parents' house in Los Angeles, working for my brothers' company, writing software that makes graphing calculators easier to use.  He's proud of his work on Zoom Algebra 300 and Zoom Chemistry.  Now the calculators can do Algebra 2 problems, and show the steps, as well as balance chemical equations.  Check it out at www.zoommath.com.  On the side, he's still writing screenplays.
 I'm still writing my website of book reviews, www.sonderbooks.com, and still enjoying blogging and connecting with old friends on Facebook.  This Fall, I had several book-related joyful moments: I got to meet my favorite author at the National Book Festival, got to attend a Kidlit Bloggers' Conference, and got to take an online class on the Newbery Medal.
2010 has lots of uncertainty, but I am certain that God will still be looking after us and continuing to provide an abundance of joyful moments.
 Wishing you much Joy this Christmas,
 Sondy Eklund