It's time for Project 52, Week 30, Part Two!
On Tuesday night, I was happily writing Project 52, and my computer mouse broke. Tonight my new mouse arrived from Amazon, so I'm finishing Week 30, my reflections on being 30 years old.
I've been thinking that using my calendar from 1994 is getting me bogged down in detail. So my plan was just to summarize the year briefly.
But then I started looking through pictures! I had a new baby that year! Both my children were so adorable! So there are going to be lots of pictures in this post, but I'll try to keep from going on too long!
Last time, I covered Timmy's birth at the end of July. I had 3 weeks off before I went back to work — but I only taught one class that Fall, Calculus 3 from 6 to 8 pm on Monday and Wednesday nights.
And that makes me think how nice it was that at Belleville Area College, they gave me the same class to teach over and over! I'd been teaching almost 10 years by now — and that was the first that I really got in a routine with a class. It was so much easier than preparing new classes each semester. Now, this was partly because this was the longest I'd stayed at any one school. But still, at BAC, I was more quickly given consistent classes to teach.
I still wasn't crazy about teaching, but I did manage to enjoy it, and I think I did a good job.
Mind you, I'm not a natural teacher. Not at all. I'm naturally good at doing math — but that makes it a little harder to teach it well. I don't quite understand how it can seem difficult to people. It's all so logical and beautiful! I also always, always wrote tests that are way too long.
My favorite student in all my years teaching came about that time. She was a 14-year-old high school student taking Calculus 3, because she'd run out of math classes she could take at her high school. It's not a surprise she was the best student I ever had at a community college. And she enjoyed Math as much as I did. And when I showed the class some beautiful thing, she thought it was beautiful, too, instead of just thinking I was weird. And sometimes she'd show me some cool mathy thing, and it just made me happy to have her in my class. Because honestly, community college students don't often take math classes because they love it.
Now, my favorite class to teach was probably Intro Statistics — because that's practical math. I liked bringing in real world examples that related. That class was usually full of earnest nursing majors who thought they weren't good at math, but who worked hard at it and usually did quite well. Teaching night classes, I tended to get lots of adult students — and they were great students. But they didn't necessarily like math.
Anyway, when I went back to teaching 3 weeks after having Tim, I only taught Calculus. And it was getting where I didn't have to do too much preparation, so it was a real breather and meant more time with my baby. (It was hard on our finances, since I'd taken the summer completely off when I'd planned to work twice as hard. But such is life.)
And what fun to have this sweet baby!
Jade, then called Josh, was now 6 and a half years old and was a doting big sibling. In fact, looking back at that year, I remember how I would walk Josh to school with baby Timmy in his stroller. All the little girls also walking to school would stop and coo over the baby. The boys, not so much. But Josh would coo over the baby. I thought it was because this was their baby brother. Anyway, it's all the more plausible that Jade was a girl all along. Not that a boy can't be a tender and kind big brother. But if Jade was a girl all along — well, it fits.
Anyway, Josh was a wonderful big sibling.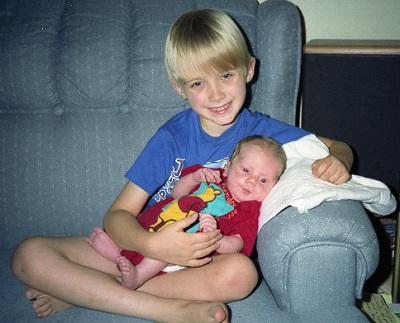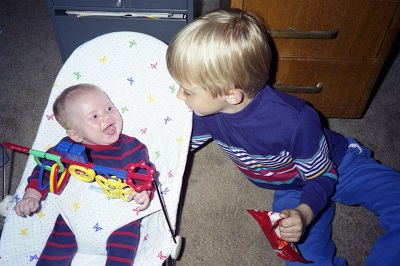 Here I'm reading Josh The Horse and His Boy, by C. S. Lewis, at bedtime.
We had lots of visitors that year. I'm resisting posting pictures of every visitor, but you'll see the ones who brought babies with them. Steve's parents came early on. My Mom even came, bringing my youngest sister Melanie.
The church ladies at Faith Alliance Church threw me a baby shower, now that I was off bed rest.
Josh started 1st grade!
That Fall, we went to Carlyle Lake to take family pictures with the pretty trees in the background. The only trouble was, we got there as the sun was going down. But I still like this sequence:
And now I think I'll just post pictures of my cute kids. I got a lot of time with my sweet children that year, and that was wonderful.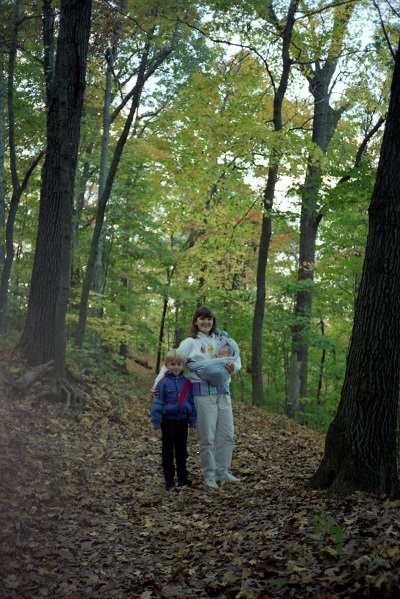 The looks on their faces in this one cracks me up:
Here's Josh blowing dandelions at Scott Lake (just a couple blocks from us on the Air Force base).
And Steve carved a pumpkin with Josh again:
Timmy was a baseball player for Halloween:
The finishing touch was some black paint under each eye: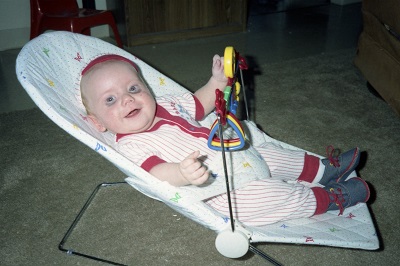 Josh was a clown again. I loved the way it made his smile enormous and infectious:
Here's Josh on our back porch with a double rainbow:
More just nice pictures:
My sister Becky and her family came to see us over Thanksgiving. Timmy had just begun sleeping through the night, so then having visitors meant I still wasn't feeling real rested. But it was great to see them!
I love this picture of Aunt Becky meeting Timmy!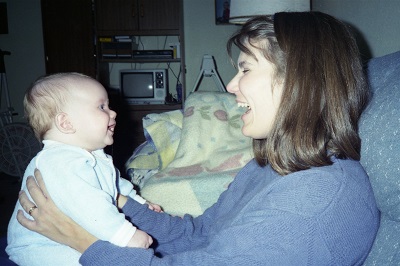 And lots more pictures with the Friese family: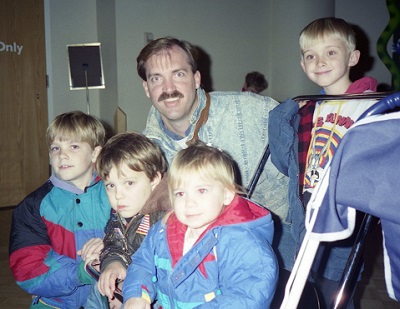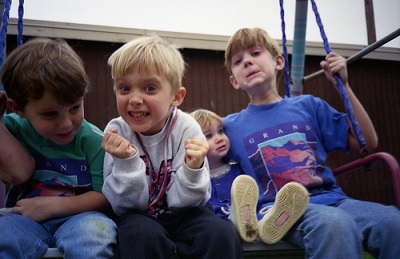 Timmy's not smiling quite as big by this time!
Just more pictures of my cuties: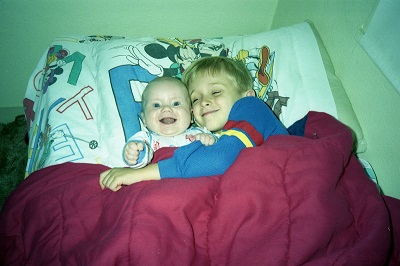 Then came Timmy's first Christmas: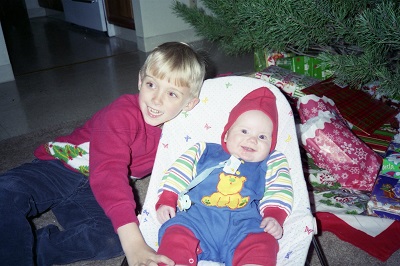 We spent it at Aunt Kay's in Chicago. She gave Josh a big cuddly sweater from Ireland.
I don't see any snow pictures from this year. But that makes sense! We didn't go to California over Christmas, so of course Illinois didn't get much snow!
More cuteness:
By this time, babies used an "Exersaucer" rather than walkers (like Josh had).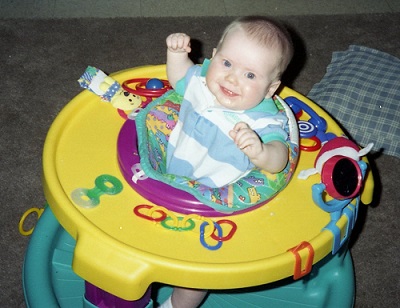 Josh could still fit in Daddy's tuba case!
Timmy got his teeth all out of order, getting outside ones first, and on top. He was still really lopsided.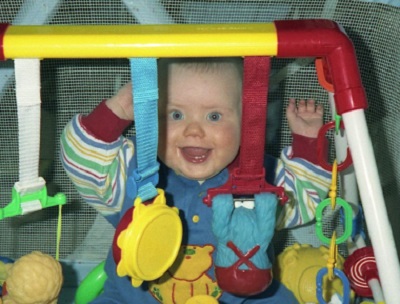 I think I wrote about this trick when Steve first did it with Josh. Before a baby can walk, they balance nicely on one hand, if you're strong enough. Steve only did it over the sofa, but the babies didn't fall.
Reading the Little House books at bedtime.
Those eyes!
All those baby milestones! Now sitting up:
Josh took this picture!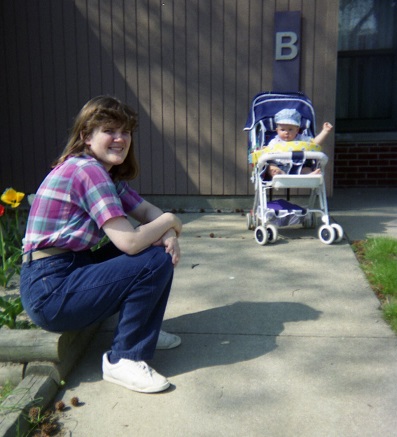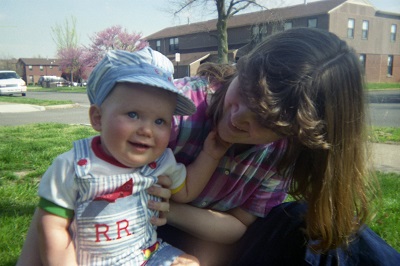 And now we learned the charm of letting Chuck E. Cheese do all the work of a birthday party! Josh was 7 years old!
We had another celebration at home and made cupcakes to bring to school:
We dressed them up for Easter. So adorable!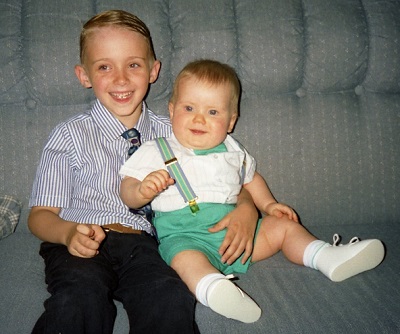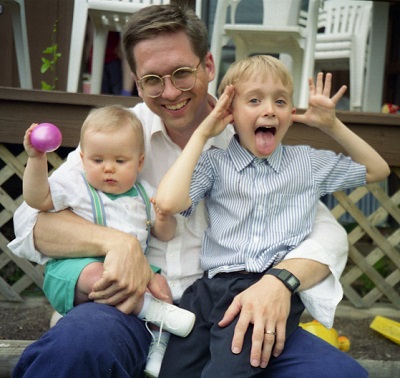 Timmy was quite round by this time.
More balancing: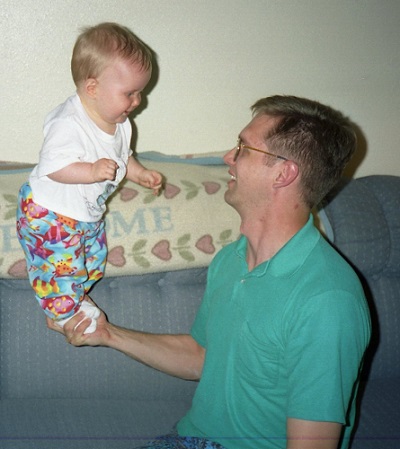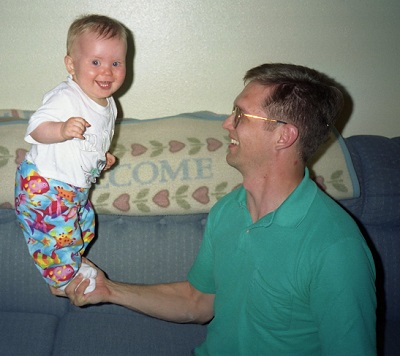 This one cracks me up because of the book title. When Timmy was born, we told Josh to be gentle with the baby. But we forgot to tell the baby to be gentle with Josh! By this time, Timmy simply loved to jump on Josh. Eventually, we had to tell Josh to defend themselves.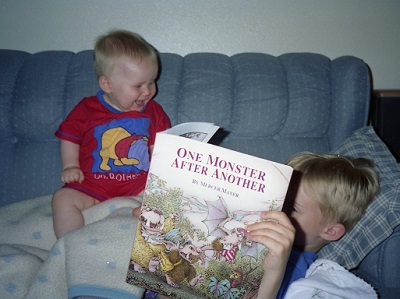 Crawling!
Being together!
Steve's parents came, and brought his sister Stephanie — and her new daughter Karli, three months younger than Timmy.
Karli could do a great Cabbage Patch face!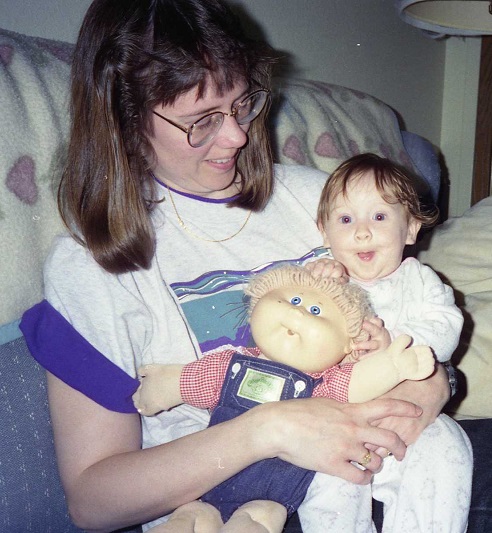 With all their grandkids! (Though they got one more, David, a couple years later.)
Standing!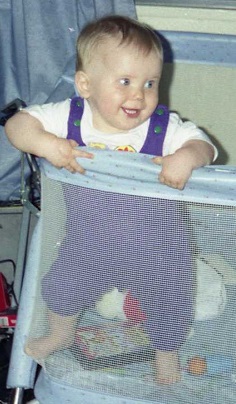 This picture is fun because he's playing with a toothbrush.
And he did learn to walk before his first birthday.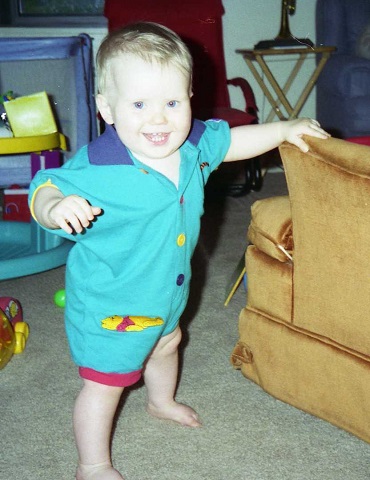 My Dad also came to visit. He has always loved to read to little ones.
And this picture makes me happy.
So I think that's all I'll say about that year. Looking back, it was a happy year with my children. Of course, at the time, it wasn't so simple! There are plenty of difficulties all wrapped up in being a mother of young children. But to this day, I'm so thankful for those children.
Edited to add: I just read through my quiet time journal from that year, and Wow! I had a bad case of postpartum depression. And lots of conflict with Steve. I wondered many times if we would last. And we didn't talk about the conflict. I talked about it in my journal, but we never did talk it out. I fantasized about leaving so he would appreciate me.
It's sobering to me — because I didn't remember that at all until I read the journals. I was overwhelmed trying to keep up with everything and my babies, and didn't feel like I could do it all. Steve was taking classes at Belleville Area College to get an associates in Computer Science. He was able to get tuition of $2 a credit because of my working there — which made my work more valuable than just the pay.
But now I look at it and see the seeds of resentment between us. We didn't work those things out. I would always conclude talking about it with something like, "I know Steve really loves me." It never ever dawned on me that we really would get divorced one day. I was completely committed to marriage, and I thought he was, too. After all, he was a Christian! And divorce is wrong!
But somehow, we never learned to come back together. I do record that I felt bad when Steve volunteered to be on loading crew so he could leave sooner on a 2-week tour. That hurt. I'd been dreading his trip, and he was looking forward to it? Did he want to get away from me? Well, maybe he did, even way back then.
But we still definitely had good times. When we went to Germany in 1996, that brought us together. For awhile.
Looking at it now, I hope it will be different if I ever marry again. How to keep that root of bitterness from growing between us? I think I've learned ways to forgive. But it does take two to keep a marriage going, and you have to both want to. Maybe it is not so bad this happened. It seems the roots went further back than I had realized.
Anyway, looking back, I'm glad the joys of that time are what stuck in my mind.